Whether you're hosting a summer cookout or watching a big game, sliders are always a hit. They're easy to make, and everyone loves them! In this blog post, I share some favorite recipes for burger sliders and give you tips on making the perfect slider every time. So fire up the grill and get ready to enjoy some delicious sliders!
Slider recipes are easy to follow and make excellent dishes for any summer cookout. To make the perfect slider, start with good-quality ground meat. Be sure to season it well with salt, pepper and other seasonings of your choice. I also like adding a little Worcestershire sauce to the patties. Once you've seasoned the meat, it's time to grill. Be sure to cook on medium-high heat so they're nice and juicy. I recommend putting a little bit of cheese on sliders, but you can leave it off if you prefer. Once they're cooked to your liking, add them to a toasted slider bun and enjoy!
Three slider recipes to wow at your next cookout!
If you're looking for something a little different, you've come to the right place. I'm going to show you three sliders inspired by different food cultures from around the world. These sliders are made with ground turkey, shredded chicken and ground beef. The ground turkey is Thai inspired, the shredded chicken is Latin inspired and the ground beef slider is American inspired. These recipes are always a hit at my cookouts.
Whether you're looking for a classic hamburger slider or something with a little flair, we hope you'll try one of our recipes. Sliders are the perfect dish for any summer gathering! So fire up the grill and enjoy!
Thai Turkey Sliders
If you want to make some of the best sliders you'll have this summer, look no further than these fantastic turkey sliders.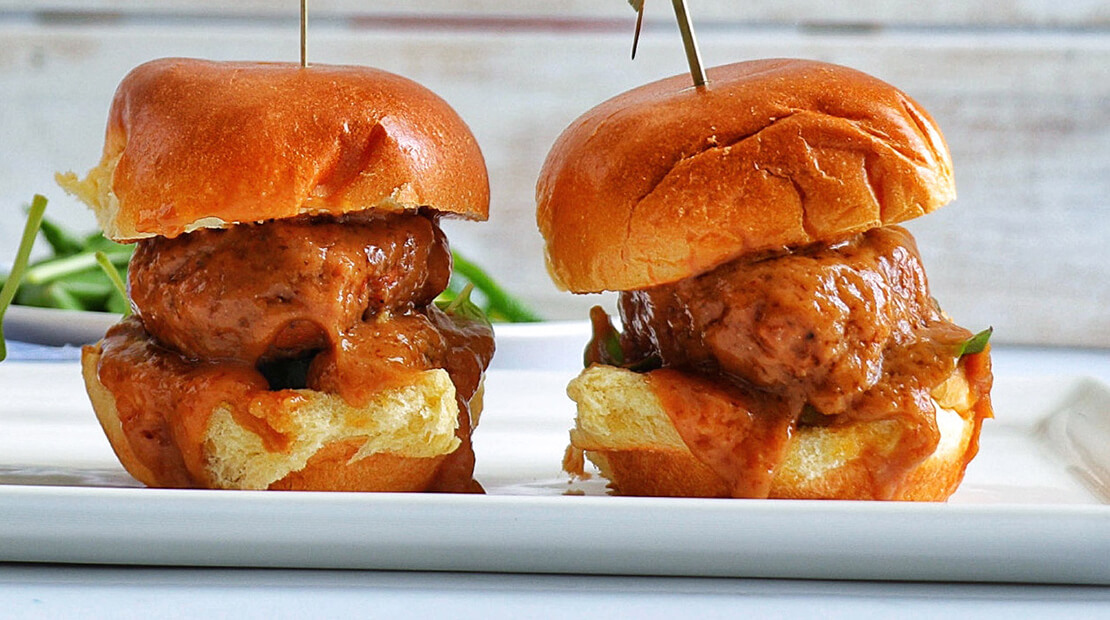 Thai Turkey Sliders with Peanut Sauce
Hands-On Time

10 minutes

Total Time

30 minutes

Serves

16 sliders
2

(16-ounce) packages JENNIE-O® lean ground turkey

2

tablespoons olive oil

4

ounces red curry paste

2

teaspoons kosher salt

2

teaspoons black pepper

16

slider buns, split and toasted

Fresh basil leaves

1

jalapeño, thinly sliced

1

ounce fresh basil leaves

1

(11.5-ounce) bottle of HOUSE OF TSANG® Bangkok Peanut Sauce
Instructions
Heat broiler to high heat with oven rack 3 to 4 inches under broiler.
In large bowl combine turkey, oil, red curry paste, salt, and black pepper. Using a ¼ cup measure, form patties and place on foiled lined baking sheet. Broil patties 6 minutes, rotating the pan halfway through. Flip patties and cook 3 minutes, rotating the pan halfway through until browned. Always cook to well-done, 165°F as measured by a meat thermometer.
Assemble sliders with basil leaf, jalapeño slices, turkey patties, and peanut sauce.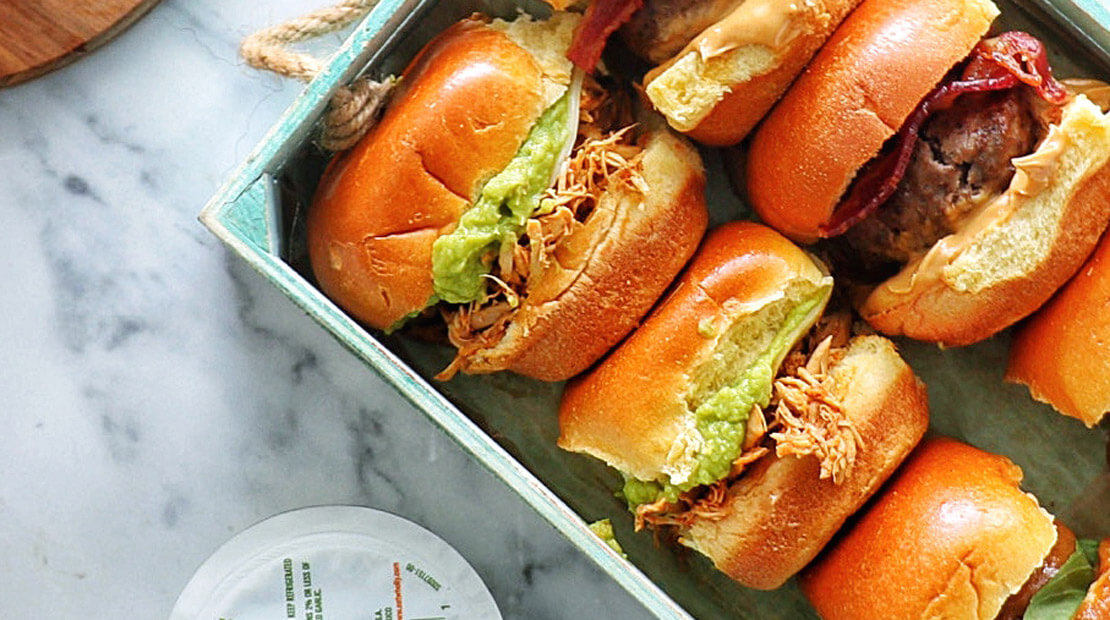 Chicken Enchilada Sliders
Hands-On Time

5 minutes

Total Time

5 hours

Serves

10
1

pound uncooked boneless, skinless chicken breasts

1

(28-ounce) can LA VICTORIA® Red Enchilada Sauce

1

(1 ounce) package mild taco seasoning

12

split buns

12

slices provolone cheese

1

(8-ounce) tray WHOLLY® Classic Guacamole
Instructions
In slow cooker place chicken, enchilada sauce, and taco seasoning.
Cook on low for 5 hours, or until chicken is tender.
Turn slow cooker to warm and shred chicken with two forks.
Fill buns with chicken mixture. Top with cheese and WHOLLY® guacamole.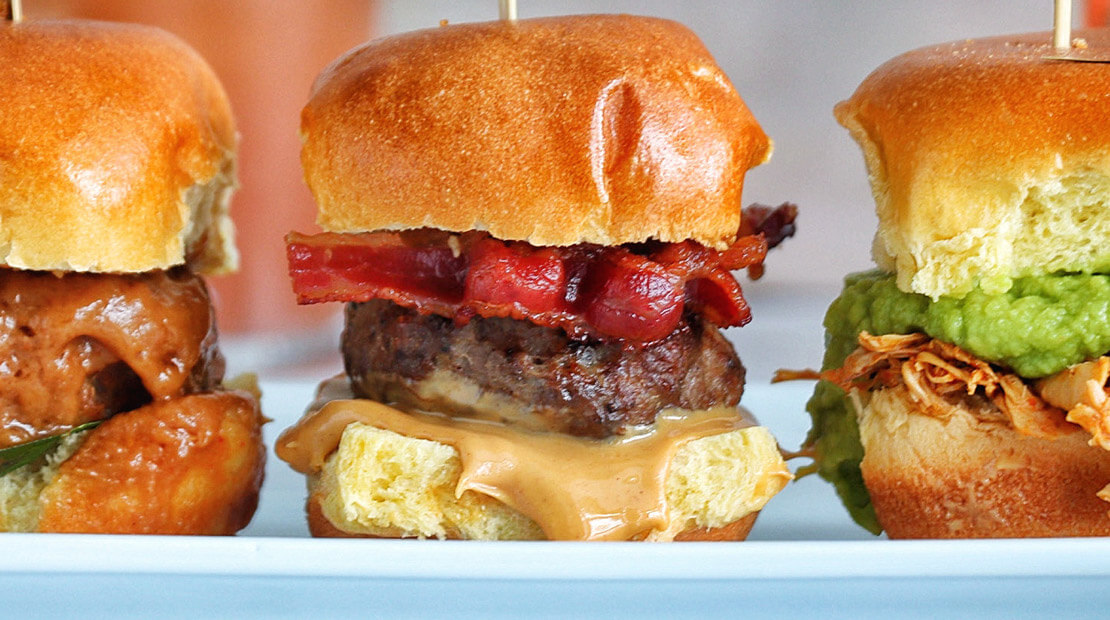 Peanut Butter-Bacon Sliders
Total Time

35 minutes

Serves

8
8

slices HORMEL® Thick Cut Bacon, cut in half

1

pound lean ground beef

1

teaspoon kosher salt

1/4

teaspoon freshly ground pepper

1/2

cup SKIPPY® Peanut Butter

8

slider buns or dinner rolls cut in half, toasted
Instructions
Cook bacon according to package directions. Drain and set aside.
Gently combine ground beef, salt and pepper. Shape into 8 patties.
Prepare griddle for medium heat. Cook patties 8 to 10 minutes or until cooked through.
Assemble sliders with peanut butter, beef patties and bacon.
There are a few things that you can do to ensure your sliders are amazing every single time. Here are a few tips to keep in mind.
Use something to keep the sliders uniform. My go-to is a 1/4 cup dry measuring cup or a 2 ounce ice cream scoop.
Press your patties by covering them with wax or parchment paper, and use a clean 1/4-cup dry measuring cup to press them evenly.
Grill the patties between 350-400°F degrees over direct heat.
The fat from your beef patties will cause the grill to flare up, so be careful.
If grilling outside isn't an option, you can use your oven's broiler. Cook your patties for 10 minutes.
Let your patties chill in the refrigerator for 5-10 minutes to bind together. A cold patty doesn't fall apart, but a room temperature one will.
Have fun with your toppings and pairings to create unique creations.
Use a quality slider bun. My favorite is brioche slider buns because they're full of buttery deliciousness.
Almost anything can be the perfect condiment for a slider, here are some of the most common:
Ketchup
BBQ Sauce
Chipotle Mayo
Yellow Mustard
Dijon or Creole Mustard
Dill Pickles
Bread & Butter Pickles
Banana Peppers
Pickled Red Onions
Onion
Crumbled Bacon
Cheddar Cheese
Smoked Gouda
Queso Fresco
Salsa
Hot Sauce
Cotija
Provolone
Peanut Butter
Be sure to bookmark this page so you can return and make them again and again. And if you decide to try them, let us know how they turn out by tagging @hormelfoods on social media.