Brooklyn-based Chef Vanessa Cantave is adept at delighting the many guests who seek her out for her culinary wizardry. As the co-founder and executive chef of Yum Yum Catering and Events, Cantave was once in banking, marketing and advertising before discovering cooking and enrolling at the French Culinary Institute. Since then, she's worked for Chef Daniel Boulud and strutted her stuff on "Rocco's Dinner Party," all while keeping her love affair with cooking very much alive.
We're going to start with bacon. Who doesn't love bacon?

Chef Vanessa Cantave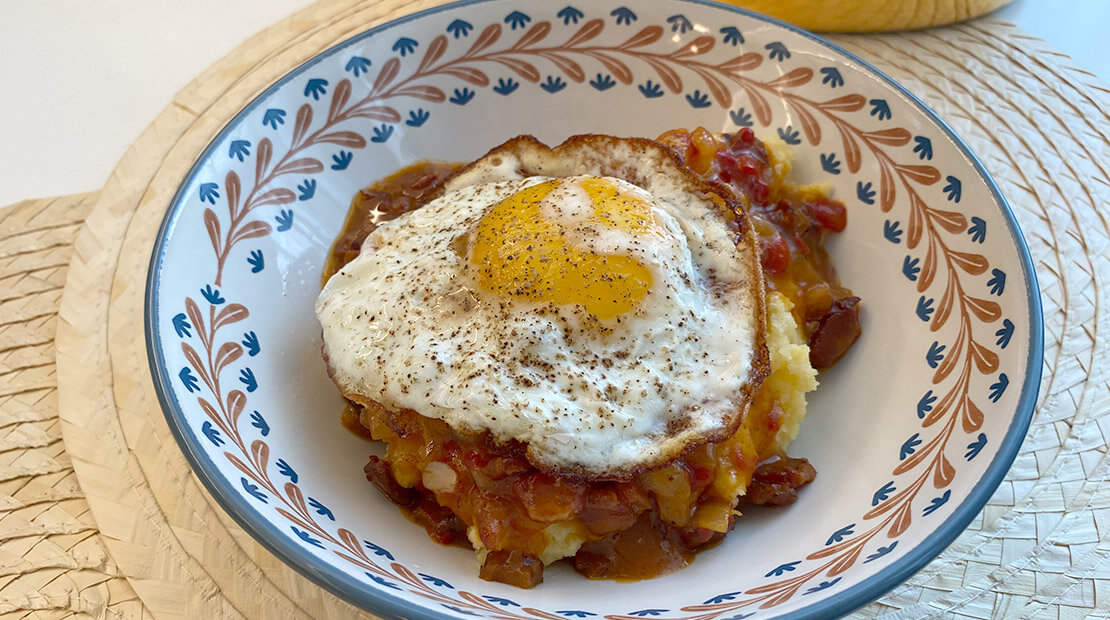 Cheesy Grits with Bacon Gravy
Total Time

35 minutes

Serves

4
2

cups instant grits or polenta

1

cup milk

1

cup grated Parmesan cheese

3

tablespoons butter

1

(12-ounce) package HORMEL® BLACK LABEL® thick cut bacon, diced

1/4

cup diced onion

1/4

cup chopped roasted red pepper

4 to 5

garlic cloves, minced

2

tablespoons flour

1

teaspoon smoked Spanish paprika

2

cups chicken stock

4

eggs, fried or scrambled, if desired

to taste

Kosher salt and pepper
Instructions
Prepare grits or polenta according to package directions. Stir in milk, cheese and butter; cook 1 to 2 minutes. Remove from heat, cover and set aside.
In stockpot over medium heat, cook bacon until crisp. Add onion, roasted red pepper and garlic. Reduce heat to medium-low and cook 2 to 3 minutes longer. Sprinkle flour and paprika over bacon mixture, stirring to fully coat; cook 3 minutes. Add stock; cook and stir 4 to 6 minutes or until gravy thickens and coats the back of a spoon.
To serve, divide grits among four bowls and spoon gravy over top. Add a fried or scrambled egg, if desired.
Substitution Ideas
Substitute slow-cook grits or coarse ground cornmeal for instant grits or polenta.
Substitute evaporated milk or half-and-half for milk.
Substitute any shredded cheese for Parmesan cheese.
Substitute Applegate® dinner sausage for HORMEL® BLACK LABEL® thick cut bacon.
Substitute fresh bell pepper, olives or capers for roasted red pepper.
Substitute mushroom broth, beef broth or water for chicken stock. If using water, add ½ Herb-Ox® bouillon cube or ½ teaspoon gravy base paste.