Lamar Moore loves to cook almost as much as he lives to celebrate family, so when the Chicago chef can combine the two, it's pure delight. In his two decades as a professional culinarian, he's pretty much done it all, including stints on "Chopped" and "Vegas Chef Prizefight" where he was crowned champion, national speaking engagements and jobs that tend to put him in some really cool kitchens. Still, he hasn't lost sight of the importance of giving back, of good friends getting together for a ball game, of dropping everything when someone you care about needs a hand – and more to the point – of making meals with leftovers and love, the only ingredients you'll ever need.
You don't need to overdo it with spices in your house.

Chef Lamar Moore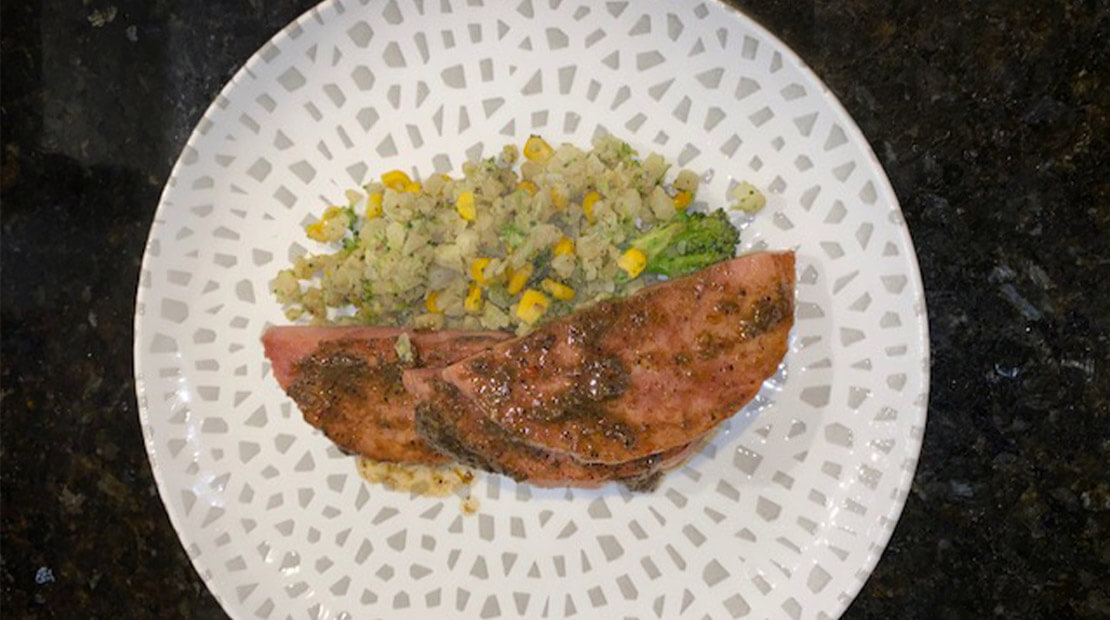 Roast Jerk Pork and Cauliflower Broccoli Rice Pilaf
Roast Jerk Pork:

1 1/4

cups wet jerk spice

1/2

cup whole grain mustard

1/3

cup honey

12

ounces HORMEL® ALWAYS TENDER® pork loin

Cauliflower Broccoli Rice Pilaf:

6

ounces broccoli florets

2

tablespoons vegetable oil

2

tablespoons unsalted butter

24

ounces frozen cauliflower rice, thawed

1/2

cup frozen corn, thawed

2

cloves garlic, minced

1/2

teaspoon dried rosemary, crushed

1/2

teaspoon salt

1/4

teaspoon white pepper
Instructions
Roast Jerk Pork
In bowl, combine jerk spice, mustard and honey. Rub pork loin with mixture, covering all sides. Cover and refrigerate 2 hours.
Heat oven to 400°F. Remove pork from marinade; discard marinade. Place pork on baking sheet. Bake 25 to 30 minutes or until internal temperature reads 155°F. Remove pork from oven, cover with aluminum foil and let stand 15 minutes or until thermometer reaches 160°F.
Cauliflower Broccoli Rice Pilaf
With box grater, shred broccoli until it resembles rice. Heat oil and butter in skillet over low heat. Increase heat to medium. Add cauliflower, broccoli, corn, garlic, rosemary, salt and white pepper; cook 3 to 4 minutes or until are tender, stirring often.
Slice pork and serve with vegetables.
Chef Lamar's Jerk Rub
3

tablespoons cayenne pepper

3

tablespoons paprika

2

tablespoons ground allspice

2

tablespoons kosher salt

2

tablespoons sugar

1

tablespoon curry powder

1

tablespoon dried thyme

1

tablespoon ground nutmeg

2

teaspoons ground cinnamon

1

teaspoon black pepper

1

teaspoon ground cloves
Instructions
In bowl, mix together all ingredients. Store in airtight container. Makes 1 cup.
Voila. Best side dish you've ever had.

Chef Lamar Moore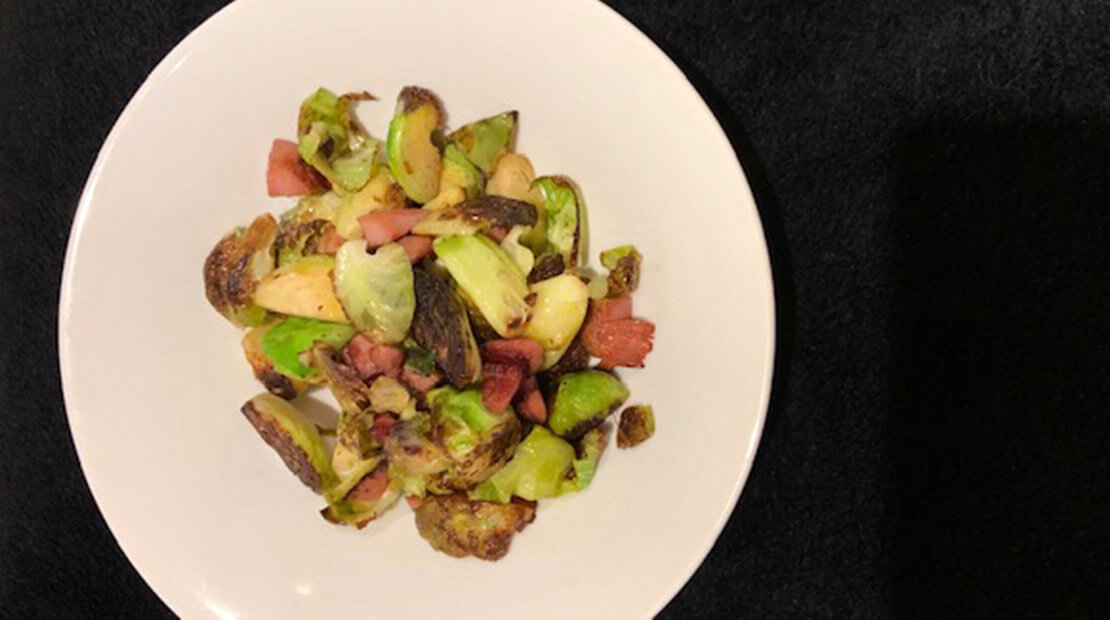 Leftover Pork and Brussels Sprouts
Total Time

20 minutes

Serves

2 to 4
4

ounces leftover cooked pork, cut into 1-inch strips

1/2

pound Brussels sprouts, trimmed

2

tablespoons extra virgin olive oil

Kosher salt and cracked black pepper, to taste

2

tablespoons sherry or balsamic vinegar
Instructions
Heat large skillet over high heat. Add pork and Brussels sprouts to skillet; cook 2 to 3 minutes or until slightly crispy. Add olive oil, salt and pepper. Cook 5 to 6 minutes or until crispy on outside and tender inside. Pour balsamic vinegar over pork.
Stories
Meet The Chef
How Lamar Moore's devotion to family & community flavors his world
Meet Chef Lamar