You have to trust a chef who admits to a love of peanut butter, especially when she's based in Napa Valley, otherwise known as culinary heaven. Christina Machamer has triumphed on "Hell's Kitchen" and has worked not only with Gordon Ramsay, but with famed chefs Larry Forgione and Thomas Keller, too. Few can rival her success, but this recipe for pad thai is sure to put you on the path to gourmet cooking, even if you're sheltering in place.
Let me tell you about my secret weapon: peanut butter

Chef Christina Machamer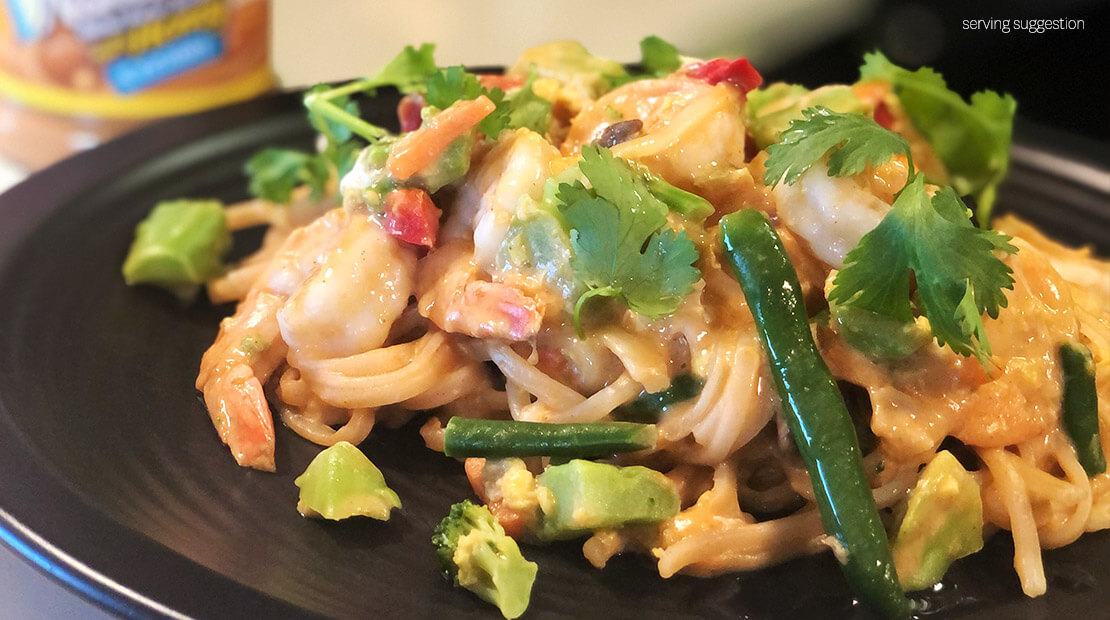 Peanut Butter Pad Thai
Total Time

30 minutes

Serves

4
1/2

cup SKIPPY® creamy peanut butter

1/4

cup fish sauce

2

tablespoons soy sauce

1

tablespoon lime juice

1

tablespoon minced garlic or ½ teaspoon garlic salt

1 to 2

tablespoons sriracha sauce or red pepper flakes

1

tablespoon brown sugar

1/2

cup water

2

cups frozen shrimp, thawed*

2

tablespoons oil, divided

2

cups frozen mixed vegetables, thawed and drained

1

egg, beaten

2

cups cooked rice noodles**

If desired

cilantro leaves
Instructions
In bowl, whisk together peanut butter, fish sauce, soy sauce, lime juice, garlic, sriracha sauce and brown sugar. Gradually whisk in water. In large skillet over medium-high heat, cook and stir shrimp in 1 tablespoon oil 30 seconds. Stir in vegetables; cook 1 minute or until shrimp are pink. Push shrimp and vegetables to one side of skillet. Add 1 tablespoon oil to empty side of skillet. Add beaten egg; cook and stir egg 30 seconds or until egg is scrambled. Stir in cooked noodles and sauce. Cook 1 to 2 minutes or until hot. Garnish with cilantro, if desired.
*Cooked and cubed chicken may substitute.
**Spaghetti or ramen noodles may be substituted.