Chef Chris Cheung knows how to take the sometimes ordinary, always tasty comfort food we love and transform it into a mouthwatering, head-turning dish. Here, he uses a mystery basket of Dinty Moore® beef stew, pineapple and one of his favorites (SPAM® classic) to create a not-to-be missed meal for the whole family.
Let's give ourselves half an hour to cook this dish.

Chef Chris Cheung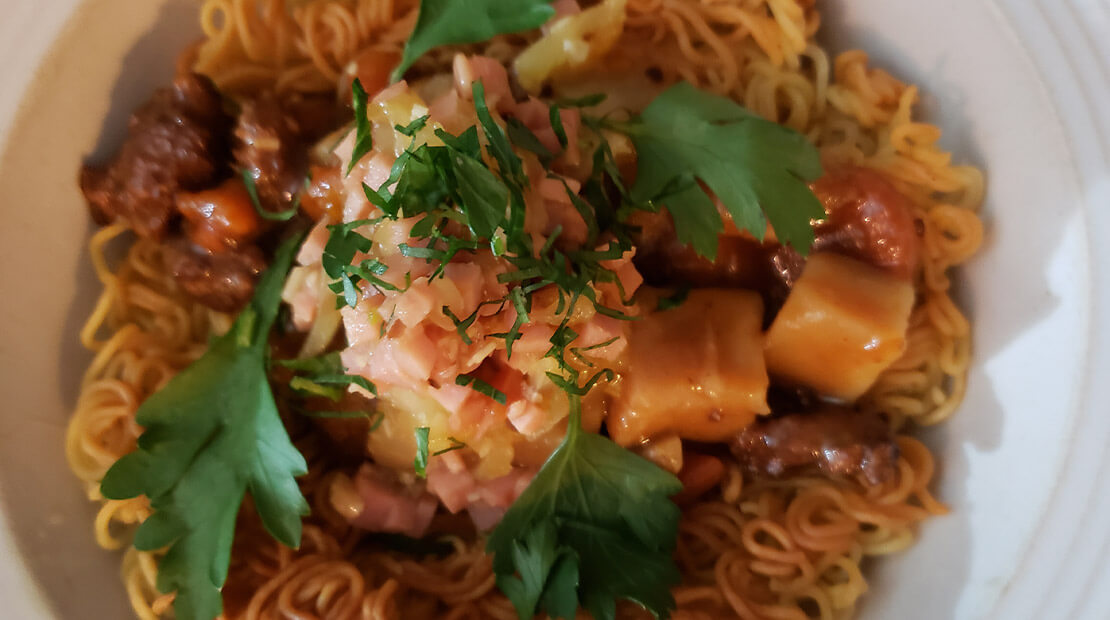 Curry Beef Stew Chow Mein
Total Time

35 minutes

Serves

4
4

(3-ounce) packages ramen noodles

16

cups water

1

(24-ounce) can DINTY MOORE® beef stew

1

(8-ounce) can pineapple tidbits

10

dry scallops, chopped

1

cup diced SPAM® Classic

1/2

cup shao shing wine

2

tablespoons oyster sauce

2

teaspoons curry powder

1

cup vegetable oil, divided

1

tablespoon chopped parsley, some leaves for garnish
Instructions
In large pot, cook ramen noodles in water 2 minutes; drain.
Strain stew, reserving gravy. Drain pineapple, reserving juice. In saucepan, combine ¼ cup reserved gravy, diced pineapple, 1/2 cup reserved pineapple juice, chopped scallops, diced SPAM® Classic and wine. Simmer over low heat 3 minutes.
In saucepan, simmer beef stew, oyster sauce and curry powder 4 to 5 minutes or until hot.
Heat ¼ cup oil in small skillet. Add ¼ of the cooked ramen noodles and cook until golden brown; remove to a plate. Repeat three times with remaining oil and ramen noodles.
To serve, top each noodle cake with stew and SPAM® brand mixture. Sprinkle with chopped parsley. Serves 4.