Let's step back in time to learn a bit about that little blue can's history and how you can celebrate today with some of our tried-and-true SPAM® brand recipes!
Hormel Foods, headquartered in Austin, Minn., introduced SPAM® luncheon meat in 1937. The canned meat product swiftly gained notoriety when more than 100 million pounds of SPAM® luncheon meat was shipped overseas to aid in feeding allied troops during WWII. The SPAM® brand continued to grow popularity among consumers in the years following the war – selling 3 billion cans by 1980. Today there is a SPAM® Museum in Minnesota, a week-long SPAM JAM® festival in Hawaii and even an online store filled with everything from SPAM® branded from golf bags to SPAM® can earrings.
While new SPAM® varieties, like teriyaki and jalapeño, are available, SPAM® classic remains the most popular variety: a delicious and versatile product made by combining pork with ham, salt, water, potato starch, sugar and sodium nitrate – six simple ingredients that have fed millions over the last 85 years.
Enjoy these delicious SPAM® recipes to help you celebrate with the sizzle we all know and love.
Recipes
Skip the typical burger night and spice things up with a SPAM™ fan's go-to: the SPAMBURGER™ Hamburger.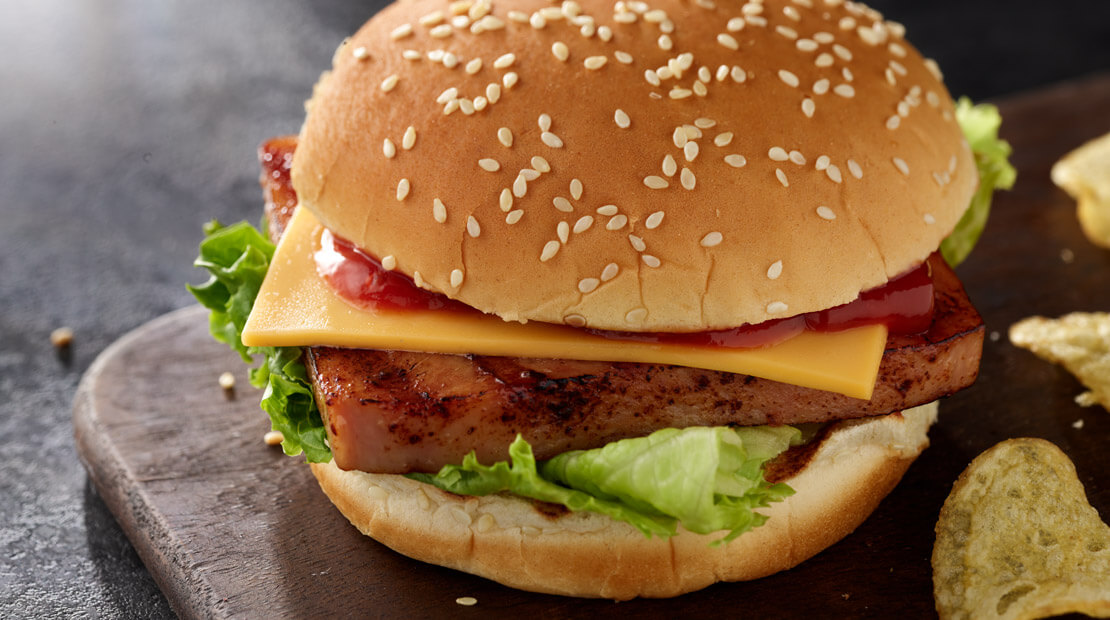 SPAMBURGER™ Hamburger
1

(12-ounce) can SPAM® Classic

4

hamburger buns, split

4

lettuce leaves

4

slices cheese, if desired

Ketchup
Instructions
Prepare grill. Cut SPAM® Classic into 4 slices. Grill SPAM® Classic turning once, 5 to 7 minutes or until heated thoroughly.
Place a slice of cheese on each slice of SPAM® Classic just before removing from grill.
Serve in buns with ketchup.
If you've never had SPAM® Musubi, get ready for a flavor tidal wave! This Hawaiian-inspired SPAM® dish is a fan favorite not only among islanders, but salty snack lovers around the world.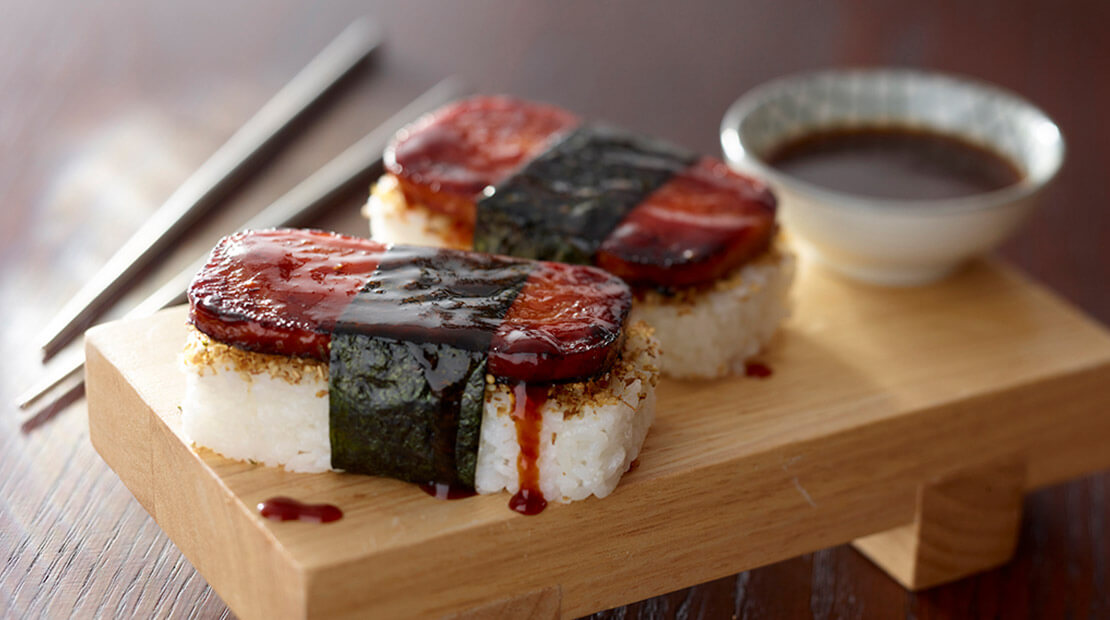 SPAM® Musubi
Total Time

15 minutes

Serves

2
2

slices SPAM® Classic

3

ounces cooked white rice, seasoned with furikake and toasted sesame seeds, if desired

1

tablespoon HOUSE OF TSANG® General Tso Sauce

1

sheet nori
Instructions
In large skillet, cook SPAM® Classic until lightly browned and crisp. Drizzle with grill sauce or cooking sauce.
Place rice into musubi press or line inside of empty SPAM® Classic can with plastic wrap and place rice in can. Press rice down firmly.
Sprinkle with seasoned furikake and toasted sesame seeds, if desired.
Place SPAM® Classic on rice in press or in can. Press down firmly. Optional: top with remaining rice; press down.
Remove SPAM® Classic and rice from musubi press or can.
On work surface, cut nori to desired width.
Lay nori shiny-side-down; top with pressed SPAM® Classic and rice. Wrap nori around pressed SPAM® Classic and rice. Serve immediately.
Did you know that in Southeast Asia, SPAM® products are given as luxury gifts? There are all kinds of Asian-inspired SPAM® dishes to choose from, but this SPAM® Pho is a can't-miss.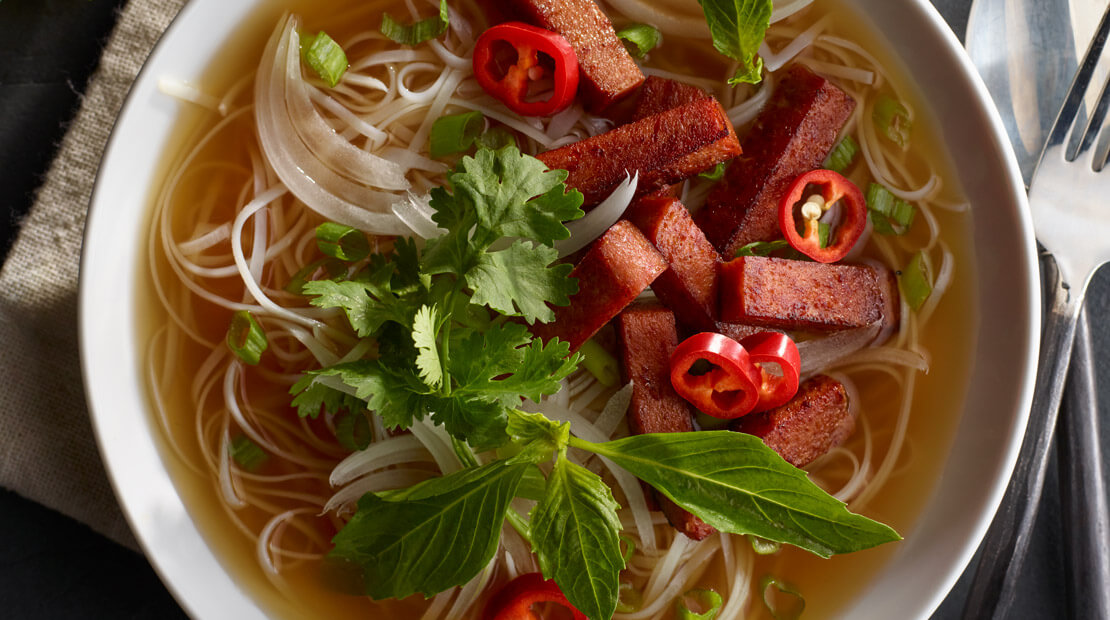 Easy SPAM® Pho
Total Time

30 minutes

Serves

2
1/2

(12-ounce) can SPAM® Classic, sliced

4

ounces uncooked rice noodles

3

cups low-sodium chicken broth

2

tablespoons HOUSE OF TSANG® Hoisin Sauce

2

tablespoons fresh lime juice

1

tablespoon fish sauce

1/2

cup thinly sliced white onion

1/2

cup fresh cilantro sprigs

1/2

cup fresh Thai basil sprigs

1/4

cup sliced green onions

1

red chili or red jalapeño, sliced
Instructions
Cook the rice noodles according to the package, then set aside.
Cook the SPAM® Classic slices according to the package, or until golden.
In a medium saucepan, over medium heat, add the chicken broth, HOUSE OF TSANG® Hoisin Sauce, lime juice, and fish sauce. Bring to a boil, then remove from heat and transfer to serving bowls.
Divide the noodles between the serving bowls. Top with SPAM® Classic slices and remaining ingredients.
Start your day off right with SPAM® Benedict. Hollandaise sauce, poached eggs and a perfectly-seared slice of SPAM® classic – what else could you ask for?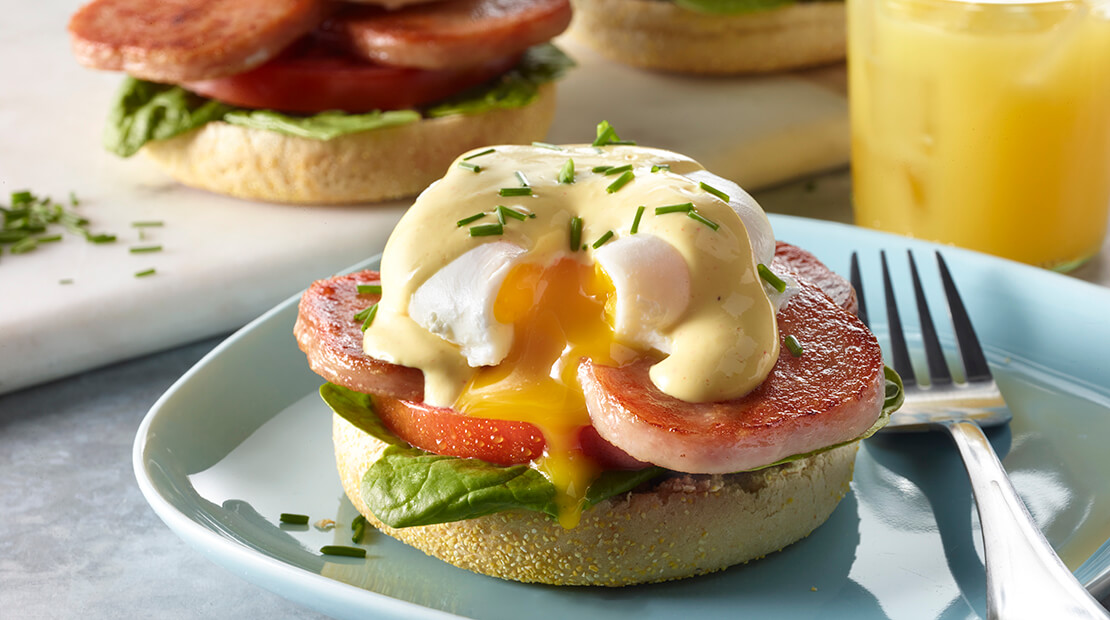 SPAM® Benedict
Total Time

40 minutes

Serves

4
1

(12-ounce) can SPAM® Classic

1

cup butter, melted

4

egg yolks

4

English muffins, split and toasted

1/2

cup fresh spinach

8

large eggs

3 1/2

tablespoons lemon juice

8

slices tomato

1

tablespoon water

1

teaspoon white vinegar
Instructions
To make the Hollandaise sauce, fill the bottom of double-boiler part-way with water; make sure water does not touch top pan.
Bring the water to a simmer.
In top of the double-boiler, whisk together egg yolks, lemon juice, and 1 tablespoon water.
Add the butter to egg yolk mixture 1 or 2 tablespoons at a time, whisking constantly. If sauce becomes too thick, add 1 to 2 teaspoons hot water. Whisk until butter is incorporated.
Whisk in salt, then remove from heat and cover.
To poach the eggs, fill a large saucepan with 3 inches of water.
Bring the water to a gentle simmer, then add vinegar.
Carefully break the eggs into the simmering water, and cook 2 1/2 to 3 minutes or until whites are cooked and yolks are still soft in center, then remove the eggs with a slotted spoon and set on warm plate.
Meanwhile, cut the SPAM® Classic into 4 (1/4-inch-thick) slices.
In a medium skillet, heat SPAM® Classic over medium-high heat until lightly crisp.
Place English muffins, cut-side-up, on serving plates.
Top evenly with spinach, SPAM® Classic, tomato, and poached egg. Drizzle with Hollandaise sauce. Sprinkle with chives, if desired. Serve immediately.