Chef Kiki Aranita Has a Special Way to Celebrate a Birthday: SPAM® 25% Less Sodium!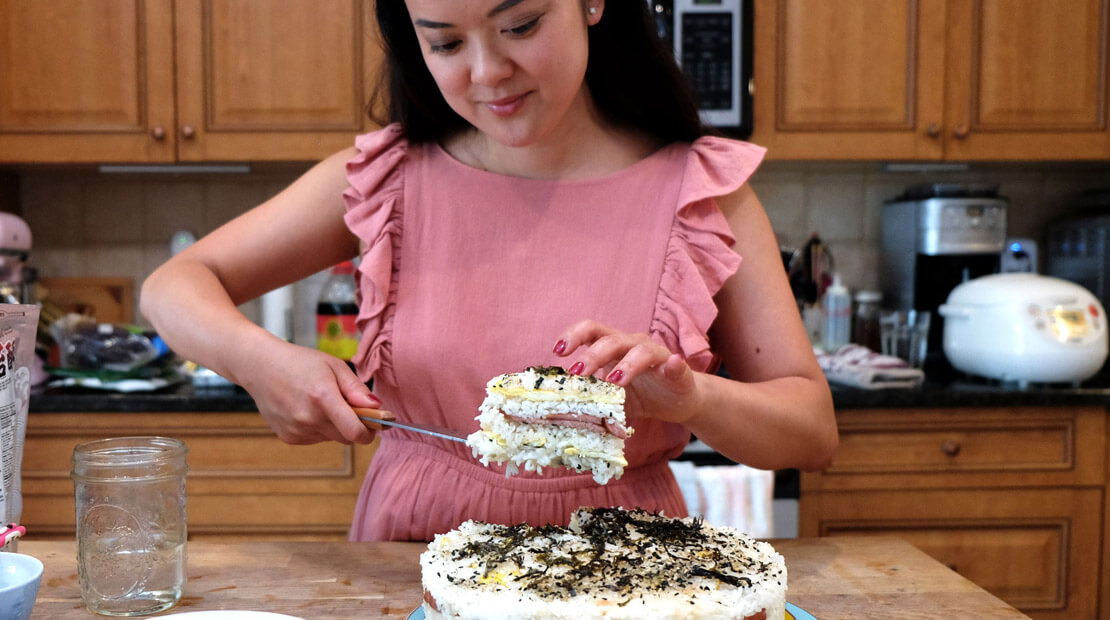 Vice
Introducing the SPAM® Musubirthday cake!
Seven years ago Kiki Aranita introduced Hawaii's beloved snack, SPAM® Musubi, to Philadelphia at her Poi Dog food truck. "Having it on the menu was extremely important because I wanted to share my love for the SPAM® brand with my restaurant goers and teach locals about how SPAM® products are a flavorful addition to a variety of dishes."
That truck morphed into a quick-service restaurant in Philly's Rittenhouse Square neighborhood, where Aranita and her co-chef and business partner Chris Vacca carved up purple loins of tuna into glittering poke; braised haunches of pork into kalua pig; and prepared other favorite foods from the 50th State, including, of course, SPAM® Musubi—dominoes of meat marinated in soy sauce and sugar, pressed like nigiri onto seasoned sushi rice and cinched with black belts of nori. Philly ate them up. "We would have businessmen come in, and at first they'd split one musubi among four guys, then they'd come right back, and everyone would get their own."
Aranita grew up splitting her time between Hong Kong, where her mother is from, and Hawaii, where her father's Filipino-Portuguese-Spanish family goes back five generations. Though separated by 5,700 miles of ocean, Aranita shares how SPAM® products were an important part of her childhood in both cultures although they show up in completely different capacities. "My mom was the queen of driving me and my sister all over to after-school activities: hula, ballet, calligraphy and cooking classes. SPAM® Musubi was the first thing we learned to make." Meanwhile in Hong Kong, SPAM® products are a fixture of the cha chaan teng teahouse scene, "where you find a mixture of Western ingredients with Cantonese sensibilities. This typically translates to a big, steaming cup of milk tea alongside SPAM® Classic with macaroni noodles in broth."
With an upcoming birthday, Aranita's been thinking about celebrating with SPAM® products this year. "I don't like cake. On my birthday I either want cheesecake, a giant cookie or a wheel of cheese with a candle. For years I've dreamed about what else I could have in cake form." She realized the answer was right in front of her.
Now, in partnership with SPAM® brand, she's created the Musubirthday Cake, "a blend of three of my favorite things: SPAM® Musubi, Hainanese chicken rice, and Okinawan andasu, basically a pork fat miso. I thought SPAM® 25% Less Sodium is the perfect pork addition." Aranita blends the schmaltz with miso, sugar, and ginger, and slicks the cooked short-grain rice with the mixture before pressing it into a springform pan. She layers in thin egg omelets and slices of marinated SPAM® 25% Less Sodium and dusts the cake's surface, "like sprinkles," with furikake. "This is what I would want somebody to make me if that somebody was also me."