Funny Man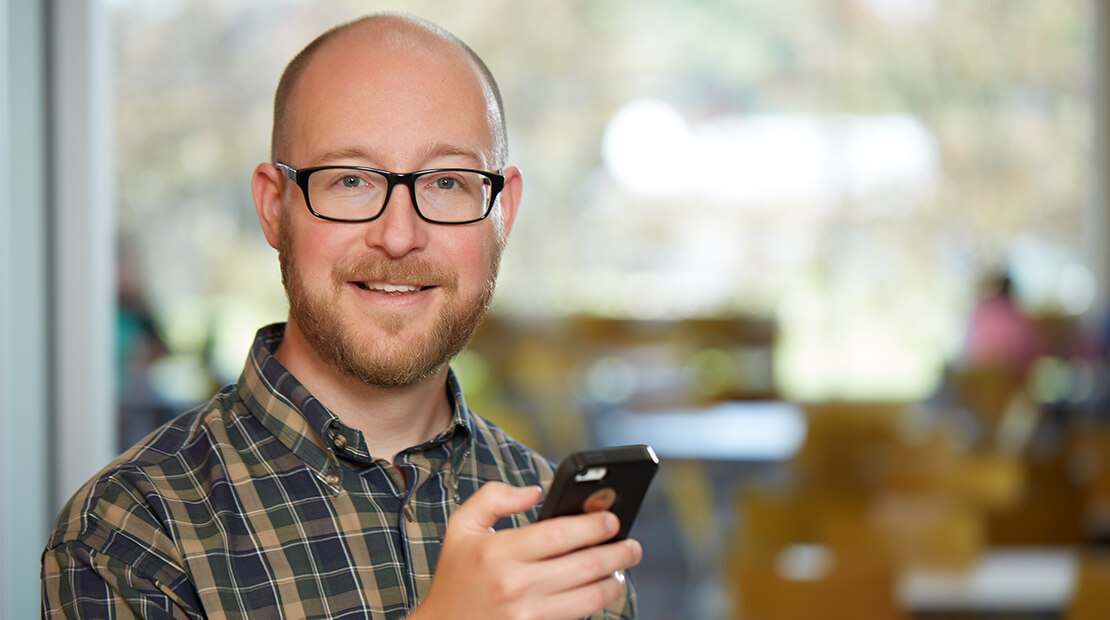 Austin Daily Herald
Meet Chris Anderson, Hormel's own stand-up comedian
On Aug. 26, 2017, a Twitter user tweeted at Hormel Foods over a picture of hot dogs found in cans of Stagg Chili.
"Exodus 10:4 If thou do not repent I will deliver hot dogs into thy canned goods. And there will be no Stagg Chili and much disappointment.'
How Hormel Foods responded probably unexpected:
"But lo, if thou dost post upon Twitter, the owners of the brand shall take note and remedy thy situation. Or at least help make up for it."
The man behind the tweets and social media postings was Chris Anderson. Don't worry, he's not a bot.
Since 2007 — having just celebrated his 11th work service anniversary last week — Anderson, who was born in Coon Rapids and grew up mostly in Iowa, had worked at Hormel Foods as a consumer engagement specialist.
But on the weekends, he's a stand-up comedian who loves to make people laugh and have a good time. Anderson's wit and comedy have come in handy while engaging customers via social media.
"We're here answering a lot of people's questions mostly," he said. "In my position, I work a lot with social media and help generate some content that go out to some of our brand accounts."
He's not a bot
Anderson's approach to making Hormel Foods more human, was to put a personal touch on things, and not just using automated responses or rely on a script. The company had allowed Anderson to be more creative on his interaction with consumers over questions and possible negative experience with a product.
"We definitely try to have each brand account have their own individual voice that matched our marketing angle," he said. "We're trying to match our brand voice."
Such examples included posts on Instagram where Anderson assisted a user with creating a caption of holding Hormel Food products:
""There's a caption here … Hormel Foods might help me out. I love good #porktenderloin," a user named "infotaint" in Oklahoma City posted.
Anderson was responsible for the following comment:
"Pork tenderloin, how do I love thee? Let me count the ways. I love thee grilled and fried and baked. When having friends over, upon you my reputation is staked. For I know you will deliver flavor for days. For I know you will deliver flavor for days."
He, however, felt most proud when a customer compared Anderson's tweets to Wendy's social media interactions.
"I did have one consumer, who wrote back: 'Thanks for writing back something funny. Sounds like you've been taking lessons from Wendy's,'" he chuckled. "Theirs is a little sharp tone voicewise compared to what we're doing. But, I appreciate the comparison."
There hasn't been a negative incident yet, where Anderson misread a customer's tone when engaging them through one of Hormel's brand accounts. However, he felt that the company was able to become more "human" as opposed to being "a robot" by becoming more sociable through social media.
This type of customer engagement, Anderson hoped, was something that companies would shift toward in making sure their customers felt cared for.
"I do like that," he explained. "A lot of people will comment and call in, and they're surprised they're talking to a live person. They weren't expecting that. I feel that's a great thing the company does in getting people out of that 'press one for this or press two for that,' but they're getting a live person quickly, and we're not following a tight script. Now a days, I feel that this is rare."
Although, having recorded some automated voice messages, he had been accused of being a robot maybe once or twice, Anderson admitted.
"I recorded the 'thank you for calling Hormel foods' messages,'" he said. "People will recognize it and ask 'is this a real person'? Good ears."
'He's got the character'
Anderson began the journey into comedy while in high school and college. He moved to Chicago to study improv theatre, and remembered listening to podcasts recommended by a classmate, and was intrigued about stand-up comedy. Eventually, this curiosity sparked into Anderson's fateful trip to a place where his debut into comedy began.
"I went to watch an open mic night, and was like 'it sounds fun.'" Anderson said. "I went over to Goonies in Rochester, and then two weeks later, I had five minutes of material and I've been a regular ever since."
The owner of Goonies Comedy Club, Mark Klampe, had developed a relationship with Anderson, and now has Anderson open as a host and emcee for weekend shows after improving his stage presence through his open-mic acts. He and other hosts take about five or seven minutes to properly warm up the crowd before introducing the feature or headlining act.
"He's a good friend to the club," Klampe said. "He's a very easy person to get along with. He's got an easy-going, laid back style and knows what the audience is looking for. He follows directions well."
What you see is what you get, according to Klampe. He described Anderson to be the same person off-stage too.
"He's got the character," he added. "He makes people comfortable and that's what he does a great job of."
Upon hearing that Anderson uses his comedic wit and skill through social media for Hormel Foods, Klampe was surprised…and somewhat, not surprised.
"I never knew that I needed to be following Hormel," he laughed. "It must be the same guy. Sounds like something he would do."
'The best way is to talk with people"
Taking on a comedic approach to consumer engagement is not too different than preparing for an act on stage, according to Anderson. He keeps a notebook with him at all times, and draws inspiration from his daily life. Most of the time, Anderson needs to be quick on his feet.
"You never know what the experience is going to be like every time you pick up a phone, get an email, you have no idea what comes next," he said. "You hope the information you have is going to provide a quick, confident answer for a user. You can't always know how the conversation will end up. I just want everybody to feel good at the end of an exchange."
When preparing material for an act, he'd often seek the most valuable critic who'd be honest with Anderson: his wife, Maria.
"(Maria) is not a big laugher, and if I can get any reaction from her…she won't fake a laugh for my self-esteem," Anderson said. "She's my most honest audience."
Although his professional work with customer engagement and stand-up comedy intersect sometimes, Anderson still gets the case of nerves, yet, he loves it.
"It's more exciting and exhilarating experience," Anderson said. "I feel like it keeps me on my toes. I don't want to get lazy. I want to be in the moment and interacting with the audience, and have that electricity that anything can happen. I don't want to be too locked into this."
That similar feeling, can be felt while engaging customers while working at Hormel Foods.
"The opportunities to talk to people more have really grown," Anderson said. "People now expect to interact with a company on a more one-on-one immediate way. It's been an evolution trying to see what the best way is to talk with people."