New Turkey on the Line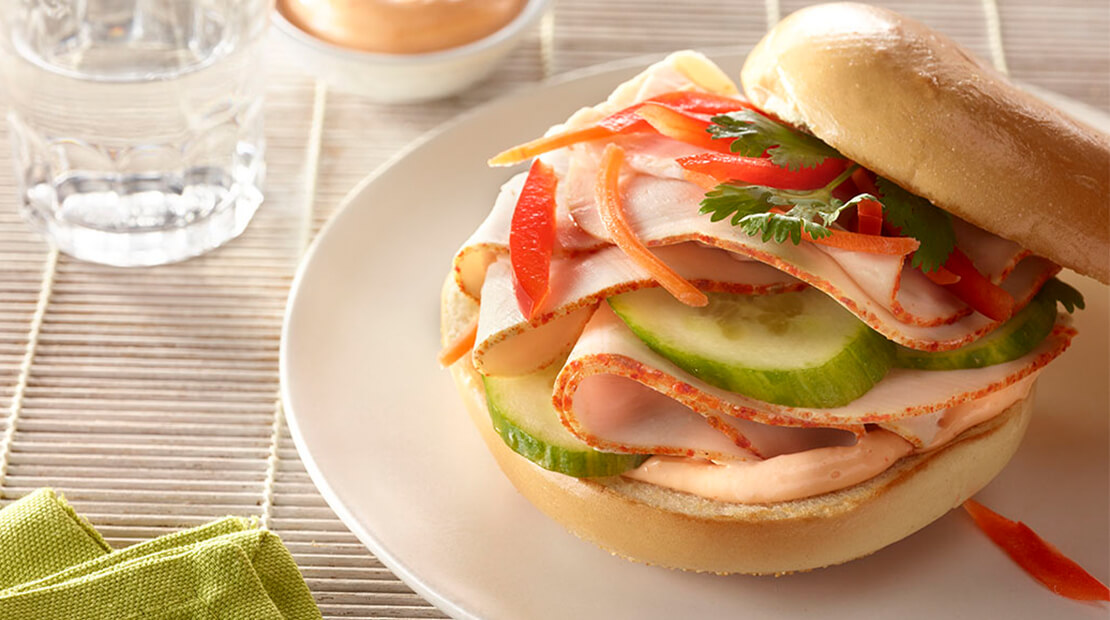 Meat + Poultry
To meet the needs of consumers who want great-tasting, grab-and-go turkey options, Jennie-O is rolling out six new flavors of presliced turkey breast.
Jennie-O, a brand of Austin, Minnesota-based Hormel Food Corp., is taking another detour out of the meat department and into deli.
To meet the needs of consumers who want great-tasting, grab-and-go turkey options, Jennie-O is rolling out six new flavors of presliced turkey breast: Oven Roasted, Hickory Smoked, Cracked Pepper, Cajun, Smokey Chipotle and Sriracha.
The products, arriving on retail shelves this spring, are 98 percent fat-free and sold in vacuum-sealed packages with zipper closures for ease of use.
John Gerde, Jennie-O's deli brand manager, says the brand's decision to expand its deli roster was driven by a market need that wasn't being fulfilled. "We saw a void within the pre-sliced category, with few options for consumers who were looking for bold and new flavors," Gerde says. "With the variety of traditional and fearless flavors in the new line, we have something to satisfy any consumer's tastes."
At the same time, Gerde says, those consumers who are looking to broaden their horizons with new flavors aren't willing to do so at the expense of quality. "We also know that even though consumers like the convenience of pre-sliced meat, they don't want to sacrifice quality," he says. "Our new line of Jennie-O pre-sliced items is great because it offers consumers the high-quality experience of meat sliced fresh at the counter, but in a quick and convenient option."
That's not all Jennie-O has to offer when it comes to the grocery store deli. In addition to its full line slicing turkey and chicken at the service deli, Jennie-O All Natural Turkey Breast Roast and Slow Roasted Dark Turkey products can be found in many grocery deli hot cases, Gerde says.
And for grab 'n go, Jennie-O's Premium Portions are a versatile product for salads, sandwiches and appetizers, Gerde says. The brand also offers a number of prepared food options, including its store-baked turkey breast, which he says can give retailers a big boost in one of the fastest-growing areas of the deli.
"You'll find the Jennie-O brand across all aspects of the deli," Gerde says.
One of the things that differentiates Jennie-O from the competition, Gerde says, is its mission to make products that combine great taste with healthfulness.
"We know that consumers are more conscious than ever about the food they consume and feed to their families, and products with quality ingredients are a huge part of that," Gerde says.
To that end, Jennie-O is constantly innovating to add healthier fare to its product roster. The brand's Premium Seasoned Turkey Breasts line, for instance, has three new flavors packed under its All Natural banner: Sweet Thai Chili, Chili Pepper and Apple Cider Cinnamon. "Each offers a unique flavor experience and premium quality, without cures or preservatives," Gerde says.
At this year's IDDBA show, Gerde expects flavor evolution and fresh meal ideas to be among the hot topics among purveyors of high-quality deli meats.
"As more consumers seek out the deli for restaurant-style solutions, retailers are looking for turn-key products that deliver on flavor and quality," he says. "In addition, consumers continue to evolve on their flavor preferences and are looking for options that branch outside of fried foods and other standard offerings that are perceived as unhealthy or boring."
To stay on top of those trends, Jennie-O is more focused than ever on innovation, Gerde says — whether it's consumer- or retailer-driven. "We've done extensive work around flavor, and we'll be highlighting many of these items at this year's show," he says. "We've also seen how deli operations are changing, and it's inspired us to make products that make life easier for operators. The deli today is much broader than just sliced meat, and we have the solutions to help our retailer partners succeed."