SPAM® Brand Launches Campaign in the Philippines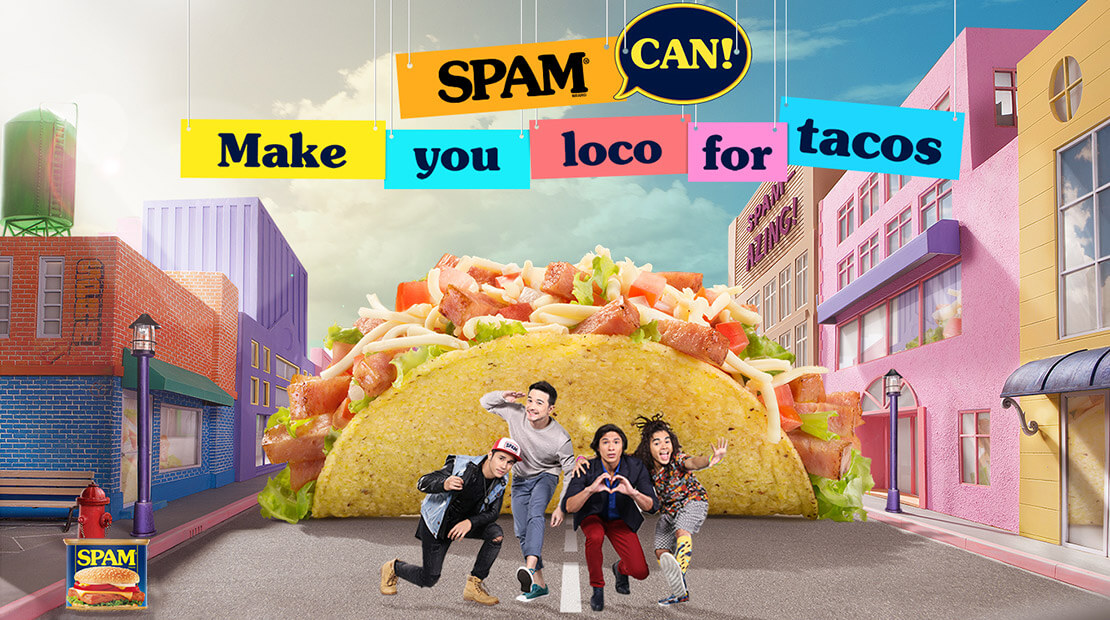 For the first time in over 20 years, SPAM® products are being advertised in the Philippines.
The campaign revolves around Filipino cuisine with SPAM® products incorporated, as well as ALL4SPAM, the SPAM® brand's very own boy band.
"The SPAM® brand team felt a need to connect with our consumers in the Philippines and to remind them of not only the iconic taste of SPAM® products, but also the versatility that the brand offers," said Jaynee Sherman, senior brand manager, HFIC. "This campaign really connected with Philippines consumers and gave them a reason to celebrate what SPAM® CAN! do."
Because of Filipinos' love of singing and boy bands, All4SPAM, the SPAM® brand's very own boy band, was also created for the campaign. The group features four guys that sing, dance and cook. Various elements of the campaign have included a television ad, a music video, billboard advertisements, taxi advertisements and digital advertisements.
A main part of the platform is appetite appeal imagery that is seen as aspirational to Filipinos. Various recipes used revolve around Filipino favorites like SPAM® spaghetti, SPAM® Sisig and Tokwa't SPAM® and SPAM® tacos.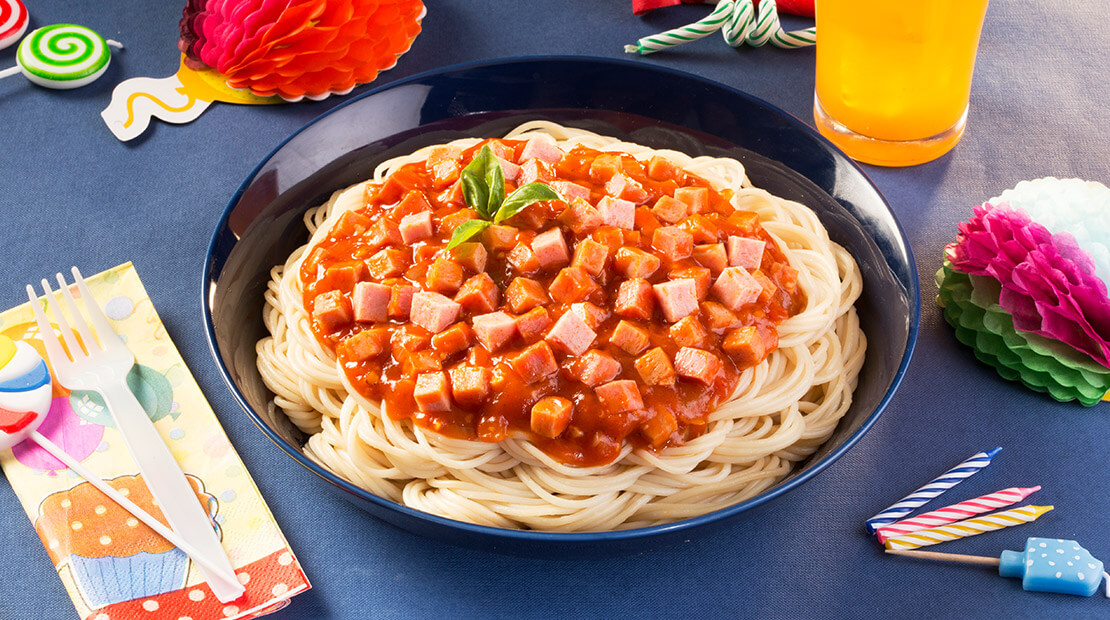 SPAM® Spaghetti
Total Time

20 minutes

Serves

3
1

can SPAM® Classic

50

grams raw spaghetti

1

medium onion; diced

2

cloves garlic; minced

250

grams Tomato Parmesan Cheese Sauce

As desired

Parmesan cheese

To Garnish

Basil leaves

Optional

Garlic Bread
Instructions
Boil spaghetti noodles in salted water and cook according to package directions. In a medium sauce pan, sauté onions and garlic. Add diced SPAM® Classic. Cook for about 10 min. Add 250 grams Tomato Parmesan cheese sauce. Simmer for another 10-15 minutes. Season to taste. Divide cooked noodles onto pasta bowls, top with SPAM® Classic sauce. Sprinkle Parmesan cheese, garnish with basil leaves and serve with garlic bread if desired.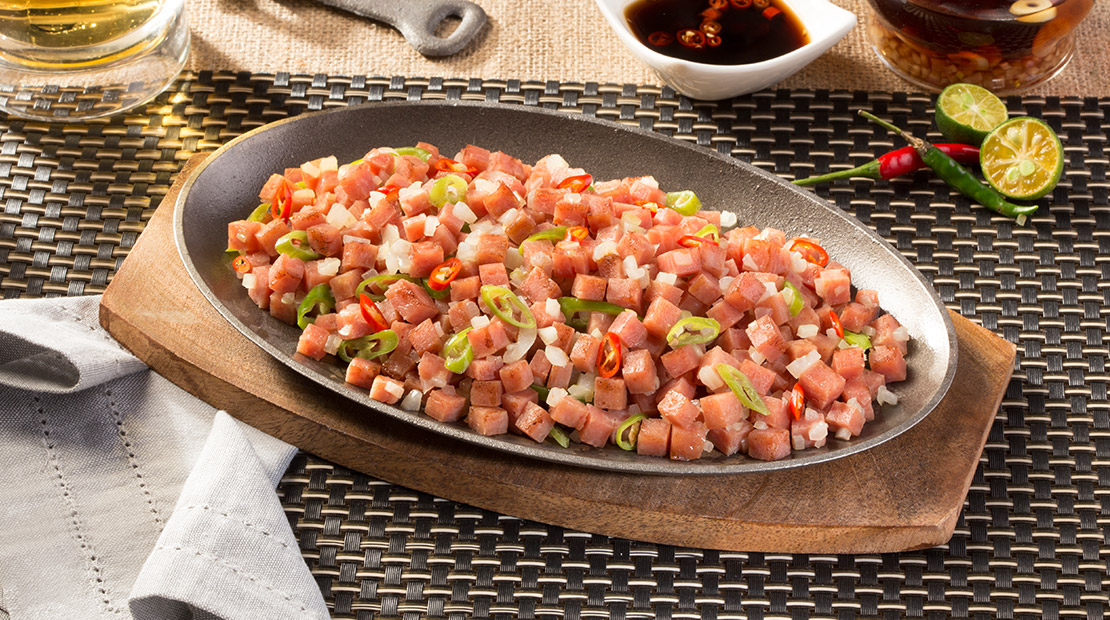 SPAM® Sisig
Total Time

35 minutes

Serves

6
1

can of SPAM® Classic , diced

1

tablespoon vegetable oil

1

medium sized onion, chopped

3

cloves garlic, minced

1/4

calamansi

1

green chili, sliced

1

red chili labuyo (optional), thinly sliced

to taste

salt & pepper

1

egg
Instructions
In a medium sauté pan, heat vegetable oil. Add diced SPAM® Classic, onions and garlic. Simmer for 10-15 minutes (cook longer if one desired a crispier SPAM® Classic sisig). Add calamansi juice, green chili, red chili (if using). Season to taste. Heat sizzling platter. While sizzling platter is heating, heat vegetable oil in a medium sauté pan and make a sunny side up egg. Add a pad of butter to heated sizzling platter, then pour cooked SPAM® Classic mixture onto platter and top it with sunny side up egg.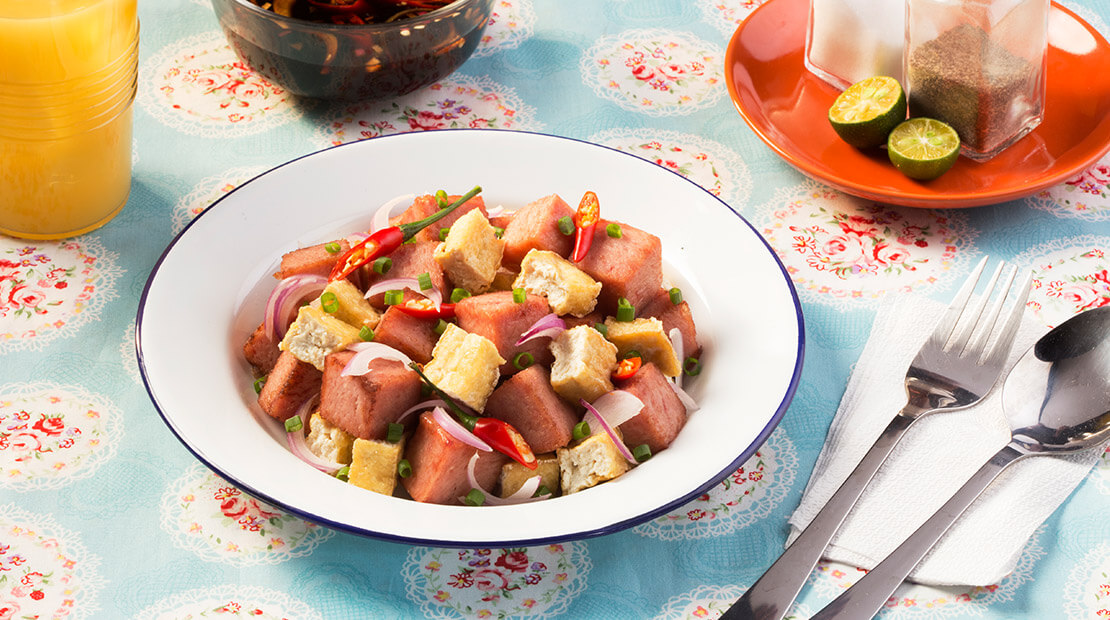 Tokwa't SPAM® Recipe
Total Time

35 minutes

Serves

4
1

can SPAM® Less Sodium , cubed 1×1″

1

block semi firm tofu, sliced 1" thick

1

red onion, sliced thinly

3-5

red chilies, sliced

5

stalks spring onion, chopped (optional)

2

tablespoons soy sauce

1

tablespoon vinegar

1-2

teaspoons sugar

1/4

teaspoon black pepper

as desired

onion, chopped

as desired

garlic, chopped
Instructions
Prepare sauce, by mixing soy sauce, vinegar, sugar, black pepper, onion and garlic together. Set aside. Preheat oil to 370°F. Deep fry cubed SPAM® Less Sodium and sliced tofu. Drain on paper towel. Cut fried tofu into cubes. Toss SPAM® Less Sodium, tofu and sliced red onion together. Top with red chili and spring onion. Drizzle with sauce mix and serve more on the side.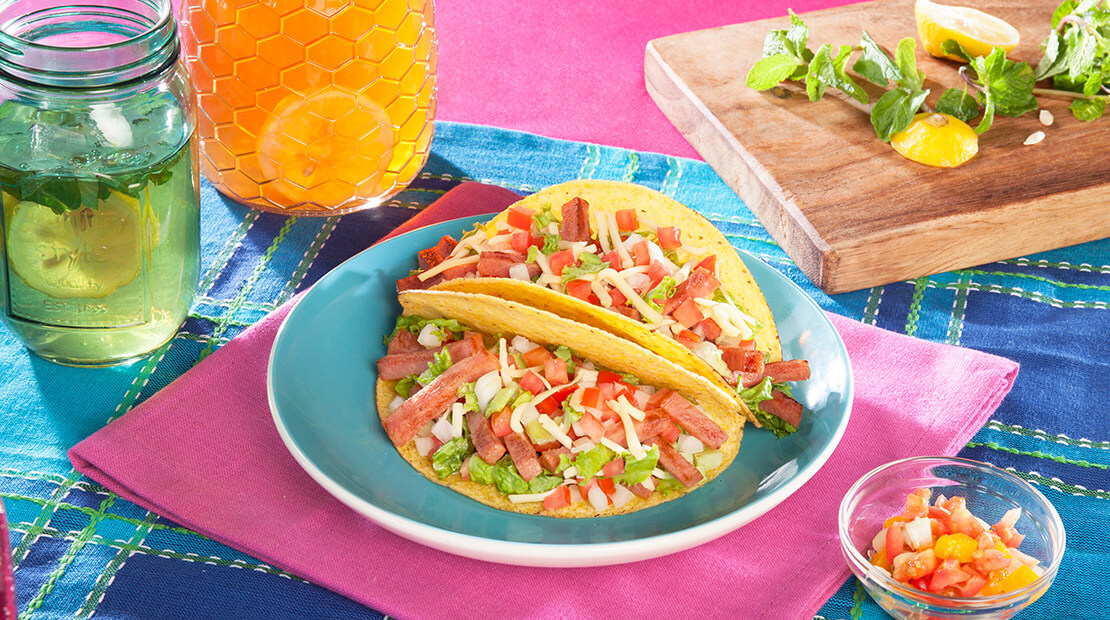 SPAM® Tacos
Total Time

25 minutes

Serves

4
1

12-once can SPAM® Jalapeño, diced

1/2

cup canned black beans, drained and rinsed

1/2

cup canned corn, drained

10

yellow corn taco shells, heated

as desired

shredded lettuce

as desired

diced tomatoes

as desired

Queso Fresco cheese

as desired

salsa

as desired

sour cream

as desired

WHOLLY GUACAMOLE® Dip
Instructions
In large skillet, saute SPAM® Jalapeño until lightly browned. Add black beans and corn and heat until warmed through. Fill warm taco shells with SPAM® mixture.
The SPAM® CAN! campaign was born and executed by the domestic team, and these efforts are an extension of that campaign into the Philippines market.
The SPAM® brand's popularity in the Philippines is not just a recent phenomenon. American's influence during WWII began when G.I.'s gave SPAM® products to the Filipinos because they did not have access to quality protein. Today, the Philippines is the brand's number one export market.