The Great Pepperoni Debate: Should It Lie Flat on Your Pizza Or Curl Up?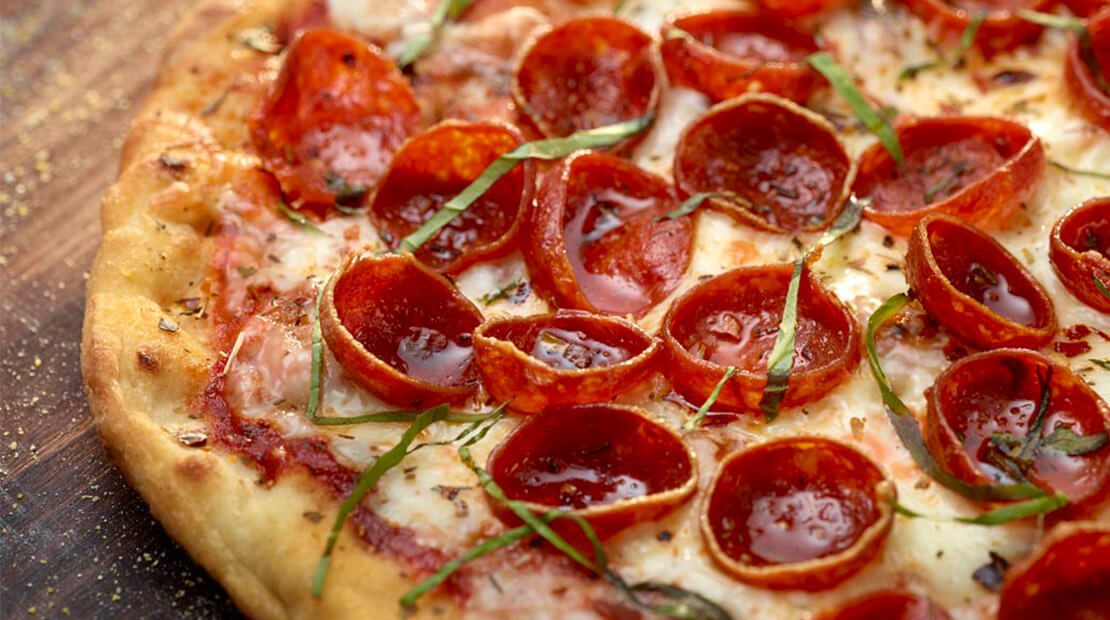 Wall Street Journal
Slices that curl up as they cook win fans, especially on social media
Justin Kadis has a favorite topping for his pizza—pepperoni slices that crimp into cups of hot grease as they cook.
"It's just more aesthetically pleasing," said the pizza fan from Cleveland, who has posted several pepperoni photos on Instagram. "The way those little pools of grease glisten, it just enhances the appeal."Pizza is a realm of polarizing debates: Round pies versus square. Folding the slice versus not folding. Pineapple as an acceptable topping versus common sense. Now there's another. "Lay-flat" versus "cupping."
Those two terms refer to competing varieties of pepperoni. The lay-flat style—silver dollar-sized slices that remain flat when cooked—has been the default for decades at most pizzerias, including major national chains.
But cupping pepperoni—which curls up and often develops browned or blackened edges—is making a comeback, partly because of social media.
"The flat kind is so ordinary, you barely notice it, like a fish doesn't notice water," said Adam Kuban, a longtime pizza blogger and professional pizza maker. "But with the cupping kind, it's like whoa, pepperoni in 3-D."
Pizza lovers of a certain age may recall a time when all pepperoni used to cup. Pepperoni, created by Italian-Americans about a century ago, was originally made with natural casings that were left on the product as it was sliced. The casing contracted a bit during cooking, causing slices to pucker.
As manufacturers sought greater production efficiencies after World War II, most purveyors switched to paper-like fibrous casings, typically removed before slicing. The casing-free slices remained flat as they cooked. Except for a those in a few holdout markets such as Buffalo and Detroit, where cupping has remained, generations of pizza eaters have grown up thinking flat's where it's at.
For many cupping devotees, the line between the product's visual and gustatory appeal is blurry. "When you see the cupped kind, you can tell there's more flavor in it," said Peter Rodriguez, an accountant from Englewood Cliffs, N.J.
"It concentrates all the greasy goodness into one delicious goblet," said Becky Blackhawk, a nursing professor from Palm Springs, Calif.
Cupping pepperoni—also known as cup-and-char or 'roni cups—is experiencing a revival in many places. "In every city where there's a pizza culture, we see people using it," said Anthony Panichelli, pizza toppings brand manager for Hormel Foodservice, which markets a cupping pepperoni called Rosa Grande. "It will never overtake lay-flat, because it's more costly and time-consuming to produce. But it's a great marketing tool."
Hormel's brand, like most current cupping varieties, is made with a rendered collagen casing that promotes cupping. Some products are also stuffed into casings in a proprietary manner that further aids cupping and some have a slightly higher sugar content to encourage charred edges. These factors help explain why cupping pepperoni tends to cost about 15% more than lay-flat.
Many industry observers say the cupping comeback began with the 2012 launch of Prince Street Pizza, a tiny New York shop that quickly became known for using heaping amounts of cupping pepperoni. "We want every slice to have more pepperonis than you can count, but not so much that it overpowers everything else," said Dominic Morano, the restaurant's manager.
As Prince Street became popular, with lines routinely extending down the block, other pizzerias began offering the cupping style. A further breakthrough came in 2016, when pepperoni made by Ohio-based Ezzo Sausage Co.—a brand that carries such weight in pizza circles that it's sometimes called out by name on menus—became available in New York for the first time.
"We've never made as much cupping product as we're doing now," said Darren Ezzo, the company's sales director. "It's about 30% of our pepperoni output, and rising." Ezzo also makes lay-flat, but Mr. Ezzo's heart is clearly with the cups.
"Flat pepperoni, it's just laying there, like it's ironed on," he said. "Cupping pepperoni has character, depth. It makes the pizza more dynamic."
Pizzerias that use cupping pepperoni tend to use a lot of it, with the cups sometimes nesting two or three deep. The reason for this, many agree, is Instagram, where people showcase the little meat vessels. There are even Instagram accounts devoted exclusively to cupping pepperoni, like @little.peps (which has over 23,000 followers) and @ronicups (14,000).
Brian James, a Brooklyn-based product designer who founded @little.peps in 2017, says the account started because pepperoni photos on his personal Instagram account were the only posts that generated any comments.
"People said I should start an account just for that, and I thought it was the dumbest idea ever, but I did it sort of as a joke," he said.
"People have always eaten with their eyes," said Mr. Panichelli, the Hormel brand manager, "but now they eat with their phones."
Not everyone likes the high-volume approach. "It's unmanageable—you try to eat it and the cups are just falling and getting grease all over everything," said Paulie Giannone, who uses cupping pepperoni, but more sparingly, at his Paulie Gee's pizzerias.