Inspiration For A Simple And Delicious Thanksgiving: Jennie-O Serves Up Easy, Creative Menus, Flavorful Recipes And Timesaving Tips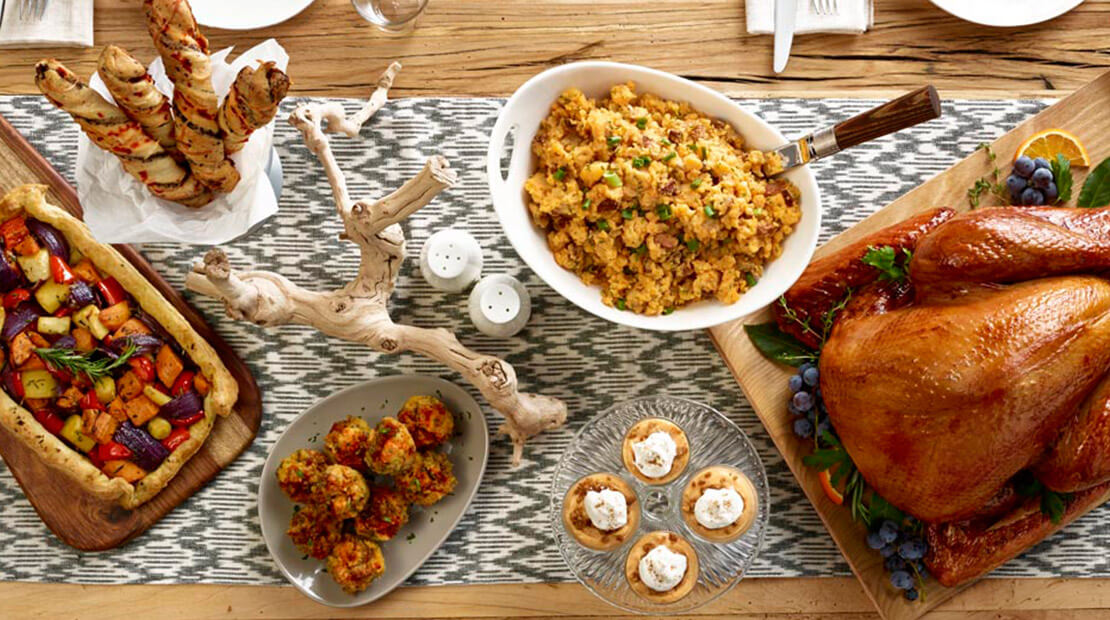 Willmar, Minn.
With Jennie-O as your ally in the kitchen, it's simple to create a deliciously easy turkey feast that will "wow" everyone at the table — including you
Each Thanksgiving, Americans pull out all the stops to serve a meal that will leave everyone at the table saying, "wow!" A trusted ally in the kitchen — Jennie-O — is on a mission this year to help families achieve their perfect holiday with a new one-stop destination for their entertaining inspiration. From flavorful new turkey recipes and creative menus to how-to videos and do-it-yourself tips, the new "Holiday Table" section on JennieO.com now offers convenient resources to make it easier than ever to prepare an unforgettable Thanksgiving feast, whether you're an experienced cook or hosting for the very first time.
"I love preparing for the Thanksgiving feast as much as I love actually eating it. I'm all about finding recipes I trust and figuring out ways to get as much done as possible before my family arrives, so it's effortless and simple to throw the finishing touches together," said Molly Yeh, whose photography and popular musings on easy cooking ideas and adventures from the farm have been featured in Food & Wine, Fresh Style and Saveur. "With menu ideas from the JennieO.com 'Holiday Table', it's easy to create a fun, delicious meal that includes something for everyone."
Resources to get you from planning, to preparation, to praise
Starting with the meal's iconic centerpiece — a delicious Thanksgiving turkey — the "Holiday Table" section on JennieO.com has a wealth of culinary knowledge to make any home cook's efforts shine without adding extra hours in the kitchen.
Demonstration videos and turkey preparation tips
If you ever wanted to know the finer points to carving a turkey, marinating a turkey, grilling a turkey, brining a turkey or applying a seasoning rub, look no further: Jennie-O is here with videos of step-by-step turkey preparation tips, along with delicious marinade and seasoning recipes. Also on the site — just in time for the holiday — is an easy reference guide, "Five Easy Steps to a Roasting a Perfect Turkey" that includes roasting times for turkeys up to 24 pounds.
Impress-the-guests menus
Easy Thanksgiving Menu: Featuring no-fuss ingredients and semi-homemade recipes, this menu makes hosting a breeze. Treat everyone to oven roasted turkey breast with garlic and rosemary mashed potatoes, farm-fresh honey roasted carrots, an autumn pear salad and apple carrot cake cupcakes. "To make this meal even easier, simplify if you can," said Yeh, author of the popular blog My Name is Yeh, a finalist in Saveur's fifth annual Best Food Blog Awards. "Bake some dishes ahead of time and reheat when guests arrive so you can spend more time mingling with friends and family."
Tex-Mex Thanksgiving: Regional American cuisines are among the top four "Hot Trends" of 2014, according to the National Restaurant Association's Culinary Forecast1. Impress your guests by giving your holiday a Southwestern flavor kick. Serve turkey with Southwest cornbread dressing made with a cup of chopped pepperoni. Mexican corn, triple corn muffins and a dessert of peanut butter cream pie make the meal complete.
Gluten-free Goodness: About 11 percent of U.S. households now follow a gluten-free diet, and about one in four consumers feel that a gluten-free menu is good for everyone, according to The NPD Group2, a leading global information company. Everyone can enjoy their favorite holiday flavors with this menu, which features herb-roasted turkey, roasted honey and bacon Brussels sprouts, quinoa stuffing with sweet potatoes and honey cranberry sauce. And who wouldn't love a pumpkin flan for dessert?
Classic Thanksgiving Menu: Make everyone's mouths water with a classic Thanksgiving feast featuring rosemary citrus herb turkey cooked with an easy seasoning rub. In your food processor, combine sliced garlic, fresh rosemary, lime, olive oil, cracked black pepper and grated lemon and orange peel, then rub it over the surface of the turkey and roast it according to package directions. To really make the menu sparkle, serve with refreshing cranberry sparkler drinks. Then wait for cheers when you bring out the apple-and-white-chocolate cheesecake.
A simple solution for tender, perfectly cooked turkey every time
The turkey is the star of your Thanksgiving show, so go for a simple, convenient solution like JENNIE-O®OVEN READY™ Turkey — a turkey that goes directly from your freezer to oven with no thawing, less mess and a perfect result every time. With OVEN READY™ Turkey, hosts can be confident they'll impress their guests with a tender, perfectly seasoned turkey, allowing them to focus on other elements of the meal, from creative side dishes to tantalizing desserts, or simply enjoy hosting company.
Get inspired and enjoy yourself!
"Thanksgiving should be about fun, family and friends, so get inspired this year," said Yeh. "Whether you're hosting your first Thanksgiving meal or your 50th, there's no need to spend your holiday tied up on a help hotline. Jennie-O has a whole selection of tips and themed menus to help you find your culinary muse and prepare a delicious, hassle-free feast."
To make this Thanksgiving the most memorable yet, head to JennieO.com or connect on social media at Facebook.com/JennieOTurkey and Pinterest.com/JennieORecipes for helpful tips, great-tasting recipes and much more.
1 National Restaurant Association, "What's Hot 2014 Culinary Forecast, http://www.restaurant.org/News-Research/Research/What-s-Hot 2 NPD Group, "Consumers Generally View Gluten-Free Diet As Healthy for Everyone," May 28, 2014, https://www.npd.com/wps/portal/npd/us/news/press-releases/consumers-generally-view-gluten-free-diet-as-healthy-for-everyone-reports-npd
About Jennie-O Turkey Store, Inc.
Jennie-O Turkey Store, Inc., based in Willmar, Minn., is a wholly owned subsidiary of Hormel Foods Corporation (NYSE: HRL) and one of the largest turkey processors and marketers in the world. It offers an array of more than 1,500 high quality fresh, frozen, refrigerated and deli turkey products that are distributed throughout the United States and 27 countries worldwide. Jennieo.com