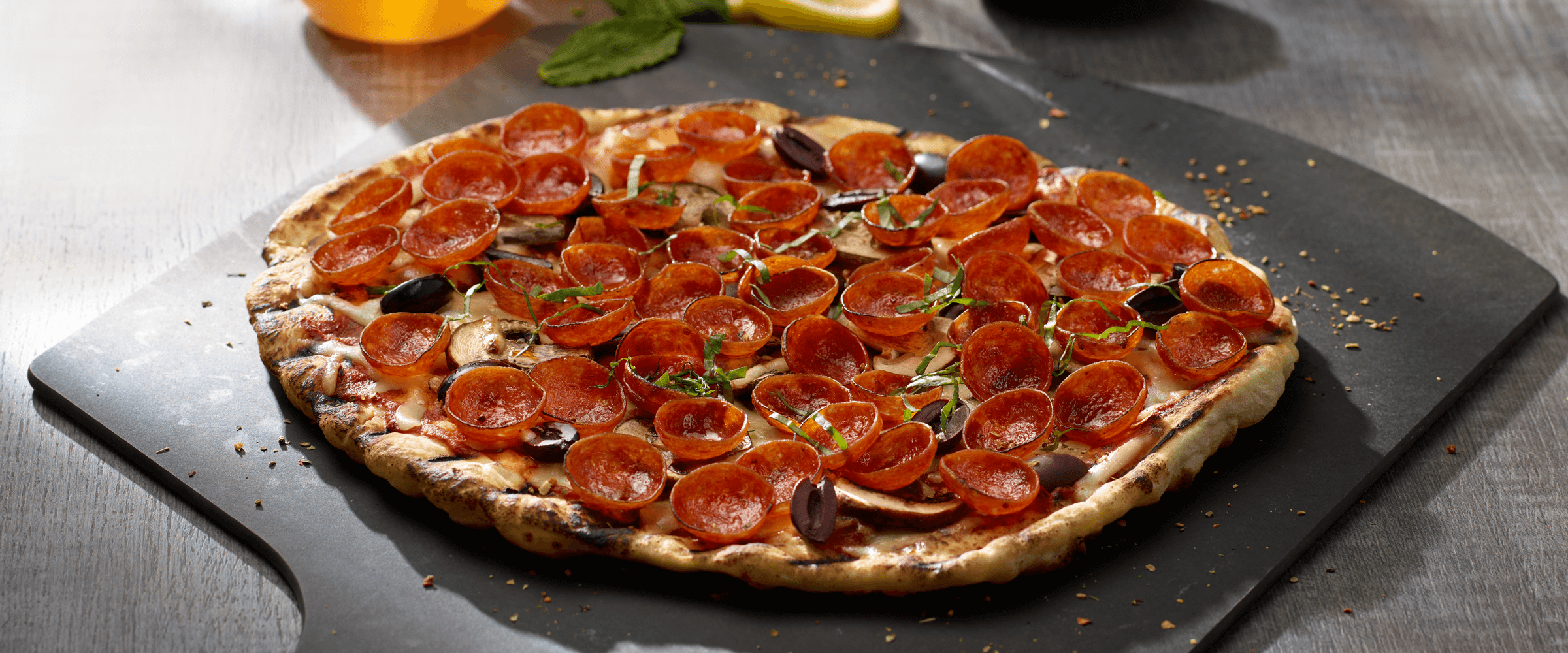 Summer is the perfect time to fire up the grill and enjoy some delicious outdoor cooking. And one trend that's been gaining traction in recent years is grilling pizza!
Ingredients
| | |
| --- | --- |
| 1 | pound pizza dough, formed into 2 balls |
| | Kosher salt |
| ¼ | cup olive oil |
| ½ | cup pizza sauce |
| 2 | cups shredded mozzarella cheese |
| ¼ | cup Parmesan cheese |
| ½ | cup cremini mushroom slices |
| ¼ | cup sliced kalamata olives |
| 1 | (5-ounce) package HORMEL® Pepperoni Cup N' Crisp |
| | Fresh basil leaves, for garnish |
Directions
Lightly oil 2 medium bowls. Place 1 dough ball in each one. Lightly grease tops of dough balls. Cover each bowl with plastic wrap. Allow to rise at room temperature until doubled in volume, about 2 hours.

On floured surface, roll 1 dough ball into a disk about 12-inches x 10-inches and 1/4-inch thick using rolling pin. Shake off excess flour and place on a sheet tray lined with parchment paper. Repeat with remaining dough ball, placing a sheet of parchment between each.

Heat grill to medium-high with indirect heat. Brush top of 1 dough round with a thin layer of oil. Season with kosher salt. Place gently on hot side of grill, oiled side down. Immediately brush top side with thin layer of oil and season with salt. Cook 45 to 90 seconds, checking frequently and moving to encourage even browning until bottom is dark brown and charred in spots and top is bubbly. Flip using tongs or large spatula and cook until second side is charred. Flip again and transfer to cooler side of grill.

Top pizza surface with ¼ cup pizza sauce, half of the cheeses, mushrooms and olives. Generously top with pepperoni slices. Cover and cook 2 to 3 minutes or until cheese is melted and pepperoni is crisped. Transfer pizza to cutting board with large spatula or metal pizza peel. Sprinkle with basil. Repeat with remaining ingredients to make 2 pizzas.
Featured In
Stories
Hot Take – Pizza on the Grill
Grilled pizza is quickly becoming a summer staple amongst the foodies and trend-inclined consumers on social media.
Explore Pizza Trends