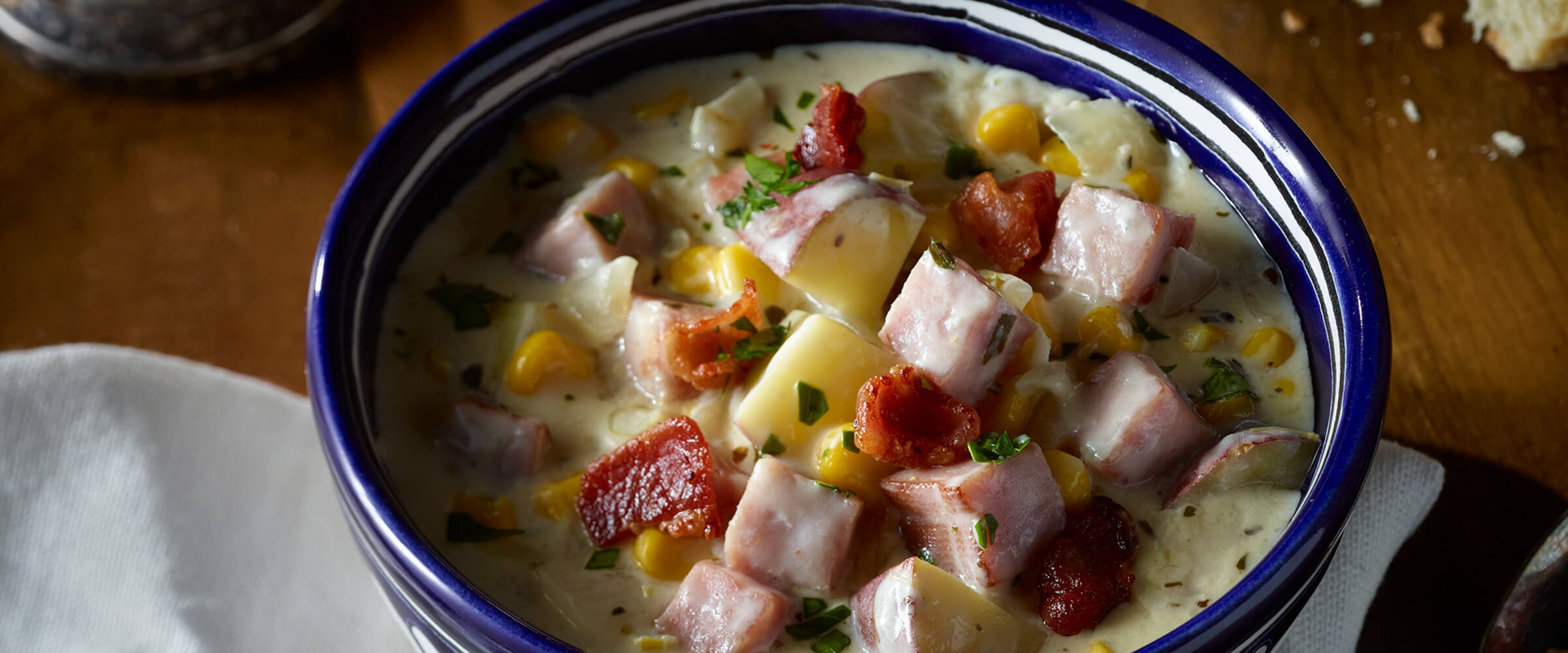 This hearty chowder combines the smoky richness of ham, the natural sweetness of corn, and the creamy goodness of potatoes to craft a dish that's both satisfying and flavorful. Whether you're seeking a cozy meal to ward off the chill of fall or winter or a hearty dish to share with loved ones, this ham, corn, and potato chowder promises to deliver warmth in every bite.
Prep Time
Cook Time
Cook Method
Dish Type
Ingredients
4

slices HORMEL® BLACK LABEL® Bacon – Original
1

½

cup chopped cooked HORMEL® CURE 81® Classic Boneless Ham

1

medium yellow onion, chopped

3

tablespoons flour

6

cups low-sodium chicken or vegetable broth

1

tablespoon chopped fresh thyme leaves

4

cups fresh corn kernels

1

large Yukon gold potato, peeled and diced
1

½

teaspoon kosher salt

½

cup heavy whipping cream
Garnish: chopped cooked bacon
Directions
In large Dutch oven, cook bacon until crisp. Remove with slotted spoon and crumble.

Add ham and onion and cook 8 minutes or until onion is translucent. Stir in flour. Whisk in broth until smooth. Add next 4 ingredients. Bring mixture to a boil.

Reduce heat and simmer 20 minutes or until potato is tender. Remove from heat and stir in cream. Season with salt and pepper to taste. Garnish with bacon, if desired.
Other Soups, Stews & Chili Ideas