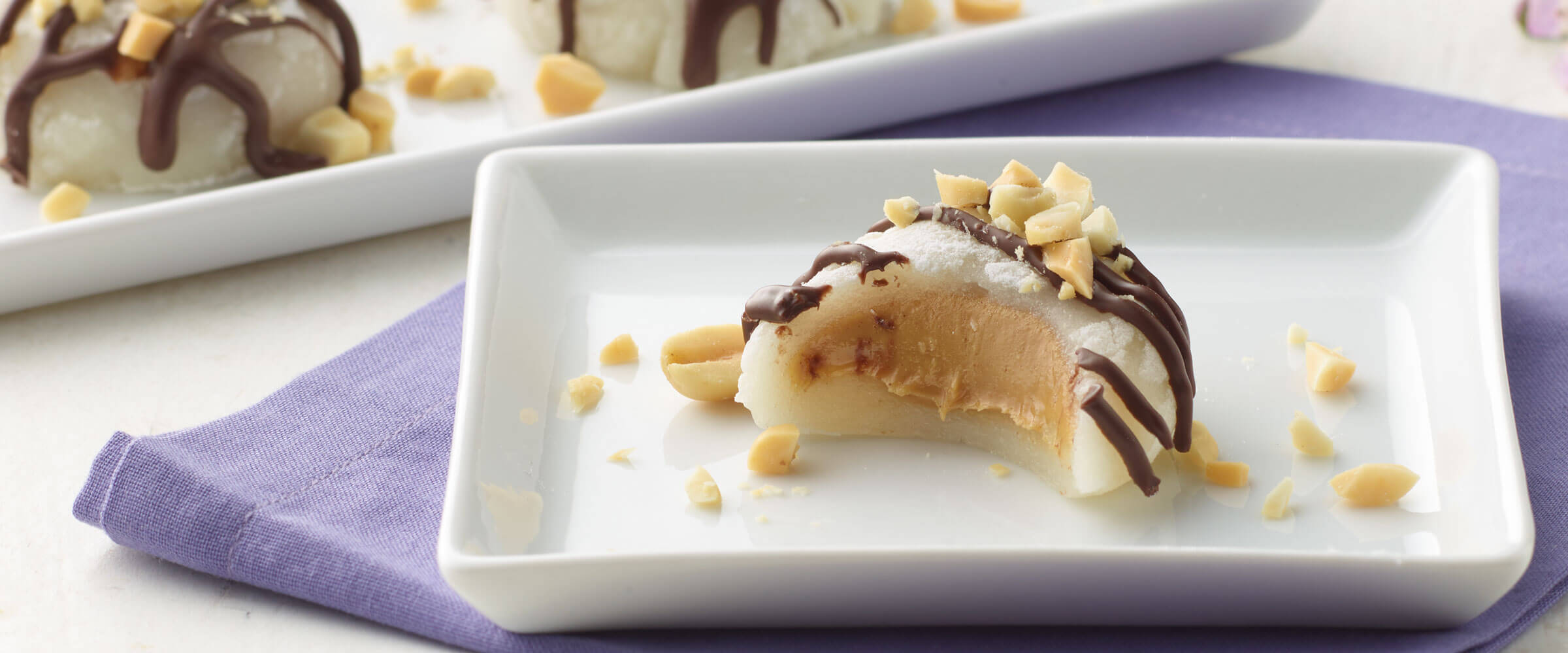 Peanut butter mochi is a delicious and unique dessert that combines the smooth, creamy flavor of peanut butter with the chewy texture of mochi.
Mochi is a traditional Japanese treat made from glutinous rice flour, which is pounded into a sticky dough and shaped into small, bite-sized pieces.
Peanut butter mochi has a soft, slightly sweet mochi exterior, filled with a rich and decadent peanut butter filling. The combination of textures and flavors in peanut butter mochi makes for a delightful and satisfying treat that is perfect for any occasion.
Ingredients
⅔

cup SKIPPY® Creamy Peanut Butter
1

½

cup glutenous rice flour
1

½

cup water

1

cup sugar

2

teaspoons vanilla

⅓

cup potato starch

2

tablespoons powdered sugar

¼

cup dark chocolate chips

1

teaspoon vegetable oil
PLANTERS® Cocktail Peanuts for garnish
Directions
On a tray lined with plastic wrap, scoop 1½ teaspoon dollops of peanut butter. Freeze 20 minutes.

In medium saucepan over medium heat combine glutenous rice flour, water, sugar, and vanilla. Cook, stirring constantly 6 to 8 minutes or until mixture forms into a thick and shiny dough. Remove from heat.

On work surface, covered with parchment paper, combine potato starch with powdered sugar. Transfer dough onto paper. When cool enough to handle, cut dough into 2 tablespoon sized pieces.

Using starch to prevent sticking, press each piece into a 2-inch disc. Place one chilled peanut butter dollop in center and fold edges toward center to close. Place seam side down on a tray lined with plastic wrap.

In small microwavable bowl, combine chocolate chips and oil. Microwave on HIGH 20 to 30 seconds, stirring until melted.

Drizzle mochi with chocolate and decorate with peanuts.