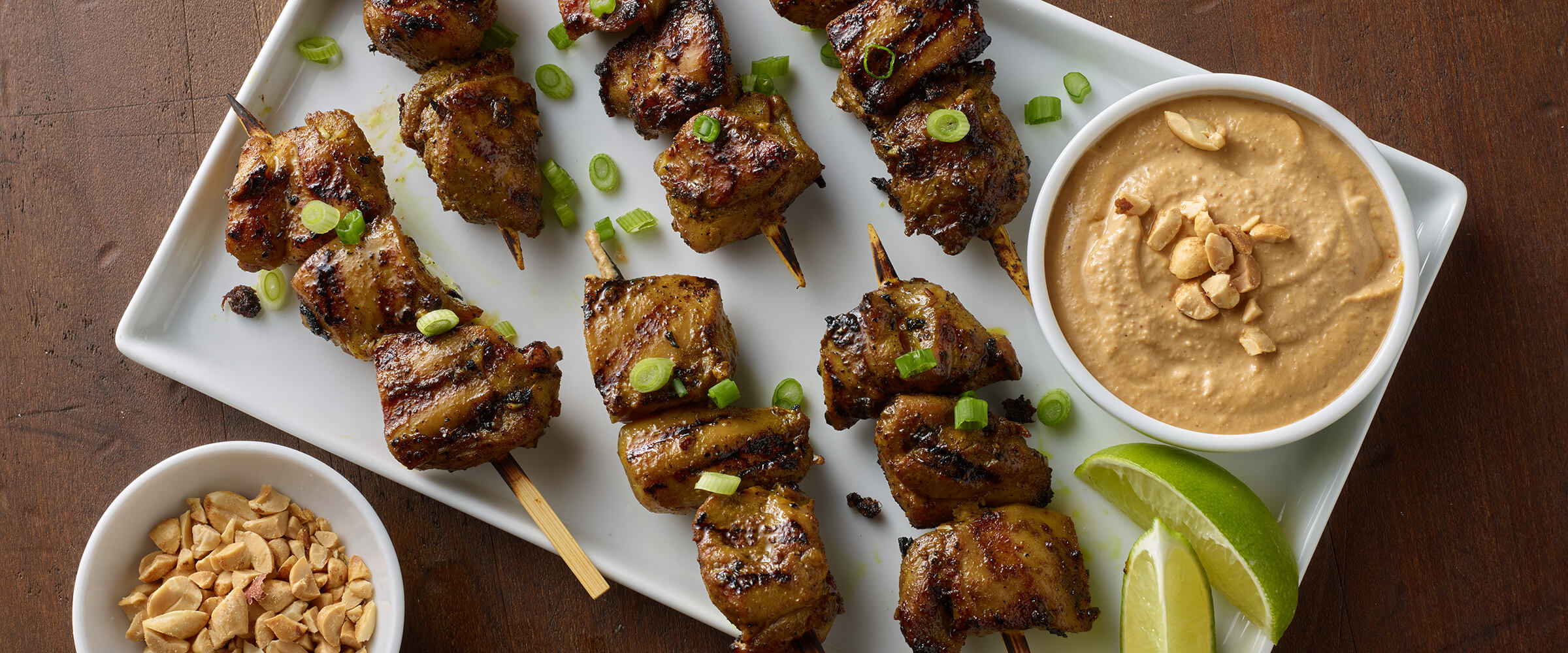 These savory skewers of marinated grilled chicken served with a homemade peanut sauce are a delicious game day appetizer or meal.
Prep Time
Cook Time
Cook Method
Dish Type
Ingredients
Peanut Sauce
1

¼

cup PLANTERS® Dry Roasted Peanuts, divided

1

teaspoon vegetable oil

3

tablespoons lime juice

3

tablespoons soy sauce

1

tablespoon chili garlic sauce

2

cloves garlic, minced

1

teaspoon freshly grated ginger

¼

teaspoon red pepper flakes

3

tablespoons water
Chicken Satay

¼

cup coconut milk

2

tablespoons soy sauce
2

½

teaspoons curry powder
1

½

teaspoon turmeric

3

cloves garlic, minced

1

tablespoon freshly grated ginger

1

tablespoon brown sugar

1

tablespoon fish sauce

2

pounds boneless, skinless chicken thighs, cut into 1-inch chunks

1

tablespoon oil
Kosher salt and freshly ground black pepper, to taste
Peanut Sauce
Suggested toppings: Chopped green onions and chopped peanuts.
Directions
For the Peanut Sauce
Place 1 cup peanuts and oil in food processor and process until they form a smooth paste. Add lime juice, soy sauce, chili garlic sauce, garlic, ginger and red pepper flakes. Blend until smooth. Add water if desired to achieve sauce consistency.

Chop remaining ¼ cup peanuts.

Stir some of the chopped peanuts into sauce and garnish with remaining chopped peanuts.

Serve with Chicken Satay.
For the Chicken Satay
In medium bowl, combine coconut milk, soy sauce, curry powder, turmeric, garlic, ginger, brown sugar and fish sauce. Transfer mixture to a large resealable plastic bag. Add chicken. Marinate in refrigerator 2 hours.

Heat grill to medium high heat. Drain chicken from the marinade; discard marinade. Thread chicken onto skewers. Brush with canola oil; season with salt and pepper, to taste.

Add skewers to grill, and cook, turning occasionally, until the chicken is completely cooked through, reaching an internal temperature of 165°F, about 12-15 minutes. Serve with peanut sauce and suggested toppings.
Other Meat & Poultry Ideas
Featured In
Stories
Grill, Sizzle and Savor the Flavors of Summer
Move over hot dogs – we're grilling up some new flavors this summer!
Get Grillin'!