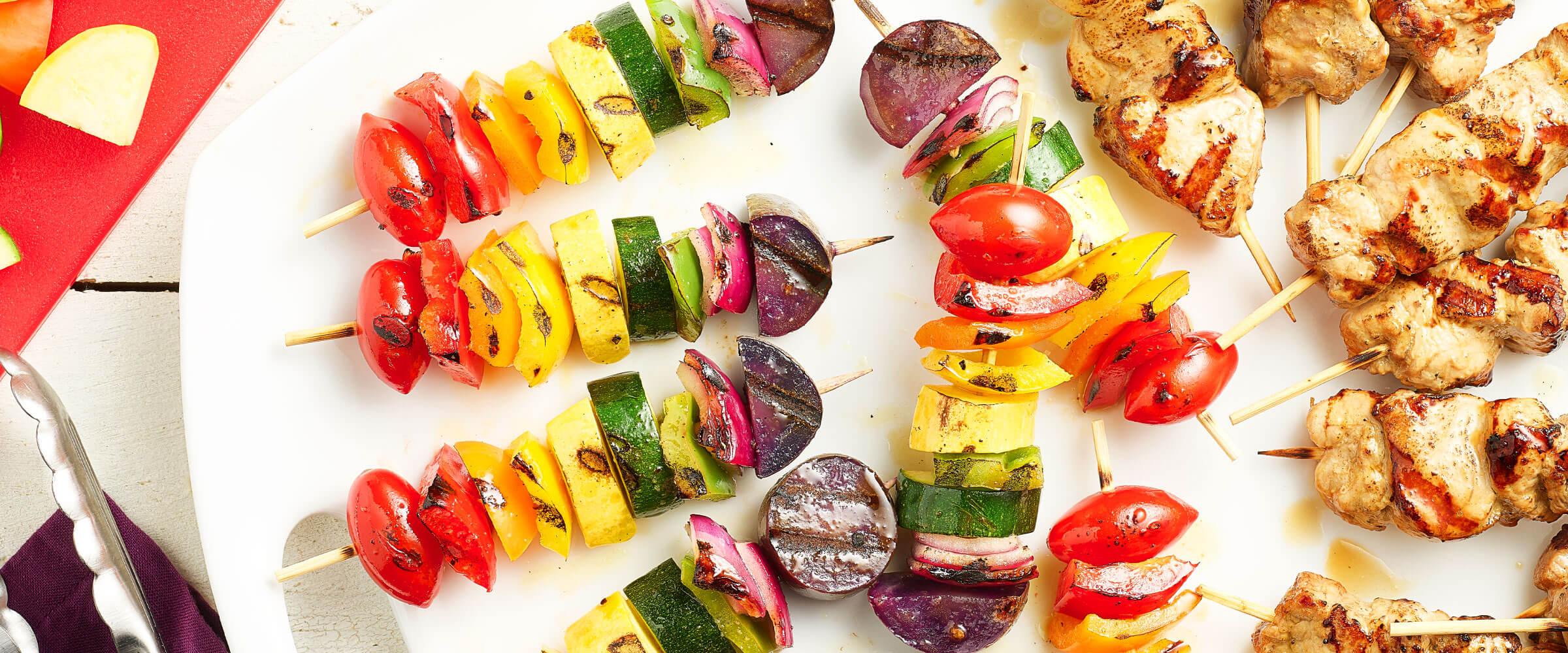 Prep Time
Cook Time
Cook Method
Dish Type
Ingredients
| | |
| --- | --- |
| ¼ | cup olive oil |
| 2 | tablespoons lemon juice |
| ½ | tablespoon garlic powder |
| ½ | teaspoon salt |
| ½ | teaspoon black pepper |
| 9 | small purple potatoes, cut into 1-inch slices |
| 15 | grape tomatoes |
| 1 | red bell pepper, cut into 1-inch pieces |
| 1 | orange bell pepper, cut into 1-inch pieces |
| 1 | small yellow squash, halved and cut into 1/2-inch thick slices |
| 1 | yellow bell pepper, cut into 1-inch pieces |
| 1 | zucchini, halved and cut into ½ -inch thick slices |
| 1 | green bell pepper, cut into 1-inch squares |
| 1 | red onion, cut into 1-inch pieces |
| | |
| --- | --- |
| 1 | (18.4-ounce) package HORMEL® Peppercorn Pork Tenderloin, cut into 1½-inch cubes |
Directions
For the Veggies
In small bowl, combine olive oil, lemon juice, garlic powder, salt and pepper.

In saucepan, place potato pieces. Add water to cover. Bring to a simmer over medium heat. Cook potato pieces 4 to 6 minutes or until tender. Drain.

Heat grill to medium. Thread 6-inch skewers with vegetable pieces in rainbow order. Brush skewers with olive oil mixture. Grill, turning once and brushing with additional olive oil mixture, 8 to 10 minutes, or until vegetables are tender.
For the Pork
Prepare grill for medium-high heat.

Thread pork onto 6-inch skewers; brush lightly with oil. Grill kabobs, turning once, 12 minutes or until internal temperature of pork reaches 155°F.
Other Meat & Poultry Ideas