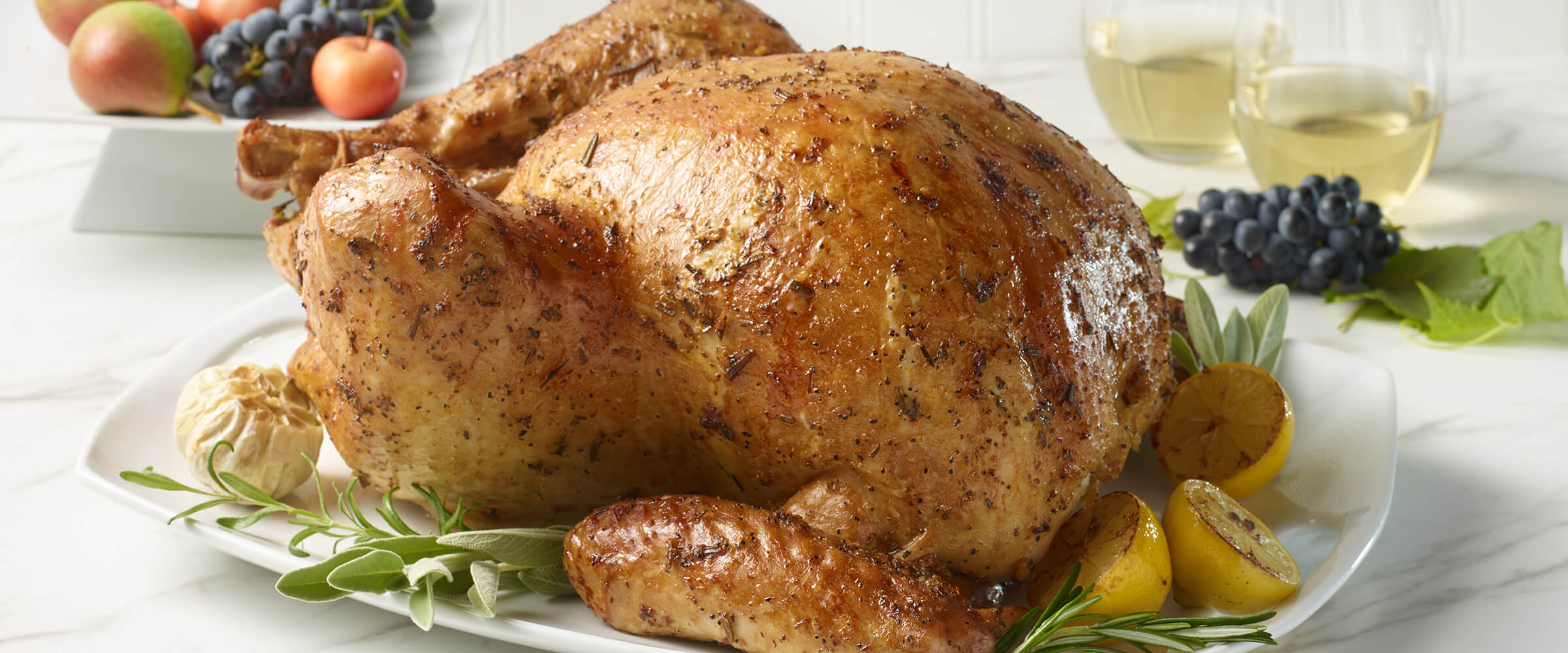 Prep Time
Cook Time
Cook Method
Dish Type
Ingredients
2

garlic bulbs

½

cup oil, divided

3

sprigs rosemary

2

lemons, zested and juiced

2

oranges, zested and juiced

2

tablespoons kosher salt

2

tablespoons sugar

1

tablespoon coarsely ground black pepper

1

(12 to 14-pound) Jennie-O® Fresh All Natural* Young Turkey *Minimally processed. No artificial ingredients.
1

½

cup chicken broth
Directions
Heat oven to 350°F. Cut ½ -inch from top of each garlic bulb to expose cloves. Place cut side up on 12-inch square of aluminum foil.

Drizzle each bulb with 2 teaspoons oil. Wrap securely in foil. Place in shallow baking pan.

Bake 45 to 50 minutes or until garlic is tender when pierced with toothpick or fork. Cool slightly. To use, gently squeeze soft garlic out of bulbs.

In small saucepan over medium heat, warm remaining oil. Add rosemary sprigs to hot oil. Cook 45 to 60 seconds, or until rosemary stops sizzling and leaves turn light brown on the tips. Let cool. Remove rosemary from oil. Remove leaves from sprigs. Chop.

In bowl, combine roasted garlic, rosemary, zest and juice of lemons and oranges, salt, sugar and pepper.

Wearing gloves, season cavity of turkey with some of the brine mixture. Rub the outside of the turkey with the remaining brine mixture.

Place turkey in extra-large zip-top bag, and expel any air before sealing. Allow to brine refrigerated 8 to 24 hours.

Roast bird at 325°F, basting frequently with chicken broth 4¼ to 4¾ hours or until turkey is fully- cooked, 180°F as measured by a meat thermometer inserted into the thickest part of the thigh. ALWAYS confirm doneness with a meat thermometer. Juices should run clear. Let turkey stand 20 minutes before carving.
Other Meat & Poultry Ideas
Featured In
Stories
Talk Turkey to Me
The holidays are on the horizon, and so are expectations for the perfect turkey.
Talk Turkey