Cold, hot, spicy or sweet, who doesn't love a good dip? Most people have dips that they are famous for bringing to get-togethers, and partygoers have favorite dips that they always make a beeline for. Dip recipes are often passed down through generations, and many times become traditions of countless family-and friend celebrations. Food brings people together, and these party dips will have your guests coming back for more. Here are some of our employees' favorite recipes.
Lindsey Hamilton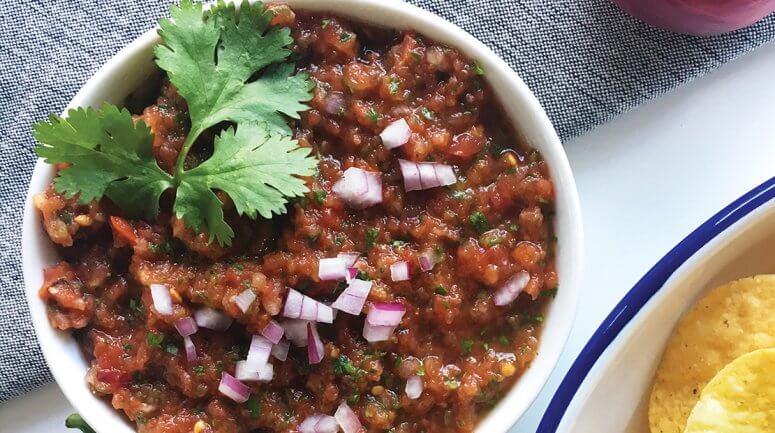 Go-To Fresh Salsa
2

(15-ounce) cans of diced or stewed tomatoes (or one of each), drained well

1/2

medium onion, chopped

3

cloves garlic, finely chopped

1

lime, juiced

1/2

cup jalapeños, chopped (discard core and seeds)

1/2

cup cilantro, chopped

1

teaspoon kosher salt
Instructions
Combine all ingredients in a food processor and pulse very quickly, about three seconds. This keeps well in the fridge for three to four days. Variation: If you like a chunkier salsa, dice all of the ingredients finely and stir to combine instead of pulsing in a food processor.
"This is my favorite homemade salsa. It was originally my dad's recipe, and now it's my go-to. It's quick, easy and delicious, and it's great on eggs, tacos, chips, a spoon, everything. It's also an impressive appetizer — "Oh, hey, everyone, I just casually whipped up some homemade salsa." The recipe uses canned tomatoes, but it tastes like fresh salsa, which is a beautiful bonus. Just think, you are about 10 minutes away from a super-awesome, make-all-your-dreams-come-true salsa."
Lindsey is the senior manager of the natural channel at CytoSport.
Samantha Balaski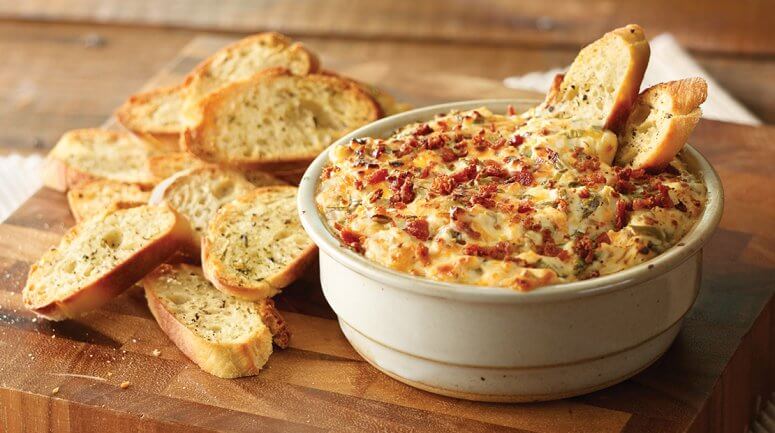 Jalapeño Popper Dip
2

(8-ounce) blocks cream cheese

1

cup sharp cheddar cheese, shredded

1 1/2

cups mayonnaise

1

can diced jalapeños (or fresh if you prefer)

1/2

jar of Hormel® bacon bits

1/2

stick of butter, melted

2

cups panko bread crumbs

to taste

garlic powder
Instructions
Stir together cream cheese and next four ingredients; put into a 9×9-inch pan. Stir together remaining three ingredients and put on top of the cream cheese mixture. Bake at 350° F for 30 minutes or until the top is brown and bubbly.
"My favorite dip of all time is jalapeño popper dip! When I first moved to Austin, Minn., a few years ago, I brought the dip to a couple of parties before learning the hard way that many Minnesotans don't appreciate spicy foods the way I do. When I met my fiancé in 2015, I knew he was the one for me when he loved my jalapeño popper dip as much as I do! He now requests it for practically every big game or event at our house."
Samantha is a brand manager in meat products marketing at the Corporate Office
Janina Oslund
Slow Cooker Reuben Dip
1

(16-ounce) jar sauerkraut, drained

1

(8-ounce) package cream cheese, softened

2

cups shredded Swiss cheese

2

cups cooked corned beef, shredded

1/4

cup Thousand Island dressing
Instructions
In a slow cooker, combine the sauerkraut, cream cheese, Swiss cheese, corned beef and dressing. Cover and cook on high for 45 minutes if you are in a hurry, or cook on low for several hours if you're not. Cook until the dip is hot and the cheese is melted. Stir occasionally while cooking. Serve with bread, crackers or veggies for dipping.
"This dip tastes so great, there are rarely any leftovers. My whole family is a fan of this one, and we love to bring it to potlucks because we know it's going to be one of a kind. It is a versatile dip that can be served with different dipping foods like rye or marbled bread – my favorite – or crackers, celery, pretzels or whatever else your taste buds desire. I promise you'll like it, even if you're not a sauerkraut fan."
Janina is a customer and supplier quality assurance administrator at Jennie-O Turkey Store.
Megan Hjelle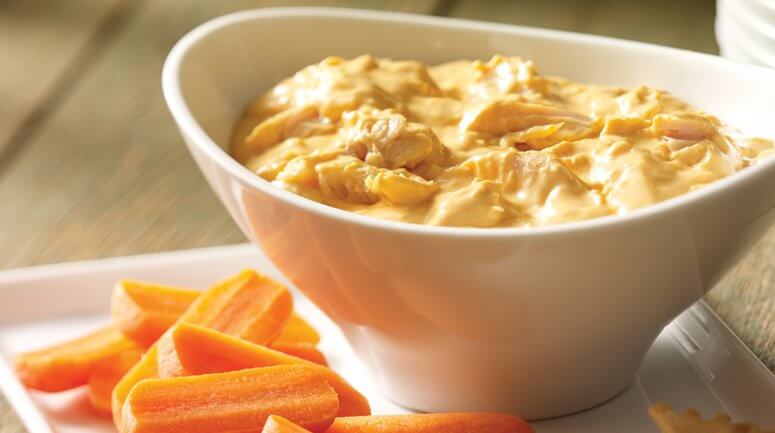 Buffalo Chicken Dip
2

cups Jennie-O® Buffalo-style chicken breast, diced

16

ounces cream cheese, softened

8

ounces sour cream

1/4

cup ranch dressing

2

cups shredded Monterey Jack cheese

As desired

Buffalo-style chicken wing sauce
Instructions
Combine all ingredients in slow cooker over medium heat. Stir frequently while the cheese is melting. Serve with wheat crackers, tortilla chips or celery sticks.
"This is my go-to recipe using Jennie-O® Buffalo chicken. This dip is such a huge hit every time I make it. The secret is the sour cream, which makes it fluffier. My favorite things to enjoy it with are wheat crackers and a glass of red wine."
Megan is a R&D culinary specialist at Jennie-O Turkey Store.
Rob Schaefer
Rob Schaefer's Mango Guac
3 or 4

avocados, scooped out of shell and pit discarded

2

vine-ripened tomatoes or a cup of cherry tomatoes, diced

2

cups frozen mango chunks, diced

1/2

bunch of cilantro, chopped

1/2

bunch of green onions, chopped

1/2

red onion or 5 red pearl onions, diced

1/2

yellow or white onion, diced

1

habanero or serrano pepper, diced

1

cup fire – or pan-roasted corn

1

juice of 1 lemon

1

juice of 1 lime

to taste

salt
Instructions
Mash avocados in a large bowl. Add tomatoes and next six ingredients, and stir until combined. Add remaining ingredients, stirring again until combined.
"Ever since I tried guacamole for the first time when my mom made it, I have become obsessed. She shared a recipe with me when I was in college and was going to a football party that I needed to bring something to. I continued playing around with different ingredients almost every weekend, and over time landed on this mix of ingredients that I think makes the best guacamole. I won a guac-off contest with it, and at almost every party I bring it to, people say it's the best they've ever had. I love sharing it with friends and family, like my nephews Dean and Garret."
Rob is the foodservice director for the western U.S. at CytoSport.
Kim Marsh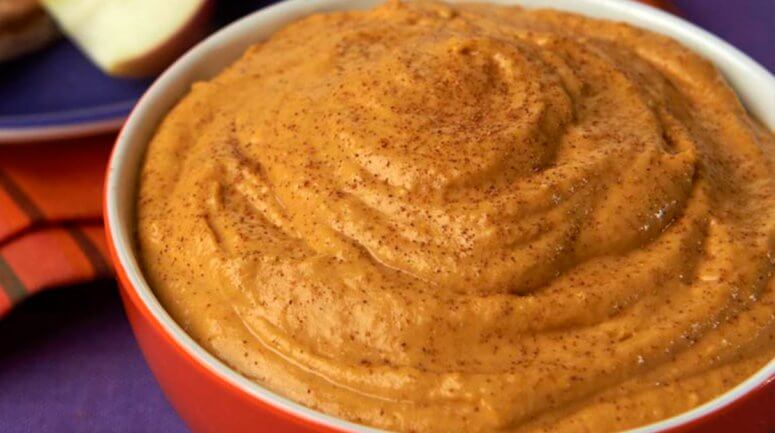 Grandma Marie's Pumpkin Dip
Hands-On Time

10 minutes

Total Time

3 hours
1

(15-ounce) can pumpkin

8

ounces cream cheese, softened

2

cups powdered sugar

1/2

teaspoon ginger

1

teaspoon cinnamon

1

teaspoon vanilla
Instructions
Mix all ingredients together with a mixer and refrigerate overnight or at least a few hours. Serve in a hollowed-out pumpkin with ginger snaps, vanilla wafers or crackers for dipping.
"Every year growing up, our grandma Marie would make this pumpkin dip for us during the fall holidays. It was Grandpa's favorite and ours, too! Back in those days, she would cook the fresh pumpkin and even roast the pumpkin seeds for us. This is a modern version using canned pumpkin, making it a very easy and delicious recipe. Grandma Marie was very much into recipe contests and would always bring home a ribbon from any event she would enter."
Kim is a regional sales manager for Hormel Health Labs.
Lori Mandt
Cowboy Caviar
1/2

pound Hormel® hard salami, diced

2

(16-ounce) cans black beans, rinsed and drained

2

(11-ounce) cans Mexican-style corn, drained

1/2

cup scallions, chopped

3

medium ripe tomatoes, deseeded and diced

2

semi-ripe avocados, diced

1/2

cup olive oil

1/4

cup red wine vinegar

1/2

teaspoon salt

1/4

teaspoon hot pepper sauce
Instructions
In a small skillet with just a touch of oil, heat salami until it turns a shade darker in color. Place on a paper-towel- covered plate to drain and cool down. After it's cooled, mix it with the next five ingredients in a large bowl. Use a rubber spatula or spoon to mix so that the individual ingredients do not become smashed or break apart. I call it scooping, turning and dumping. Combine the last four ingredients in a separate medium bowl and whisk until combined. Pour over the other mixed ingredients. Stir gently and refrigerate up to three hours before serving. This can also be made further in advance or the night before. Just add the avocado within three hours of serving.
"I use this recipe year round. It's very colorful, and tastes great on just about any kind of chip, cracker, baguette or raw vegetable, including thinly sliced jicama. My friends and family ask me to bring it to every event, including holiday parties, summer picnics, birthday parties and baby showers. You name it, I'll bring it. This also works great as a topping on any type of protein and even as a side dish. Sometimes I serve it with warm mini flour tortillas, and sometimes I fill hollowed-out zucchinis with it, top them with shredded cheese and bake."
Lori is a region sales manager at CytoSport.
Jennie Esplan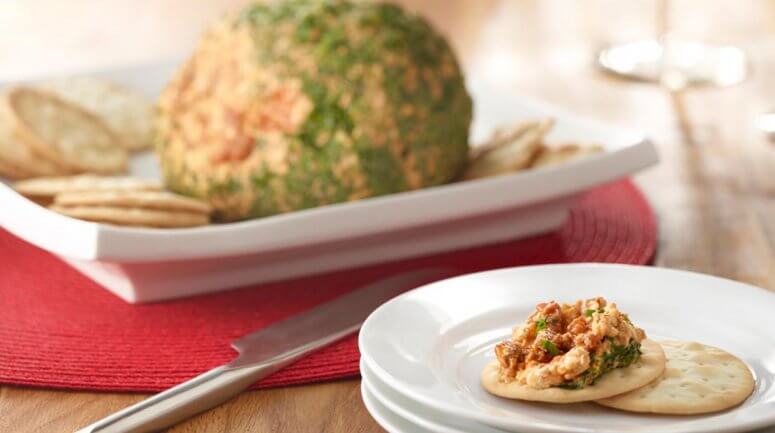 Cheese Ball Dip
2

jars Hormel® dried beef, chopped, divided

2

packages cream cheese

1

tablespoon Accent or other branded flavor enhancer

1

tablespoon Worcestershire sauce

3

green onion tops, chopped
Instructions
Mix together half of the chopped beef, cream cheese, flavor enhancer, Worcestershire sauce and onions. Form into a ball and place on your serving display. Cover the ball with the remaining dried beef. Serve with crackers.
"This cheese ball dip is a family favorite and is perfect for happy hours with friends, special occasions, patio gatherings or just Sundays during football season. It has a strong flavor and is very addicting! It's definitely a crowd pleaser and pairs well with any beverage."
Jennie is a legal administrative assistant at the Corporate Office.
Lindsey Wood
Kathy's Reuben Dip
1

(8-ounce) package cream cheese

1

(8-ounce) tub sour cream

1

(2-ounce) package Hormel® dried beef, diced

1/2

cup Thousand Island dressing

1/2

cup sauerkraut, cut into small pieces

2

cups shredded Swiss cheese

dash

onion powder

dash

garlic powder
Instructions
Combine all ingredients into a small slow cooker and stir occasionally. If it looks dry, add a little more Thousand Island dressing. Serve with mini rye bread slices or tortilla chips.
"Whenever we have a department potluck, my co-worker Kathy Willger brings her famous Reuben dip. Kathy has been bringing this staple to our gatherings for the past couple of years. It is a warm dip, so it's perfect for fall and winter. It has some great ingredients that really get your taste buds going. You just can't go wrong with this simple and tasty dip!"
Lindsey is a replenishment coordinator at Jennie-O Turkey Store.
Nick Schweitzer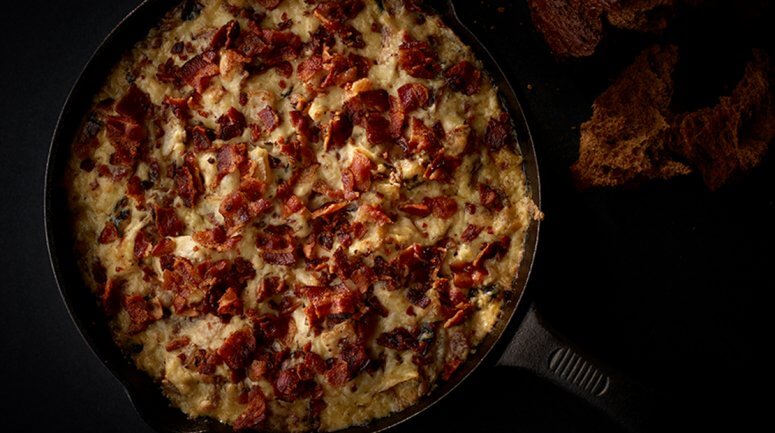 Smokey Bacon Onion Dip
8

slices Hormel® Black Label® double smoked bacon

1

large yellow onion, chopped

1

(8-ounce) package cream cheese, softened

1

(8-ounce) block Gruyere cheese, shredded

1/2

cup mayonnaise
Instructions
Heat oven to 400° F. Cook bacon according to package directions, reserving 1 tablespoon of the drippings. Cool the bacon and coarsely chop. In large skillet, heat reserved drippings over medium-high heat. Cook onions in drippings for 20 minutes, stirring often until browned. In medium bowl, stir together bacon, onions and remaining ingredients. Transfer mixture to 1-quart baking dish. Bake 20 minutes or until hot and bubbly.
"Move over spinach, bacon is taking over. This bacon onion dip is a play on spinach artichoke dip, and it is one of my favorites. If you want to make an even bigger batch, I recommend using one of the Hormel® Black Label® 24-ounce stack pack thick cut bacon products, like the cherrywood smoked variety."
Nick is a senior brand manager in meat products marketing at the Corporate Office.
Tricia Griffin
Protein-Packed Cookie Dough Dip
2 1/2

scoops Muscle Milk® vanilla protein powder

1/4

cup Justin's® classic almond butter

1/3

cup oat flour or cake flour

1/4

teaspoon sea salt

2

teaspoons maple syrup

1

teaspoon vanilla extract

1/2

cup skim or reduced-fat milk

optional

sprinkles

for dipping

pretzels
Instructions
In a mixing bowl, combine the protein powder, flour and sea salt. Mix well. In a microwave-safe bowl or on the stovetop, melt the almond butter with maple syrup until combined. Stir in the vanilla extract, then pour into the dry mixture. Mix well until fully combined. If batter is too crumbly, add milk, one tablespoon at a time, until the batter is very firm. If the batter is too thin, add a dash more flour. Transfer to a bowl, top with sprinkles and enjoy!
Note: If you freeze this recipe, it's best to thaw it overnight in the refrigerator before serving.
"Here is a new way to celebrate a special occasion, like Wednesday! It reminds me of yogurt-covered pretzels — sweet meets salty. Power-packed with protein and sprinkled with fun, this is a great option for a party treat."
Tricia is a senior marketing manager at CytoSport.
Bridgette Brown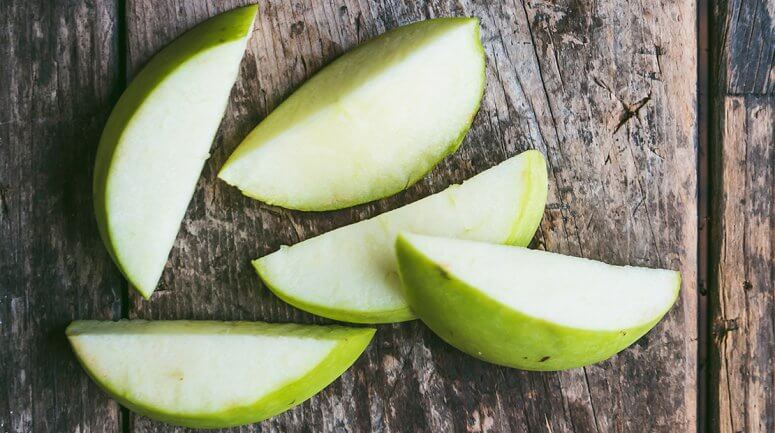 Apple Dip
4

ounces cream cheese

4

teaspoons cinnamon

1

teaspoon vanilla

2

tablespoons milk

1/2

cup powdered sugar

1

small container whipped topping
Instructions
Mix all ingredients together. Serve with sliced apples.
"This dip isn't one that was at every family event, but when I found it in my grandma's cookbook and made it for the first time, I knew it would be perfect with apples. For those who have ever attempted to make caramel, you know how temperamental it can be. This dip is light and delicious, and a perfect substitute for homemade caramel. Also, it holds up well and can last in the fridge a while. I like to double the recipe for gatherings and then hope for a chance of having leftovers!"
Bridgette is a legal administrative assistant at the Corporate Office
Chelsea Scott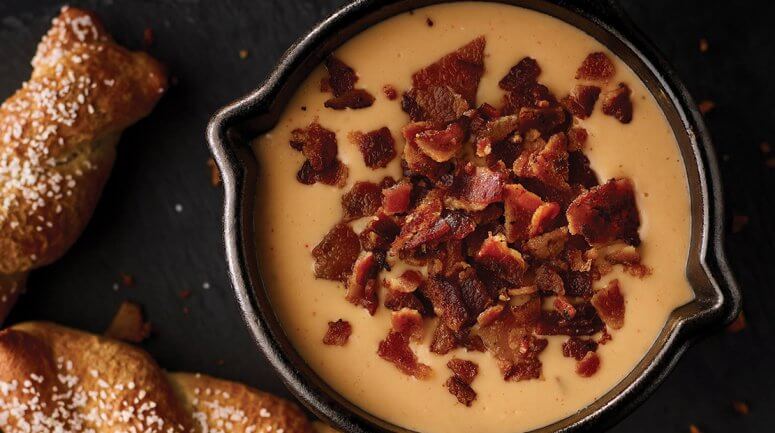 Beer Cheese Dip
2

(8-ounce) packages cream cheese, softened

1

packet powdered ranch dip mix

2

teaspoons dried minced onion

1/2 – 3/4

cup domestic beer

2

cups cheddar cheese, shredded

to garnish

green onion

to garnish

Hormel® bacon bits
Instructions
Place cream cheese, ranch mix and dried minced onion in a bowl. Mix with a hand mixer until combined. Slowly mix in ½ cup of beer until combined. If the dip is too thick, add in the additional ¼ cup of beer. Mix in cheddar cheese. Place dip in fridge for 30 minutes before serving. Sprinkle green onion and bacon bits on top. Serve with crackers.
"Like any good Midwesterner, I've found a dip that combines all of the best things — beer, bacon, cheese and ranch dressing. This dip has been a huge hit at family events and potlucks. It's the first thing people ask for when I arrive at a party. It's always, 'Did you bring the dip?'"
Chelsea is a quality and process control supervisor at Osceola Food.