Travel around the world without leaving your kitchen with our collection of internationally inspired recipes. You probably have the ingredients on hand to transport yourself to faraway places without experiencing jet lag. Find your culinary passport and get ready for takeoff with a kitchen-made bon voyage.
France
Crepes are easy to whip up. What to put on top? The options are endless, from butter and powdered sugar to Justin's® almond butter to whipped cream and fresh fruit. We like topping crepes with Hormel® Black Label® bacon and eggs.
Bacon and Egg Crepes
Hands-On Time

5 minutes

Total Time

20 minutes

Serves

4
4

(9-inch) crepes, from 5-ounce package

8

slices HORMEL® BLACK LABEL® Thick Cut Reserve Fully Cooked Bacon

4

eggs

Coarse salt and ground pepper

Chopped fresh chives

Suggested accompaniment: Cherry tomatoes on the vine drizzled with olive oil and roasted until blistered, if desired
Instructions
Heat oven to 350°F. Lightly spray large rimmed baking sheet with non-stick cooking spray. Place crepes on baking sheet. Crack 1 egg into center of each crepe; fold edges toward center. Place 2 strips bacon on top. Bake 12 minutes or until egg white is set and yolk is still runny. Season with salt and pepper. Top with chives. Serve with suggested accompaniment, if desired.
Thailand
Thai curry dishes are made from curry paste, coconut milk, vegetables, and herbs. Coconut Curry Chicken is made easy with House of Tsang® Red Thai Curry Sauce.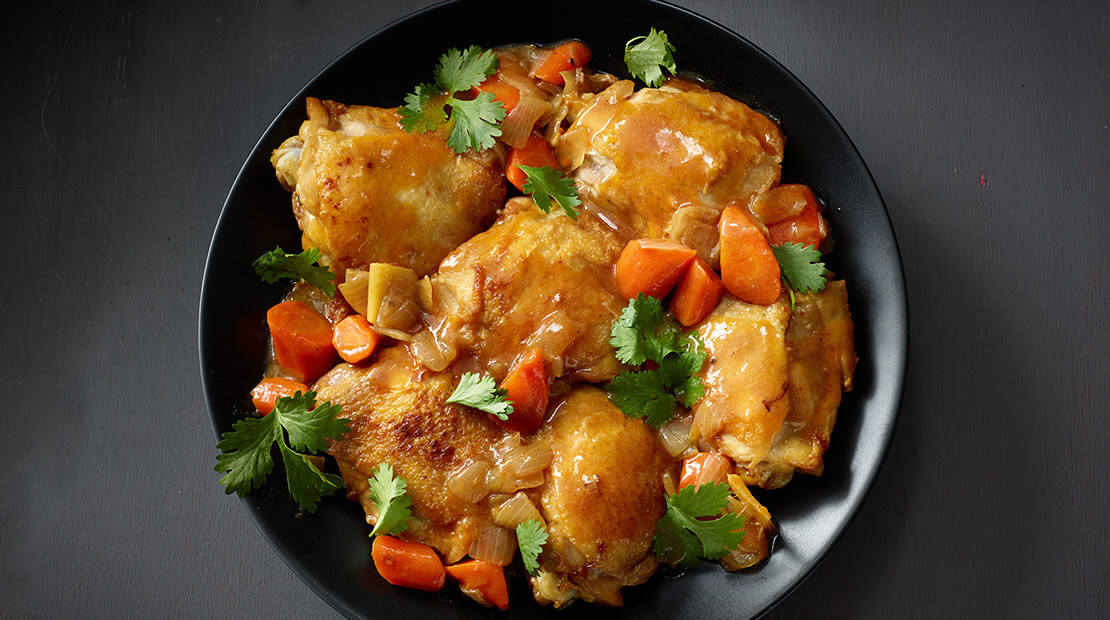 Coconut Curry- Chicken
2 1/2

pounds bone-in chicken thighs

1 1/2

teaspoon kosher salt

1

tablespoon canola oil

2

carrots, peeled and chopped

1

large white onion, chopped

1

(2-inch) piece ginger, peeled and sliced

1/4

cup HOUSE OF TSANG® Red Thai Curry Sauce

1

cup coconut milk

1/2

cup chopped fresh cilantro

Cooked white rice
Instructions
Heat oven to 400°F.
Sprinkle chicken with salt.
In large Dutch-oven, over medium-high heat, heat oil. Add chicken, skin side down and cook 10 minutes, moving occasionally, until browned. Remove chicken and pour off excess oil. Add onion, carrots and ginger and cook 2 minutes. Stir in curry sauce and coconut milk and return chicken, skin side up, to pot. Cover and bake 40 minutes. Top with fresh cilantro leaves. Serve over white rice.
Italy
Saltimbocca consists of veal or chicken wrapped with prosciutto and sage, and cooked in wine and butter. We top our recipe for Saltimbocca Turkey Burgers with lemon garlic aioli, another nod to Italian flavors.
Saltimbocca Turkey Burger
Total Time

30 minutes

Serves

4
1

(16-ounce) package JENNIE-O® Lean Turkey Burger Patties

1/3

cup fat-free mayonnaise

2

cloves garlic, minced

1

tablespoon lemon juice

4

ciabatta rolls, split and toasted

1

cup baby spinach leaves

2

ounces thinly sliced prosciutto

1/2

cup roasted red pepper strips, drained
Instructions
Spray skillet with nonstick cooking spray or add 1 to 2 teaspoons of oil. Preheat skillet over medium heat. Place burger patties in hot skillet. Cook approximately 15 to 17 minutes turning occasionally (2-3 times). Always cook to well-done, 165°F. as measured by a meat thermometer.
In small bowl, whisk together mayonnaise, garlic and lemon juice. Spread on both cut sides of each roll.
Place turkey patties on bottom halves of rolls.
Top with baby spinach, prosciutto and red pepper. Cover with roll tops.
Mexico
Classic Green Pozole is a family tradition from Mexico made of savory pork, boneless chicken, and hominy. We use a slow cooker to make this flavorful stew.
Green Pozole
Hands-On Time

30 minutes

Total Time

6 hours

Serves

8
1

dried pasilla chile (chile negro)

2

(14.5-ounce) cans chicken broth, divided

1

pound HORMEL® ALWAYS TENDER® pork tenderloin, cut into 1-inch cubes

1

pound boneless, skinless chicken breasts, cut into 1-inch cubes

2

(15-ounce) cans hominy, drained

1

cup HERDEZ® Salsa Verde

1

large onion, diced

1

(4.25-ounce) can diced green chilies

1

tablespoon ground cumin

2

teaspoons Mexican oregano

2

cloves garlic, minced

1

bay leaf

Suggested toppings: Shredded cabbage, sliced radishes, chopped onions, cheese, and chopped cilantro
Instructions
In a small bowl, soak dried chile in enough boiling water to cover 20 to 30 minutes or until softened.
Drain well and remove the stem.
In a food processor, place soaked chile and 1 cup chicken broth. Puree until smooth.
In a slow cooker, pour pureed chile mixture. Add all remaining ingredients.
Cover. Cook on HIGH setting 5 to 6 hours or until meat is very tender.
Remove bay leaf. Garnish servings with suggested toppings.
Korea
Treat yourself to Korean flavors at home. SPAM® Kimbap is made from steamed white rice (bap), strips of SPAM® Classic and assorted vegetables rolled in nori and served in bite-size slices.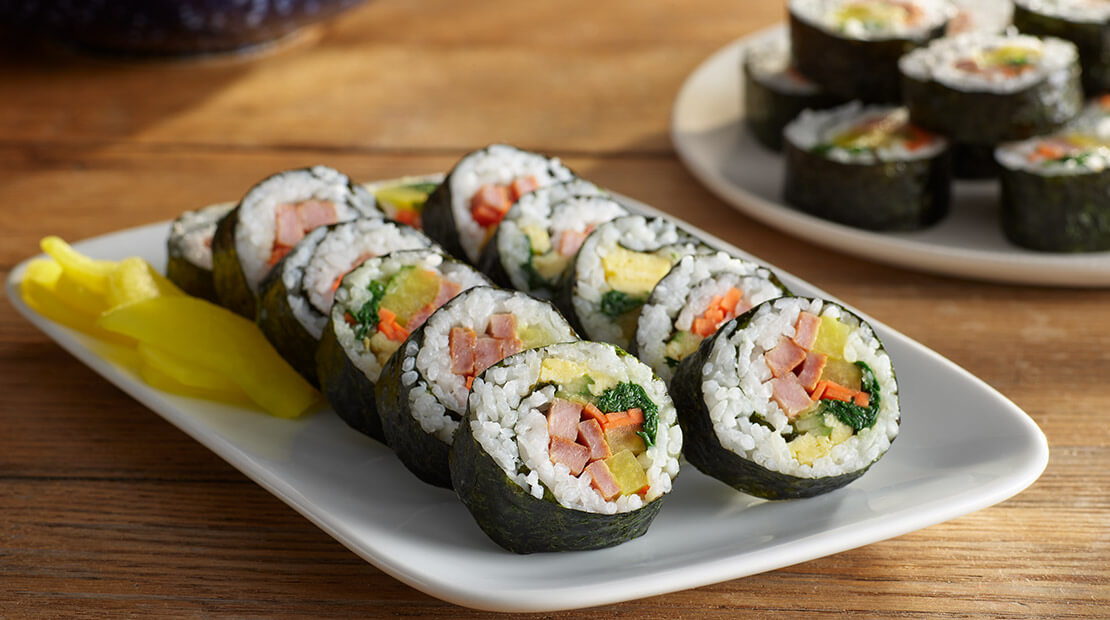 SPAM® Classic Kimbap
Total Time

45 minutes

Serves

4
3

cups cooked sushi rice

8

sheets nori

1

(12-ounce) can SPAM® Classic julienned and sautéed

1

carrot, julienned

1

cucumber, thinly sliced into long strips

2

eggs, lightly beaten, fried and cut into strips

4

cups baby spinach, sautéed and seasoned

8

strips yellow pickled radish
Instructions
Place one sheet nori on work surface. With moist hands, spread rice evenly over nori, leaving 1- inch strip uncovered on one end.
Layer SPAM® Classic strips, carrots, cucumber, egg strips, spinach and pickled radish; roll up.
Moisten end of nori with small amount of water to fasten together.
Repeat with remaining ingredients.
Slice rolls into bite sized pieces.
Vietnam
Pho is considered Vietnam's national dish where it is served in households, street stalls and restaurants. It is a soup consisting of broth, rice noodles and herbs.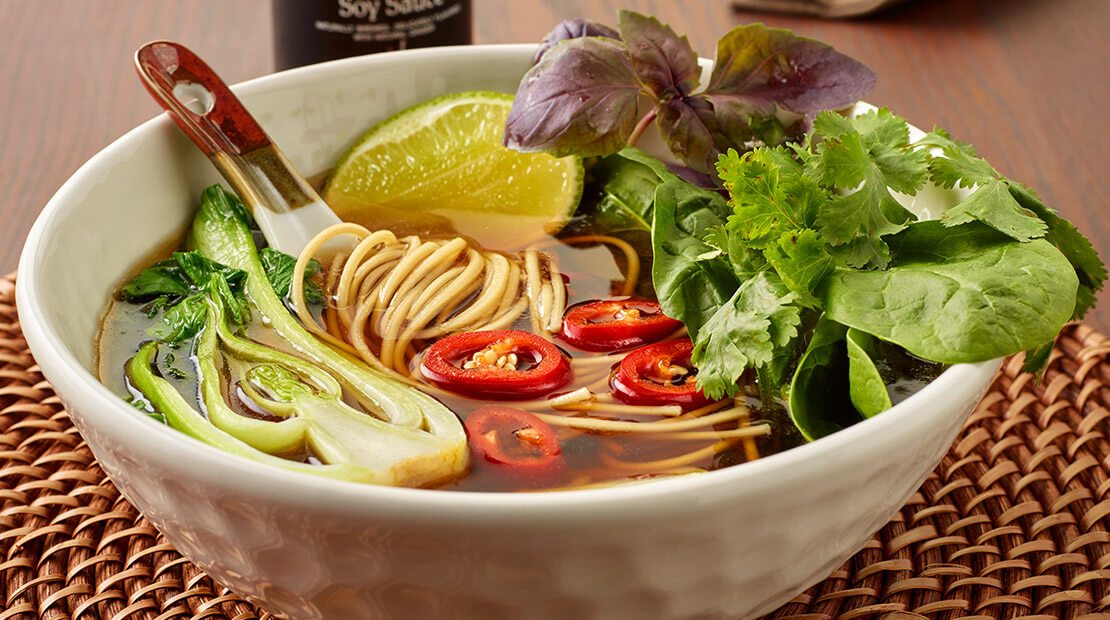 Vegetable Pho
1

ounce ramen noodles

1 1/4

cup Thai ginger broth

1

head baby bok choy, cut in half

1/2

cup baby spinach leaves

2

fresh cilantro sprigs

1

Thai basil sprig

1

tablespoon HOUSE OF TSANG® ginger-flavored soy sauce
Garnish: bean sprouts, lime wedge, HOUSE OF TSANG® Ginger Sriracha Sauce
Instructions
Cook noodles according to package directions.
In small saucepan, over medium heat, bring broth to a boil. Add noodles, bok choy and soy sauce and cook until bok choy is wilted.
Remove from heat.
Add spinach, cilantro and basil.
Garnish with sprouts, lime wedge, and Sriracha sauce, if desired.
Morocco
Couscous are little balls of durum wheat semolina often eaten in the Maghreb region of Africa. Moroccan Turkey Wraps include couscous, cucumbers, Greek yogurt, and Jennie-O® turkey breast.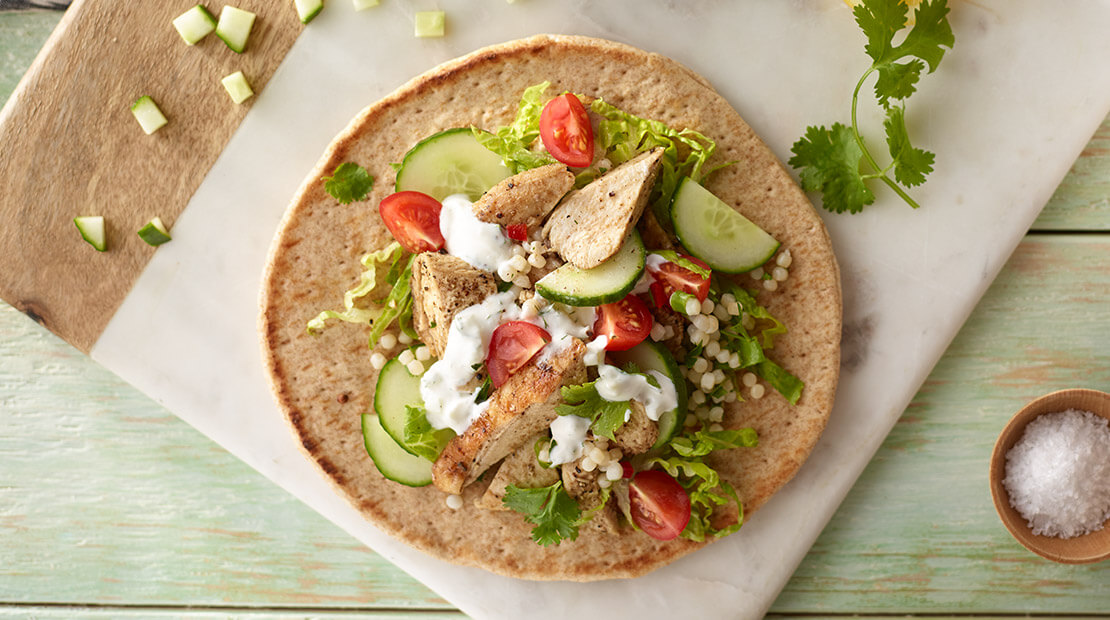 Moroccan Turkey Wrap
Total Time

30 minutes

Serves

10
1

cup plain Greek yogurt

1/2

English cucumber, peeled, halved lengthwise, seeded and finely diced

2

tablespoons fresh lemon juice, from one lemon

1

tablespoon chopped fresh dill

1 1/4

teaspoons Kosher salt, divided

3/4

teaspoon freshly ground black pepper, divided

2

teaspoons vegetable oil

3

cloves garlic minced

1 1/4

pounds JENNIE-O® Turkey Breast, cooked and shredded

1/4

cup finely chopped fresh cilantro

1

teaspoon ground allspice

1

teaspoon ground cumin

10

whole grain tortillas

10

romaine lettuce leaves

20

ounces couscous, prepared

tomatoes, chopped, if desired

cucumber slices, if desired
Instructions
In small bowl, combine yogurt, cucumber, lemon juice, dill, ¼ teaspoon salt and ¼ teaspoon pepper; mix well. Refrigerate until ready to serve
In skillet, heat oil on medium-high heat. Add garlic, shredded turkey breast, cilantro, allspice, cumin, 1 teaspoon salt and ¼ teaspoon pepper. Heat until mixture is heated through.
On tortillas, add lettuce, couscous, turkey mixture, tomatoes and cucumbers, if desired. Top with yogurt sauce. Fold tortilla.