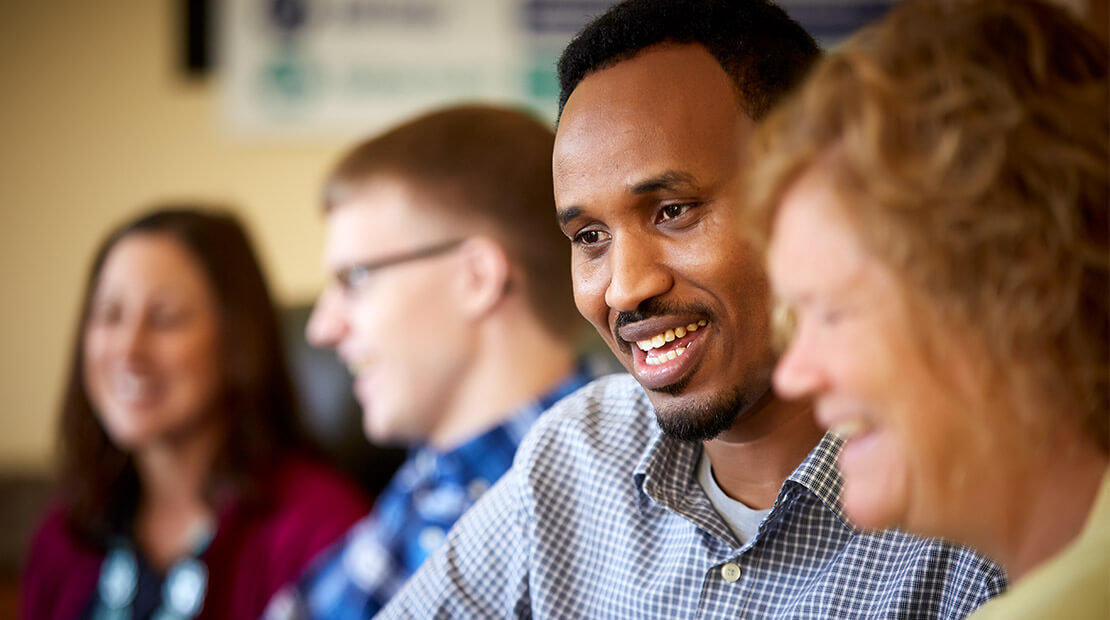 Since our founding in 1891, we've based our daily business decisions and interactions on strong ethics. We are proud that employees throughout our company demonstrate ethical behavior and we offer ongoing training to cultivate an ethically sound culture.
Ethics and Conduct
We are committed to achieving high ethical standards throughout our company. We give all employees the framework to apply our ethical standards to all decisions and actions within their daily responsibilities, as outlined below.
Code of Ethical Business Conduct
In an effort to create this ethically sound culture, we train all U.S.-based employees on our Code of Ethical Business Conduct. We provide this policy and third-party compliance reporting process for all employees globally. Our code serves as a guide for our employees, officers and directors in making business decisions.
The code covers many of the topics discussed in our global impact report, including fair employment practices, harassment, safety, diversity, environmental responsibility and product integrity.
Additionally, our code outlines our policies on conflicts of interest, gifts, illegal payments, illegal political contributions and disciplinary action.
All company policies at Hormel Foods follow local and national laws in the United States and other locations in which we operate.
One-hundred percent of our board members, subsidiaries, U.S. joint ventures and company locations are covered under the code, which includes attesting to compliance with the Foreign Corrupt Practices Act. When considering a company for merger or acquisition, we conduct due diligence and examine the suppliers of the prospective party, and we expect them to comply with our code.
To ensure adherence to the code, in 2002 we established a compliance program that upholds accountability through reporting, tracking and investigation of possible violations of the code.
The Audit Committee of our Board of Directors oversees the program, which includes a cross-functional Compliance Committee, training of new employees, and a hotline and website for employees to report incidents that may violate our code.
Investigating Potential Violations
The Compliance Committee is chaired by the manager of the company's internal audit function and includes additional employees from our human resources and legal departments. This committee receives updated information about potential code violations on an as-needed basis.
When a potential violation is reported, the committee promptly initiates an investigation that is deemed as the appropriate course of investigative action. If it appears that an infraction of the law has occurred, the committee refers the investigation to the company's general counsel and promptly provides a written report to management. This report outlines the information that was received and the investigative action that is being taken.
At the conclusion of the investigation, a final report is provided to management. If serious violations have been noted, the committee prepares a report to share with the Audit Committee to explain the course of action taken. Certain courses of disciplinary action will be taken depending on the type and severity of the violation. Hormel Foods also takes steps to respond appropriately to these violations to proactively prevent subsequent violations of the law, including modifying the compliance program as necessary.
Additional information about our board committees can be found in our 2021 Proxy Statement.
Communicating Our Values
To ensure the value system at Hormel Foods is understood and implemented throughout the entire organization, we communicate our values platform to our employees in their native languages.
Should our employees observe anything that does not comply with our code of conduct and the values outlined in our platform, we provide a hotline number and website to facilitate anonymous employee feedback and address concerns. This hotline can be used to report a range of issues, including corruption and discrimination. To ensure accountability, the hotline and website are operated by an independent third-party organization.
Performance-Based Executive Compensation
To advance our principle of perpetuating financial sustainability throughout the organization, Hormel Foods maintains a Compensation Committee within our Board of Directors that is exclusively comprised of non-employee, independent directors. The committee establishes and administers the compensation and benefit programs and upholds two primary goals:
Attract and retain highly-qualified executive officers; and
Incentivize the behavior of executive officers to create stockholder value.
In order to accomplish these goals and remain competitive within the industry, we also benchmark compensation compared to peer companies. Our incentive-based system considers individual performance, competitive market data and overall performance of the company. To help attract and retain top talent and propel the company's success into the future, Hormel Foods also provides executives with the opportunity to receive short- and long-term incentives. More information about our performance-based executive compensation can be found in the 2021 Proxy Statement.
Engaging in Legislative Affairs Overview
A number of issues affect the food industry today. As relevant legislation evolves, Hormel Foods participates in open, ongoing dialogue with elected officials and community members about our mission in order to ensure these issues are addressed. We want to make sure our message is conveyed with a clear understanding of the methods in which we conduct our business and the positive role our company plays in the larger scheme of the industry. This dialogue entails:
Membership in trade organizations that conduct lobbying on behalf of the food industry. These organizations include the Consumer Brands Association, North American Meat Institute, National Restaurant Association and National Turkey Federation.
Monitoring legislative and regulatory issues and conducting lobbying activity when the company determines it is vital to its operations.
Conducting one-on-one meetings and individual plant tours with members of Congress and regulatory agencies to help them better understand our company operations and policies.
Engaging in public forums by participating in panels on a variety of industrywide issues.
Our participation in public policy and lobbying through the previously mentioned trade organizations and relationships focuses on significant issues such as:
Food and Drug Administration proposed rules and regulations;
Food safety improvements;
Biotech food labeling rules;
Incentive for research and development;
Immigration reform;
U.S. trade policy;
U.S. Department of Agriculture proposed rules and regulations; and
A balanced approach regarding subsidies, tariffs and mandates for biofuels.
Hormel Foods does not currently use corporate funds to make direct contributions to candidates, political parties, Political Action Committees (PACs), super PACs, political committees, 527 groups, ballot question committees, 501(c)(4) organizations, or to pay for independent expenditures.
Corporate Governance
At Hormel Foods, our Board of Directors oversees all company activities and assumes the ultimate responsibility of ensuring that company performance is based on strong ethical practices and is aligned with our Code of Ethical Business Conduct. The board currently consists of 13 members, 12 of whom are independent.
Jim Snee serves as chairman of our board. The board has adopted the Hormel Foods Corporate Governance Guidelines, which outline key corporate governance principles. The board has established three committees – Audit, Compensation and Governance. Additional information about our board structure can be found in our 2021 Proxy Statement.
Corporate Responsibility Governance
The Hormel Foods Corporate Responsibility (CR) Steering Committee is comprised of company executives. The group's role is to provide direction and approval for the company's environmental, social and governance activities. The chair of the committee reports directly to our chief executive officer.
In addition, the Governance Committee of our Board of Directors has oversight of our sustainability, environmental and corporate social responsibility activities.
2021 Global Impact Report
To learn more about our lobbying efforts, visit our global impact report.
Global Impact Report
Our Governing Principles
Each year at our Annual Meeting, Hormel Foods stockholders elect the members of our Board of Directors. The Governance Committee of the Board of Directors is responsible for identifying and recommending individuals qualified to become members of the board; overseeing succession planning for the corporation's chief executive officer; ensuring personnel resources are being managed responsibly and effectively; and developing and recommending to the Board of Directors a set of corporate governance principles applicable to the company.
Board Independence and Evaluation
The New York Stock Exchange (NYSE) listing standards require that a majority of the company's directors be independent and that the Audit, Compensation and Governance committees be comprised entirely of independent directors.
To operate in accordance with the NYSE listing standards, the board has created and employed standards to assist in making the annual determination of each director's independence status (view the Director Independence Standards).
In addition to policies outlined in the Hormel Foods Code of Ethical Business Conduct regarding conflicts of interest, we require that our board members submit a letter of resignation if they partake in any action that creates a conflict of interest with the company.
There is an annual self-evaluation of individual committees, and the board conducts its own self-evaluation. Stock ownership guidelines help to ensure that the interests of directors and executives are aligned with the interests of the stockholders.
Open Communication with Stakeholders
In addition to seeking feedback from our stakeholders about our global impact report each year, we also offer interested parties the opportunity to communicate with the board by sending a letter directed to the board, non-employee directors or specified individual directors, addressed to: Brian D. Johnson, Vice President and Corporate Secretary, 1 Hormel Place, Austin, MN 55912. All communications, whether signed or anonymous, will be directed to the lead director or the chair of one of the committees based on the subject matter of the communication, or to the non-employee directors or the specified directors, if so addressed. This information can be found in the 2021 Proxy Statement.
Enterprise Risk Management
Supported by the board, the enterprise risk management (ERM) initiative at Hormel Foods aims to examine and manage potential risks to the company. ERM risk teams meet throughout the year to identify, measure and mitigate key risks across the company. ERM teams continually reassess risks to document changes to risk exposures, look for new and emerging risks, and provide regular updates to senior management.
ERM teams have developed strategic plans to mitigate the risks identified. Please see our Annual Report for additional information.