There's something to cooking over a campfire that makes everything taste better. The smell alone easily evokes sense memories of those childhood camping trips: beautiful views, attempting to construct a tent and maybe a burnt marshmallow or two. Bring your group together at home or outdoors and try your hand at our favorite fire-friendly meals.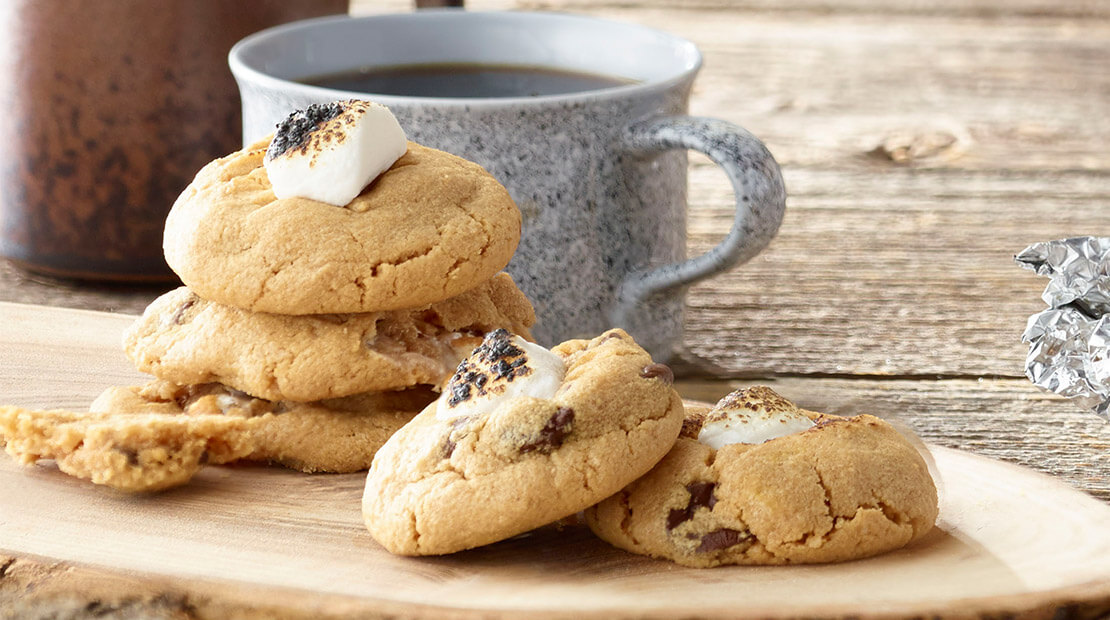 Peanut Butter S'more Cookies
Hands-On Time

15 minutes

Total Time

30 minutes

Serves

16
1

cup SKIPPY® peanut butter

1

cup sugar

1

large egg, lightly beaten

1/2

teaspoon vanilla extract

1/2

teaspoon baking soda

1/2

cup semi-sweet chocolate morsels

4

large marshmallows cut into quarters
Instructions
Heat oven to 350°F. In large bowl, stir together peanut butter and next 5 ingredients. Shape dough into 2-inch balls and place on cookie sheet; lightly flatten. Bake 15 minutes. Top with marshmallows and slightly press into center. Let cool completely. Lightly brown marshmallows with kitchen torch, if desired.
Over the fire: Bake cookies ahead. Rather than quartering marshmallows, roast whole marshmallows over fire and press between two cookies.
Nutrition Info
Per serving:
Calories: 163, Protein: 4g, Carbohydrate: 18g, Fat: 9g, Cholesterol: 12mg, Sodium: 132mg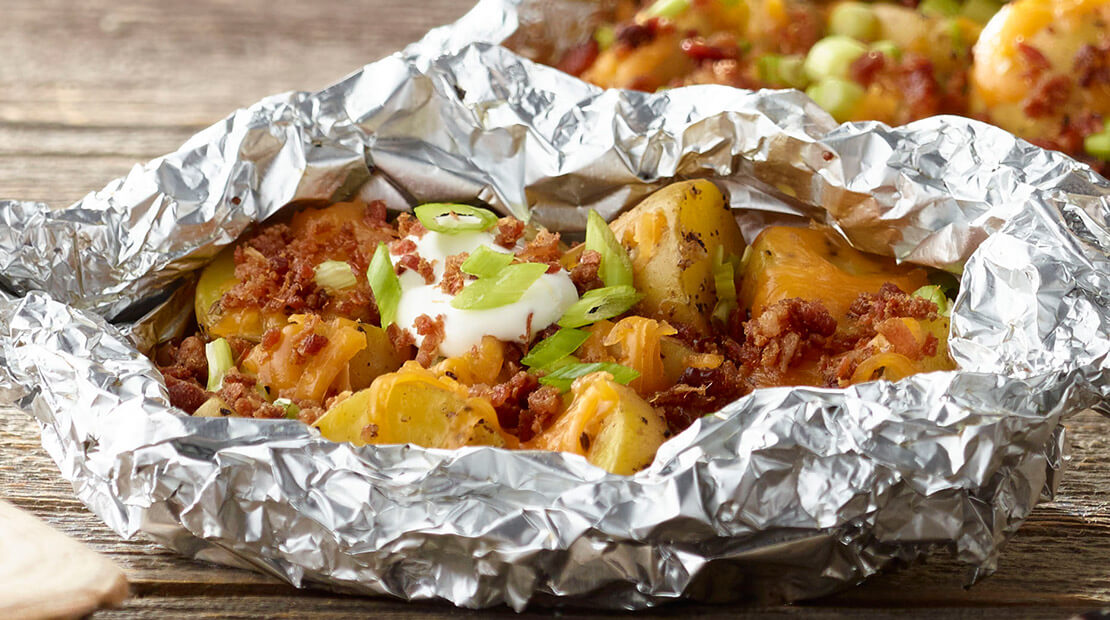 Bacon Potato & Cheese Hobo Packs
Hands-On Time

15 minutes

Total Time

55 minutes

Serves

4
1 1/2

pounds small potatoes, cut in half

1

tablespoon olive oil

2

teaspoons Montreal steak seasoning

1 1/4

cup shredded sharp Cheddar cheese

1/2

cup chopped green onions

1

cup Hormel® bacon bits

as needed

Aluminum foil

as needed

Cooking spray
Instructions
Heat oven to 425°F. In large bowl combine potatoes, olive oil and steak seasoning, tossing to coat. Tear 4 (8-x 12-inch) sheets of foil and lightly coat with cooking spray. Divide potatoes evenly among foil pieces, placing in center and folding or pinching foil to seal. Place on baking sheet and bake 30 minutes or until potatoes are tender. Carefully open foil and sprinkle potatoes with cheese, green onions and bacon bits. Place open foil packs in oven and bake 8 minutes.
Over the fire: Place foil packs over hot embers, out of direct flame. Remove from heat when potatoes are tender.
Nutrition Info
Per serving:
Calories: 396, Protein: 23g, Carbohydrate: 30g, Fat: 22g, Cholesterol: 37mg, Sodium: 1601mg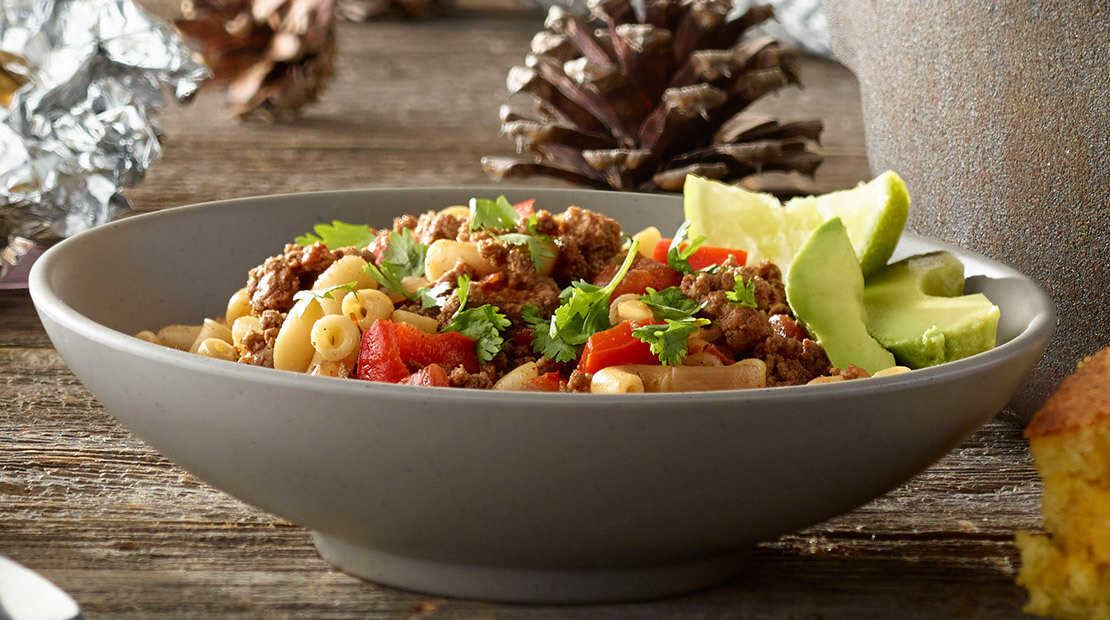 Turkey Chili Mac
Hands-On Time

15 minutes

Total Time

55 minutes

Serves

10
2

tablespoons olive oil

1

red onion, chopped

2

pounds Jennie-O® ground turkey

2

tablespoons ground chili powder

1

tablespoon ground cumin

2

tablespoons ground coriander

1

cup La Victoria® red taco sauce

1

(15-ounce) can fire roasted diced tomatoes, undrained

6

cups vegetable broth

1

red bell pepper, chopped

1

teaspoon kosher salt

1/2

teaspoon freshly ground pepper

2

cups uncooked elbow macaroni
Instructions
In large Dutch oven, over medium-high heat, heat oil. Sauté onion 7 minutes or until tender. Add ground turkey and cook 20 minutes, or until no longer pink and liquid has mostly evaporated. Stir in chili powder, cumin and coriander and cook 2 minutes. Add taco sauce and remaining ingredients.
Bring mixture to a boil. Reduce heat to medium-low and simmer 20 minutes or until pasta is cooked.
Over the fire: Preheat base of Dutch oven directly over hot coals until smoking. Prepare recipe as noted above in Dutch oven and cover. Place hot coals on top of cover, varying amount to control heat. Carefully remove from coals when pasta is cooked.
Nutrition Info
Per serving:
Calories: 299, Protein: 22g, Carbohydrate: 25g, Fat: 12g, Cholesterol: 61mg, Sodium: 763mg