Kristina Kuzmič, the inaugural Lunch Whisperer for the Hormel® Natural Choice® brand invited us to her first ever Sandwich Social Club Live. She and her friends shared tricks, recipes and aspirational advice that make family lunches a success and bring balance to their routines. We can all use more quality family time and minimizing time preparing and cooking is one way to get it. These easy and delicious lunch ideas can please all tastes, from picky eaters to more adventurous palates. Invite your kids to join in on the action in the kitchen. Delight your family with these simple and satisfying sandwiches and stromboli, which all have the ability to double as dinner fare or party snacks.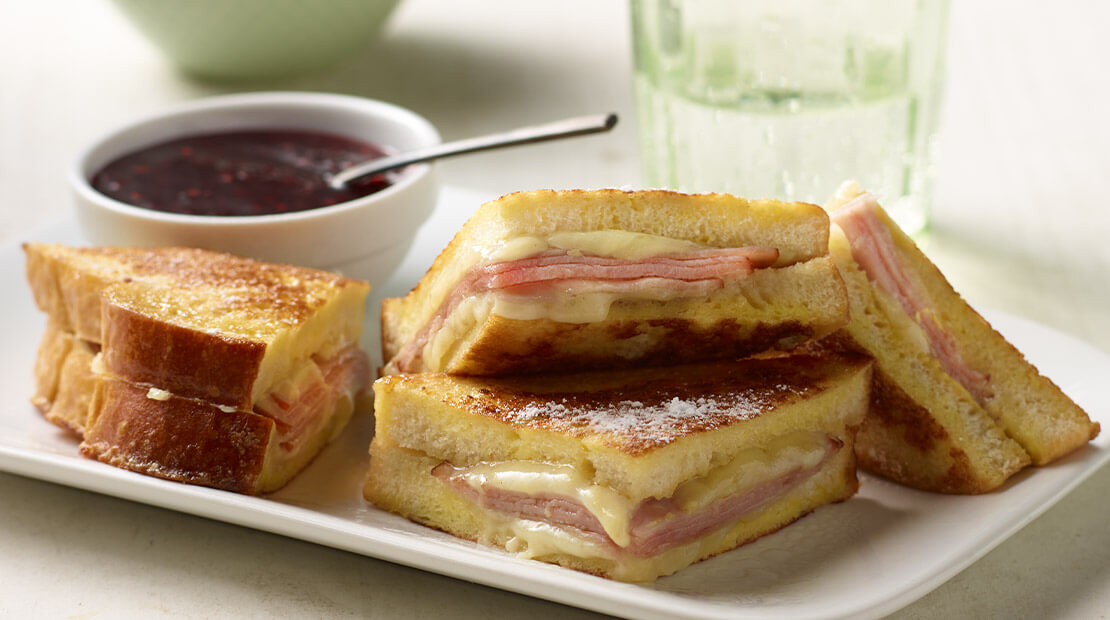 Monte Cristo Sandwiches
Hands-On Time

10 minutes

Total Time

30 minutes

Serves

4
3

eggs

1/4

cup half-and-half

1/4

teaspoon kosher salt

8

slices sturdy white or sourdough bread

1/4

cup Dijon mustard

1/4

cup mayonnaise

8

ounces Gruyere cheese, grated

1

(8-ounce) package HORMEL® NATURAL CHOICE® Deli Honey Ham

4

tablespoons unsalted butter, divided

Powdered sugar and raspberry jam, for serving
Instructions
In shallow dish whisk together eggs, half-and-half and salt.
Spread 4 slices bread with mustard. Spread other 4 slices bread with mayonnaise. Sprinkle half the cheese on mustard slices. Place the ham on top of the cheese, then sprinkle the remaining cheese over the ham. Close the sandwiches with the remaining bread mayonnaise side down.
Heat griddle to medium heat; add 2 tablespoons butter. Dip 2 sandwiches in egg mixture, shaking to remove excess. Place on griddle and cook 3 to 4 minutes on each side or until golden brown. Repeat with remaining butter and sandwiches. Serve with powdered sugar and raspberry jam.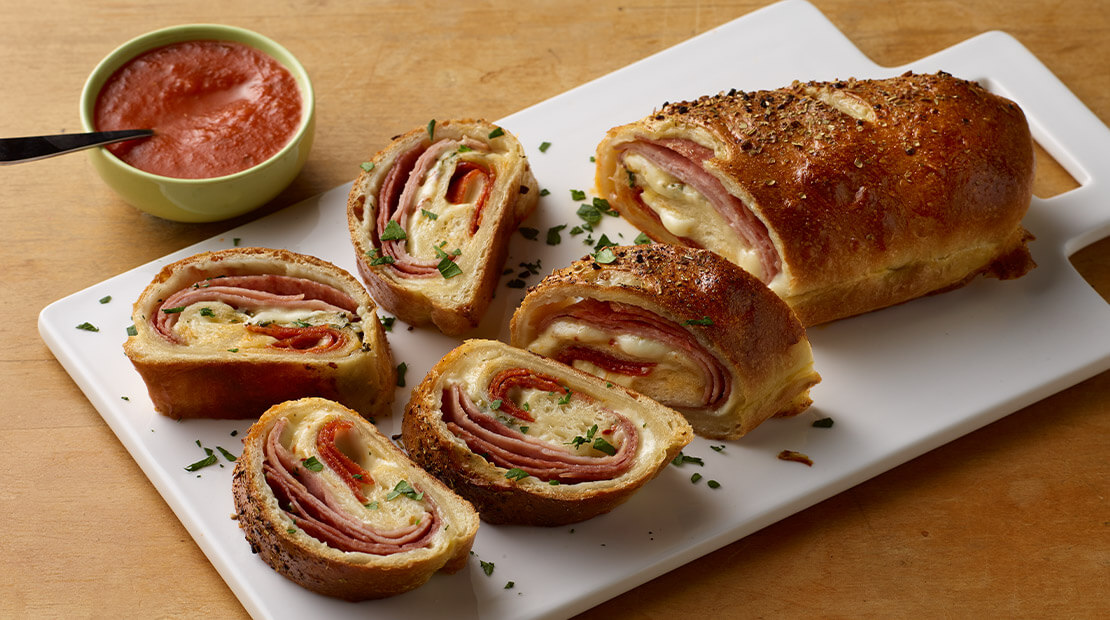 Stromboli
Hands-On Time

10 minutes

Total Time

40 minutes

Serves

6
1

pound pizza dough

20

slices HORMEL® NATURAL CHOICE® Uncured Pepperoni

4

slices Provolone cheese

8

slices HORMEL® NATURAL CHOICE® Hard Salami

6

slices HORMEL® NATURAL CHOICE® Deli Smoked Ham

4

slices mozzarella cheese

1/4

cup grated Parmesan cheese

2

tablespoons chopped fresh parsley leaves, divided

1/4

teaspoon crushed red pepper

1

egg, lightly beaten

Pizza seasoning

Marinara sauce, for serving
Instructions
Heat oven to 425°. Line large baking sheet with parchment paper.
On lightly floured work surface, roll and stretch pizza dough into 11×14-inch rectangle.
Layer pepperoni, Provolone cheese, salami, ham and mozzarella cheese across lower third of the dough rectangle. Sprinkle with Parmesan cheese, 1 tablespoon parsley and crushed red pepper.
Starting with the long edge, roll up jelly-roll style, tucking ends as you roll. Place seam-side-down on prepared baking sheet.
With sharp knife, make 4 to 5 diagonal slashes down center of roll. Brush with beaten egg. Sprinkle with pizza seasoning.
Bake 25 to 30 minutes or until golden brown. Let cool 10 minutes before slicing. Garnish with remaining parsley. Serve with marinara sauce.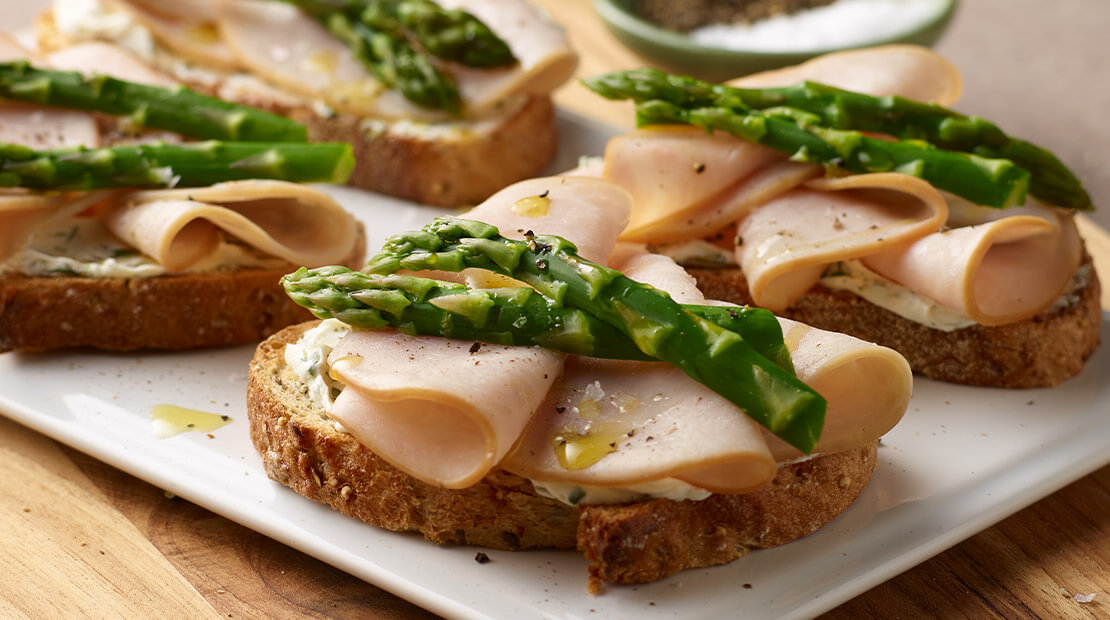 Smoked Turkey and Asparagus Tartines
Hands-On Time

5 minutes

Total Time

15 minutes

Serves

4
8

asparagus spears, trimmed and halved

4

slices rustic bread, toasted

3

tablespoons herbed cream cheese

1

(8-ounce) package HORMEL® NATURAL CHOICE® Smoked Deli Turkey

1

tablespoon olive oil

Flaked salt and cracked black pepper, as desired
Instructions
Bring medium pot of water to boil. Add asparagus. Blanch 10 seconds or until bright green. Remove and add to bowl of ice water. Let stand 5 minutes; drain.
Spread bread with herbed cream cheese. Top with turkey. Arrange asparagus on turkey. Drizzle with olive oil. Sprinkle with salt and pepper, if desired.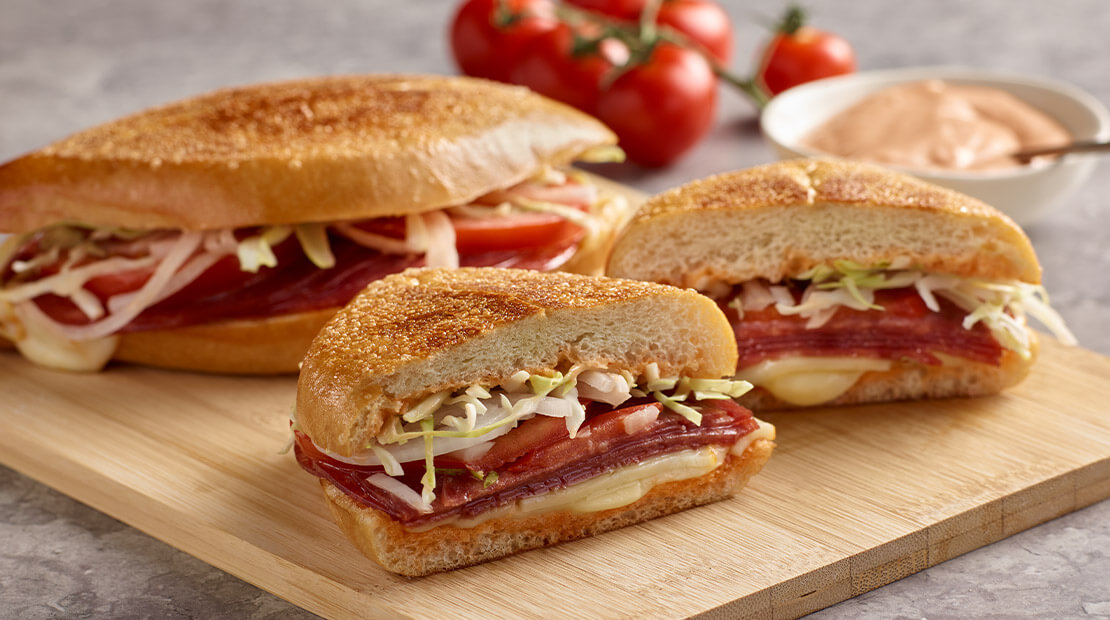 Hard Salami Dominican Style Tostada from Chef Rosie Batista
Hands-On Time

10 minutes

Total Time

20 minutes

Serves

2
3

tablespoons mayonnaise

3

tablespoons ketchup

1

clove garlic, grated

2

Portuguese rolls, or other crusty rolls, sliced in half

8

slices HORMEL® NATURAL CHOICE® Hard Salami

4

slices muenster cheese

1

cup thinly sliced cabbage

1/2

cup thinly sliced onion

4

slices tomato

1

tablespoon butter
Instructions
In small bowl combine mayonnaise, ketchup and garlic. Spread cut sides of rolls with mixture.
Place 4 salami slices and 2 cheese slices on each roll bottom. Place cabbage, onion and tomato slices on roll tops. Sandwich together.
In large skillet over medium heat, melt butter. Place sandwiches in skillet. Cook 2 minutes or until lightly browned. Turn sandwiches over. Cook 1 to 2 minute or until golden brown, pressing to melt cheese.
Kristina is passionate and intentional about making meaningful time with her family, often over food. Whether it's making an unforgettably flavorful meal for them that didn't take hours or getting them excited to take part in kitchen preparation, she knows the value of these special moments and the importance of keeping it simple when and where she can. Kristina has countless inspired uses for lunchmeat, for example, and reaches for Hormel® Natural Choice® products to make recipes like these.