Planters Fans Go Nuts to Drive Peanut on Wheels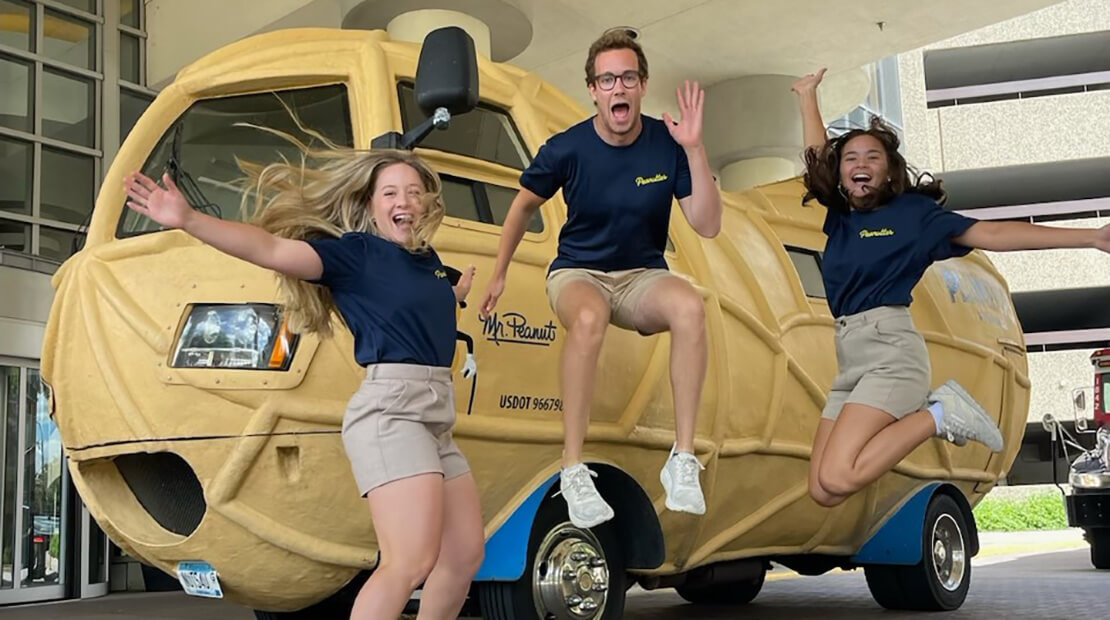 PRWeek
Here's how many people applied for the opportunity to drive across the country in the NUTmobile
Imagine spending all day inside a peanut.
Planters, a Hormel Foods brand, recently offered a job opportunity for three people to serve as "Peanutters" and drive across the country in the NUTmobile, a 26-foot-long vehicle shaped like a peanut.
Strategy
A salesman first used a peanut car in 1935, and it has since taken a number of different forms, according to the brand. In June 2021, Hormel acquired Planters from Kraft Heinz, and launched its first class of Peanutters a year later.
"I think one thing we have done differently at Hormel Foods is we have really connected this class of Peanutters with our corporate communications team and the brand team more than they were in the past," said Brian Olson, Hormel's manager of corporate communications.
That first class — who drive the vehicle to a new city each week — will stay on the road until June.
To prepare for the next group, the brand launched a contest in January and asked for applications from people who recently obtained a bachelor's degree, preferably in a communications field. They asked them to submit a short video describing why they should be hired as a Peanutter.
Tactics
To find the right people, the Hormel team asked the recent Peanutters to recruit students at various colleges. They also asked them to promote the program on TikTok and Instagram.
In one Instagram reel, one of the Peanutters opens a side door on the vehicle, steps out and asks, "Interested in joining the nuttiest crew in America?"
Another Peanutter informs viewers that applications open in a week, and the third closes by saying, "Time to get crackin' on those application materials."
In a TikTok video, the Peanutters are sitting inside the vehicle wearing ugly Christmas sweaters featuring peanuts and explaining the application process.
"They have really utilized social media to take it to the next level and just leverage it to attract top talent," Olson said.
Results
The campaign received coverage from "The Tonight Show Starring Jimmy Fallon"; the Washington Examiner; the Fort Worth Star-Telegram; the Sacramento Bee; and the Miami Herald, among other publications.
On "The Tonight Show," Fallon shared a news clip about the job aboard the NUTmobile and then said, "They are looking for new drivers after the original ones got sacked."
In total, 380 people applied for the three positions, according to the campaign.
The Instagram reel mentioned earlier was viewed more than 250,000 times, and the TikTok video received more than 17,000 views. Since launching a NUTMobile account on TikTok in June 2022, the account has gained more than 80,000 followers. On Instagram, the NUTMobile account has seen a 203% increase in followers.