Applegate Rolls Out 'Blend Burgers,' As Plant-Based Food Trend Muscles Into Meat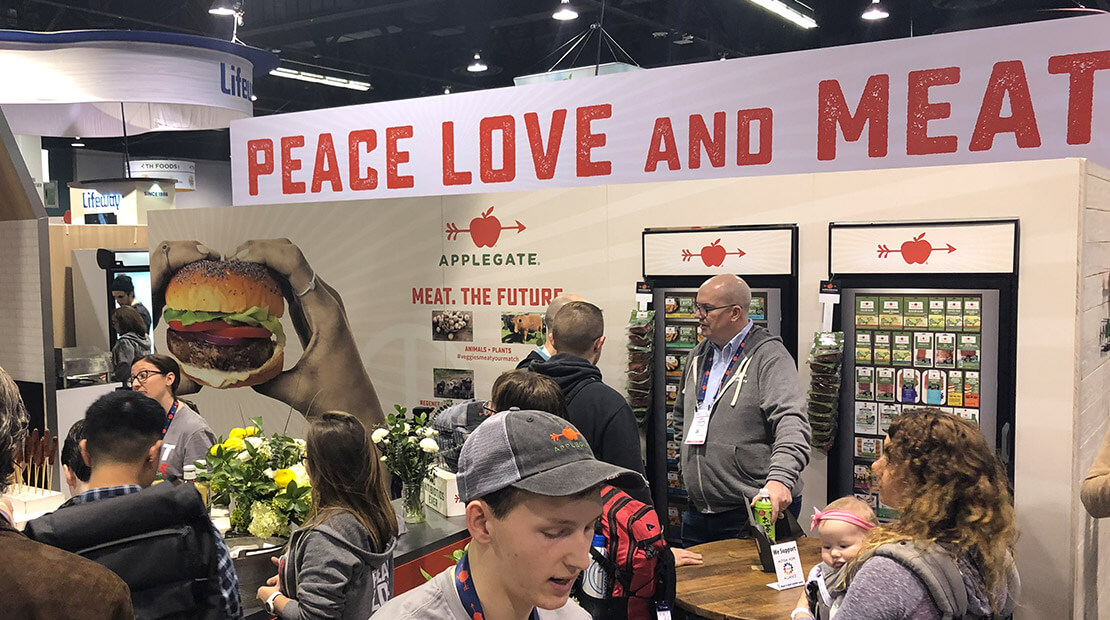 Star Tribune
Plant-based ingredients shape new products at organic food trade show.
Applegate Farms built a natural-meat empire on the belief that meat can be raised better.
Its latest products spring from the notion that meat can be eaten less.
The company, a subsidiary of Austin, Minn.-based Hormel Foods Corp., this week introduced "blend burgers" that reduce the amount of organic beef or turkey in a burger patty and fill it out with organic mushrooms. They are designed to appeal to people who are trying to put a little less meat and a few more vegetables in their diets.
"Our research shows more than 50 percent of consumers want to eat more plant-based foods, yet very few are behaving as vegetarians or vegans," John Ghingo, president of Applegate, said in an interview Thursday. "They still love meat, they crave meat."
The rise of plant-based alternatives to traditional meat and dairy products is one of the trends at Natural Products Expo West, one of the food industry's largest trade shows. It has drawn 88,000 people, from natural and organic food producers and distributors to aficionados, to Los Angeles this week.
Applegate is one of dozens of food companies that rolled out new products at the event. Other companies showed pastas made from edamame, cheese puffs made from chickpeas and fermented hot pepper flakes with probiotics.
In joining the plant-based trend, Applegate and firms like it are paving a middle ground in the age-old divide between meat-eaters and vegetarians.
"Our pursuit is to find smarter ways to create animal-derived products," Ghingo said. "If plants are a part of that, then we are going to do that."
He noted that one way for the firm to stand out is by touting the simplicity of its blend burgers. They have just three ingredients: either organic beef or organic turkey, organic mushrooms and organic rosemary. "If you look at a lot of other meat-alternative burgers, the ingredient list is a mile long," Ghingo said.
About 54 percent of U.S. consumers want to incorporate more plant-based foods into their diet, according to 2017 research from the Hartman Group, with the numbers being even higher among baby boomers.