Winter Walk Returns To Union Square for Five Festive Weeks This Holiday Season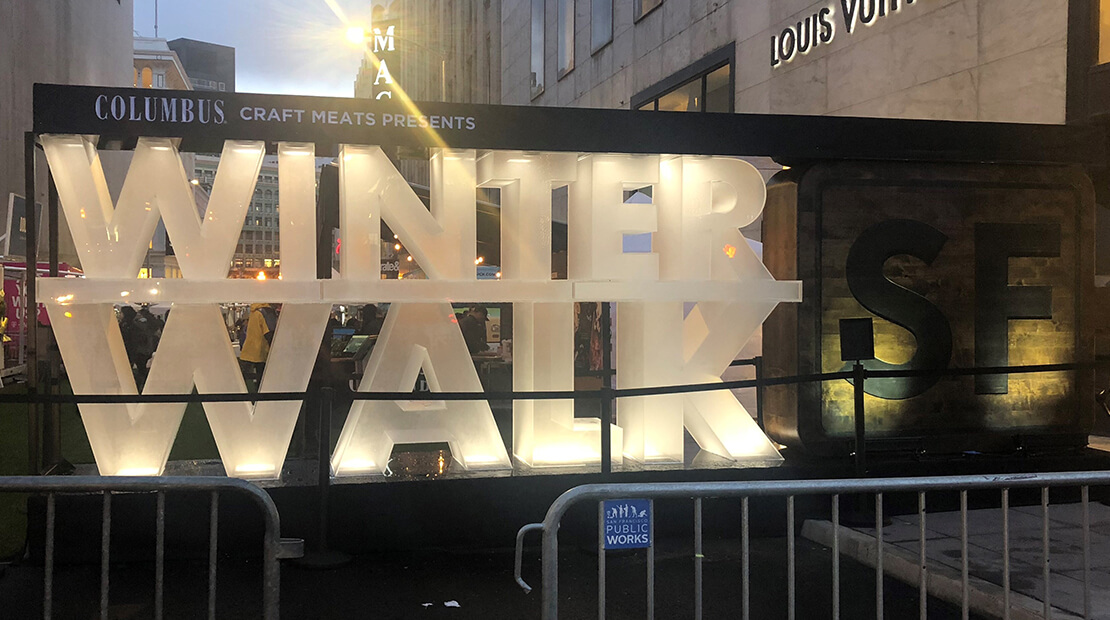 San Francisco, Calif.
Winter Walk will be open to the public starting November 26 and going through December 31.
Brought to you by Union Square Business Improvement District (USBID), in partnership with Off the Grid and the San Francisco Municipal Transportation Agency and presented by Columbus Craft Meats, Winter Walk will once again return to San Francisco's iconic Union Square this holiday season launching on November 26 and ending December 31, bringing together the best of local food, beverage, musical performances and interactive holiday experiences with a pedestrian promenade located on Stockton Street (between Ellis and Geary Streets).
Now entering its fifth year, Winter Walk was conceived in partnership with our late-Mayor Ed Lee as a way for local merchants and residents to take advantage of the Central Subway Improvement Project's yearly construction moratorium from late November through December, increasing foot traffic and visibility for those businesses affected by the construction that began in 2011. Since then, the pedestrian holiday pop-up plaza has become a local holiday tradition, creating a new way for visitors and locals alike to enjoy downtown San Francisco during the holiday season. 1.7 million visitors experienced Winter Walk in 2017.
"Winter Walk has become a San Francisco holiday tradition, driving increased foot traffic and sales for businesses in the Union Square Business Improvement District during the peak shopping season. I'm thrilled to finally be celebrating the reopening of Stockton Street after years of Central Subway construction, and continuing to partner with the Union Square BID on other creative programmatic and policy initiatives to increase public enjoyment of this world-class retail destination," said Supervisor Aaron Peskin.
"A number of magical features are coming to Winter Walk SF this year. Visitors will be mesmerized by tall lighted presents, rustic holiday décor, and sponsored art installations. We hope to continue Winter Walk as a premier holiday destination for years to come with the help of our City partners," said Karin Flood, executive director of the Union Square Business Improvement District.
Along with curated daily programming, a beer garden, communal lounge spaces, and holiday photo opportunities, highlights of the 2018 edition of Winter Walk will also include:
A 27-foot-long, life-sized Winter Walk SF sign with live visual effects to represent the San Francisco fog created by the presenting sponsor, Columbus Craft Meats.
A giant art installation of a cloud where visitors can walk through by Lufthansa.
Daily rotating selection of mobile food from Bay Area favorites like Wezy, KoJa, Sensor Sisig, Capelo's Barbecue, Jackrabbit Kitchen, 43 & Company, Oui Oui Macaron, and Ghirardelli. Seasonal holiday cocktails from local roving beverage purveyor Rye on the Road
December 6: "Mean Girls" themed drag performance by local drag queen Tye and friends
December 7: Performance by the Salvation Army Children's Choir
December 13 and 21: Pop-up appearances by the Bay Area's beloved Dickens Fair  December 13: Silent Disco presented by HUSHconcerts  December 21: Special Winter Solstice performance by Luminescent Grand (the world's first synesthesia piano)
As part of Off the Grid's commitment to creating a seamless guest experience, all mobile food vendors at Winter Walk will accept Apple Pay.
"As a mobile food and events platform, the most rewarding projects are the ones that allow us to design an entire experience from start to finish," says Matt Cohen, founder and CEO of Off the Grid. "Winter Walk presented the perfect opportunity for Off the Grid to activate an iconic space and create a temporary oasis in Union Square by bringing in local food businesses, craft beer and cocktails, and quirky holiday programming that reflects the spirit of San Francisco."
Winter Walk SF is pleased to have a home-grown San Francisco company on board this year as the presenting sponsor. "Columbus Craft Meats has been ingrained in the fabric of San Francisco since 1917, when our founders started curing salami using the city's fog," said Holly LaVallie, vice president of marketing at Columbus Craft Meats. "As the presenting sponsor of Winter Walk SF in 2018, Columbus aims to deepen its roots within the city and give back to the community that has given so much to us, including the donation of all proceeds from Winter Walk to a local charity."
For 2018 season dates and daily operating hours and to receive updates visit: www.WinterWalkSF.com.