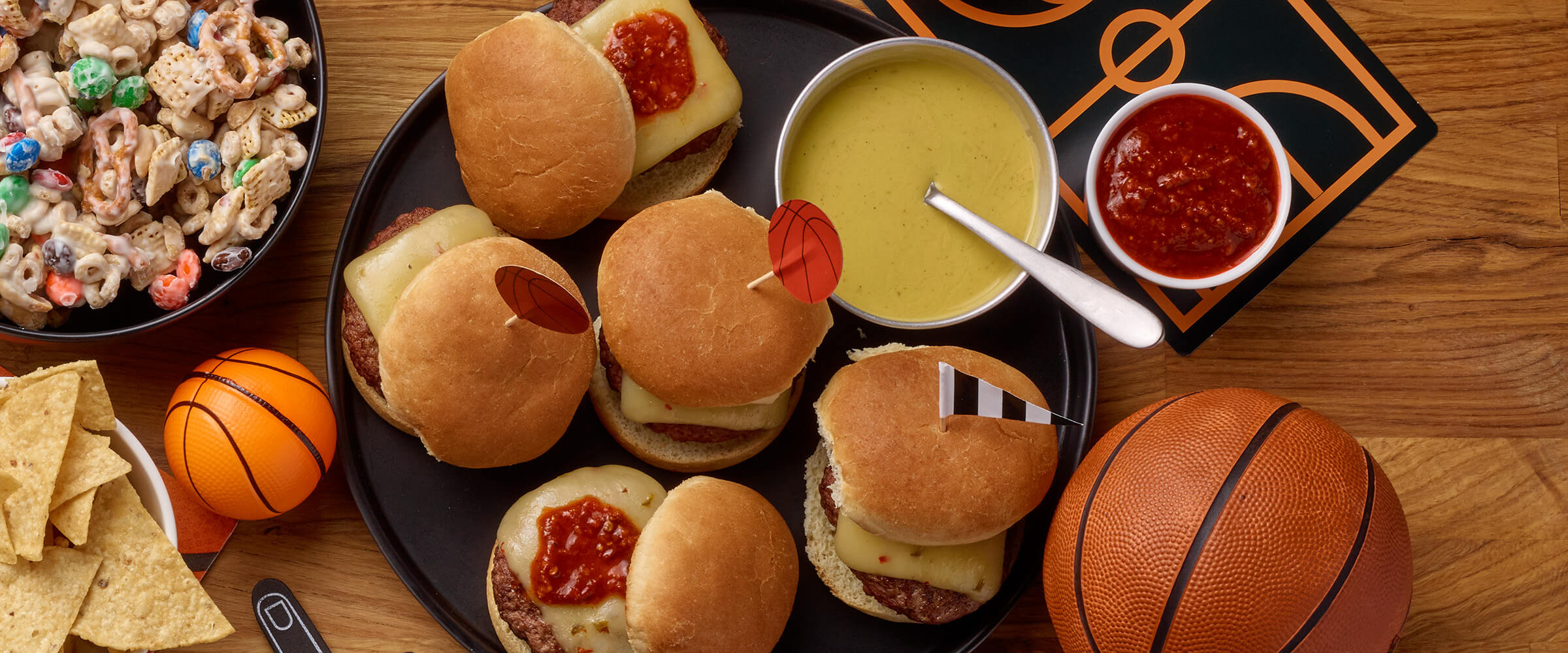 Ingredients
| | |
| --- | --- |
| 1 | can HERDEZ® Chipotle Peppers in Adobo Sauce |
| 6 | orange Habanero peppers, seeded (add more or less to control spiciness) |
| 1 | clove fresh garlic |
| 1 | tablespoon fresh lime juice (½ lime) |
| ½ | teaspoon ground cayenne pepper |
| ½ | teaspoon coarse black pepper |
| ¼ | teaspoon sea salt |
| | |
| --- | --- |
| 1 | pound lean ground beef (or beef/pork blend) |
| 1 | jalapeno pepper, seeded and minced |
| 3 | chile de arbol peppers, seeded and minced |
| 1 | tablespoon coarse black pepper |
| ½ | teaspoon sea salt |
| ½ | teaspoon onion powder |
| ½ | teaspoon garlic powder |
| ¼ | cup queso fresco |
| ¼ | cup crushed HERDEZ® White Corn tortilla chips |
| | Pepper jack cheese slices |
| | HERDEZ® Jalapenos Sliced in Escabeche |
| 6 | small slider buns |
| 1 | En Fuego Sauce; recipe follows |
Directions
For the En Fuego Sauce
In blender container, place all En Fuego Sauce ingredients. Blend until smooth. Set aside.
For the Slider Patties
Heat grill to medium.

In medium bowl, combine Slider Patty ingredients.

Form into six 3-inch patties.

Grill Sliders for 10-12 minutes or until thoroughly cooked.

Top with pepper jack cheese and leave on grill until melted.

Serve sliders in buns with En Fuego sauce.

Garnish with queso fresco and sliced jalapenos.
Featured In
Stories
Moore Than a Meal
Comfort comes in many forms. So does love. A seven-year-old boy with autism and his family learn that Dinty Moore® beef stew provides both.
Meet Danny