The Makers of Wholly Guacamole® Brand Introduce New Mini Dipping Cups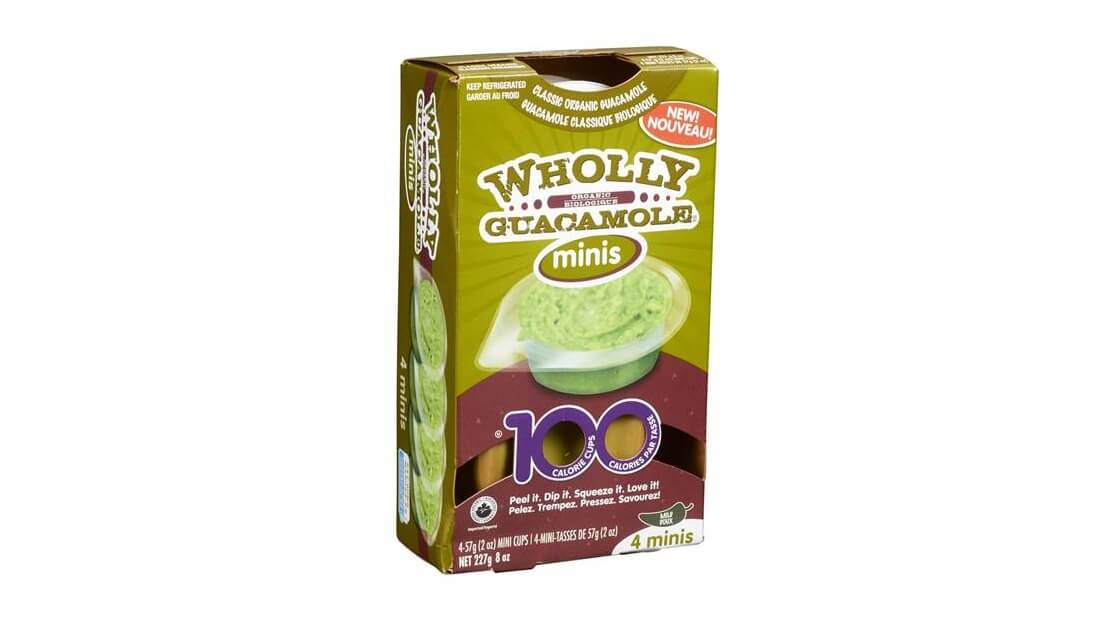 Fort Worth, Texas
100-calorie packs announced in portable packaging for guacamole lovers on the go
Guacamole has long been celebrated as a party treat, and the Wholly Guacamole® brand, America's No. 1 selling refrigerated guacamole, is making it easier than ever to take the party with you! The company is introducing an easy-to-open snack cup, perfect for dipping – the new Wholly Guacamole® Mini – designed with snacking in mind! These new 100-calorie, 2-ounce containers hold the same great product consumers know and love and make it easier to bring the delicious dip with you wherever you go!
According to a recent Wholly Guacamole® survey, approximately one-quarter (23 percent to 26 percent) of refrigerated dip consumers have had guacamole at a party or social event at or away from their homes. Almost one-fifth (18 percent) have used guacamole as a snack during the evening and 16 percent have used it as a snack during the day. Additionally, guacamole continues to be a versatile dip, condiment and ingredient in the home.
"We want Wholly Guacamole® products enjoyed in the car, at work or at any play date, basically anytime by both adults and children," said Tracey Altman, vice president of marketing at Fresherized Foods. "While our larger sizes are perfect for family meals and parties, the Minis are designed for consumers who are looking for a fresh way to spice up their daily snack and lunch box routine with a nutritious option. These days, guacamole goes way beyond the party chip. Consumers can enjoy our Minis with veggies, pretzels, or as a spread substitute for mayo on their sandwiches."
The Minis will appear on grocery store shelves everywhere by mid-August and are available in four different flavors: Classic, Spicy, Avocado Ranch and Chunky Avocado. Consumers can purchase the Minis in either a 4- or 6-pack product size. The 4-count suggested retail price is between $3.99-4.99, and the 6-count is $5.29 – 5.99. Like all Wholly Guacamole® products, the Minis are all natural, gluten free, with no preservatives and kosher certified, making them the perfect substitute for mayonnaise and ranch dressing.
To celebrate the launch of the Minis, Wholly Guacamole® is sharing lunch ideas for people of all ages on their Facebook page and website at eatwholly.com/omg. Guacamole lovers can submit photos of their own lunch creations between now and Sept. 27 to win a $100 Visa gift card and a Wholly Guacamole® lunch box filled with Wholly Guacamole® product. Three winners will be announced each week.
Wholly Guacamole® products are available nationwide in grocer's refrigerated fresh produce or deli sections.
About the Survey
In partnership with W5, the makers of Wholly Guacamole® products conducted a quantitative online survey between February 12-24, 2013. The resulting sample was made up of 1,214 refrigerated dip consumers, of which 1,004 are refrigerated guacamole consumers, between 25 and 50 years old.
The sample focused heavily on women, particularly moms.
About the Wholly Guacamole® Brand
Wholly Guacamole® is a brand of Fresherized Foods, the largest manufacturer of pre-prepared, fresh guacamole for both retail and food service in the country. A global leader in food safety, quality and innovation, Fresherized Foods was the first to introduce and use Ultra High Pressure Preservation (HPP) of avocados— or Fresherized™ technology—to create their line of Wholly™ products. For more information, visit www.eatwholly.com.