Attending a party for the big game? Score big with guests by serving the ultimate 52-ingredient sandwich! While football will be the driving factor behind most gatherings, we all know food is what steals the show.
Developed by Certified Master Chef Ron DeSantis, this mouthwatering sandwich is not only a showstopper, but it's delicious to boot!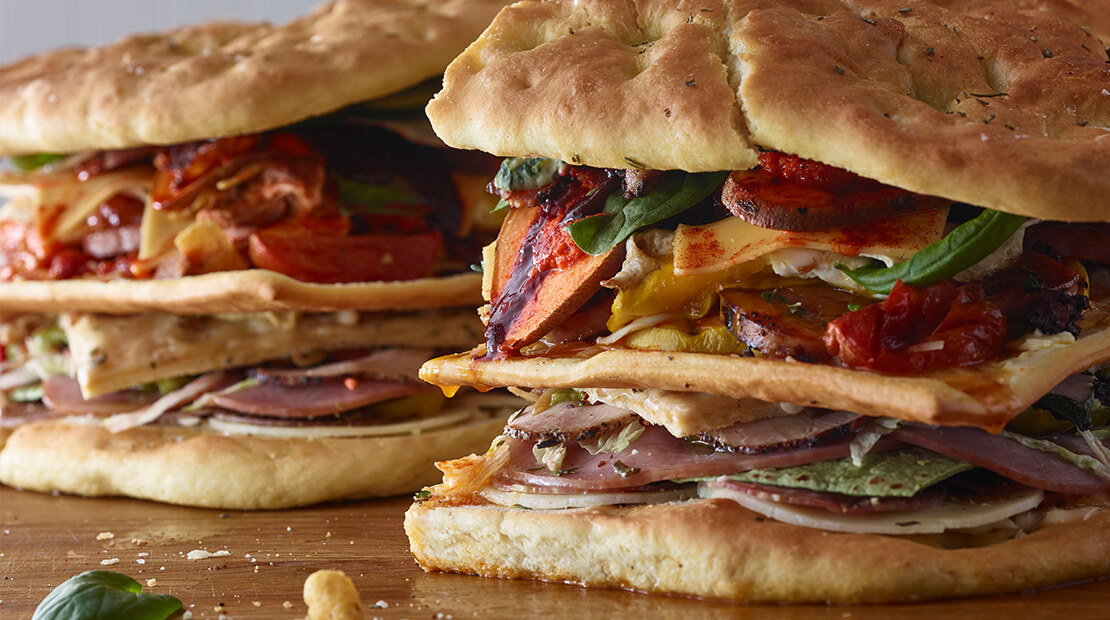 The 52-Ingredient Sandwich
Total Time

2.5 hours

Serves

48
2

24" x 16" Pizza Bianca

8

ounces mayo

24

ounces Di Lusso® provolone cheese

24

ounces Applegate® Genoa salami

1

tablespoon dry oregano

32

ounces pickled onion

2.5

ounces black olives, sliced

3.5

ounces banana pepper

40

ounces grilled eggplant

2

teaspoons smoked paprika

2

teaspoons black pepper

2

teaspoons salt

4

spinach wraps, trimmed to fit sandwich

1/2

cup spicy brown mustard

40

ounces Hormel® Natural Choice® ham slices

24

ounces pickle chips

2

heads iceberg slaw, shaved thin

1 1/2

pound Porchetta

32

ounces Simply Avocado™ spread by Wholly® Avocado

24

ounces ricotta salata

48

ounces grilled peppers

48

ounces grilled onions

1

jar Herdez® Roasted Salsa Rojas

24

ounces Justin's® almond butter

32

ounces hummus

4

tablespoons fresh rosemary

4

tablespoons lemon zest

8

ounces butter

2

focaccia 24″ by 16″

10

ounces extra virgin olive oil

32

ounces Di Lusso® Havarti cheese, sliced or shredded

48

ounces grilled zucchini

1/4

cup sambal olek

4

cans SPAM® classic

32

fried eggs

32

ounces roasted tomatoes

2

bunches fresh basil, whole leaves

4

tablespoons fresh thyme

4

flatbread

10

ounces tapenade

32

ounces Di Lusso® smoked Gouda cheese

2

pounds pulled pork

1/2

bag corn chips

4

pounds roast sweet potatoes

24

ounces romesco sauce

4

ounces spinach

4

pounds Hormel® Black Label® bacon

2

cups cranberry mostarda

2

pounds Jennie-O® Oven Roasted Turkey Breast slices

2

jars artichoke spinach dip

2

cucumbers

2

ounces watercress
Instructions
Begin by building the cold portion of the sandwich, from bottom to top. Start with one 24" x 16" piece of focaccia. In order, add mayo, provolone, salami, oregano, pickled onion, olives, banana pepper, grilled eggplant, smoked paprika, black pepper and salt. Next, trim spinach wrap to fit the sandwich and add to top of sandwich. Continue by adding spicy brown mustard, ham, pickle chips, iceberg slaw, porchetta, avocado spread, ricotta salata, grilled peppers, grilled onions, salsa rojas, one 24" x 16" piece of pizza Bianca, almond butter, hummus, rosemary and lemon zest.
Next, build hot portion for the top of the sandwich. Top ingredients should be built warm on top of the cold portion. Another option is to build the hot portion and place it in the oven at 350F for 6-7 minutes and then slide on top of the cold portion.
Begin with one 24" x 16" piece of focaccia, followed by butter, olive oil, Havarti cheese, grilled zucchini, and Sambal olek, fried SPAM® (sliced), fried eggs, roast tomato, basil, thyme, flatbread, tapenade, smoked Gouda cheese, fully cooked pulled pork, corn chips, roast sweet potato, Romesco sauce, spinach, cooked bacon, cranberry mostarda, oven roasted turkey breast slices, artichoke spinach dip, cucumber and watercress. Top sandwich with one 24" x 16" piece of pizza Bianca, and garnish with parsley.
Get help!
Have ALL ingredients ready and on-hand
If you don't have exact ingredients, call an audible. You'll still be happy
Taste as you go
Give yourself plenty of room to work
Use an electric knife to cut the sandwich prior to serving
Use quality ingredients (Hormel Foods ingredients will be star players)
If you can't find a large focaccia, ask your local pizza shop to bake you pizza without any topping. It should be 26"x 18"
Did we mention, get help? – It's more fun as a team
If you don't like an ingredient, leave it off or find another ingredient you like
Build the sandwich wider and shorter rather than narrow and long. It's more stable if it's wider.
Share your creating by using the hashtag #52IngredientSandwich