To celebrate professional football's 54th annual Big Game, Hormel Foods worked with Certified Master Chef Ron DeSantis to develop a 54-topping pizza. The nearly 9-foot-long gargantuan pizza is inspired by delicacies and regional food favorites found throughout the United States.
"When the team from Hormel Foods and I got together to figure out how we could pull off a 54-topping pizza for the Big Game, while still making it something people can prepare at home, we immediately began thinking about the distinctive flavors of the different regions of the country," DeSantis said. "It was important to me that the taste be authentic, and by doing it according to regions, the flavors come together beautifully."
Hormel Foods

54-Topping Pizza

Northeast
Pork & Beans: Bacon-bean spread topped with New England bean salad, HORMEL® FIRE BRAISED™ pork shoulder, shredded cheddar cheese, crisp onion rings, and fresh marjoram.
South
Buttermilk Fried Chicken: chunky creamed corn topped with diced red & green bell peppers, hot slaw, and HORMEL® FIRE BRAISED™ chicken thighs. Drizzled with pimento cheese and scallions.
Midwest
BBQ Boneless Ribs: creamy mashed potatoes, topped with HORMEL® BACON 1™ bacon crumbles, chives, boneless HORMEL® ribs, mozzarella, HORMEL® pepperoni, fresh thyme and BBQ drizzle.
Southwest
Southwest Smoked Brisket: tomatillo salsa puree is topped with WHOLLY® Avocado chunks, saute corn, roasted poblano peppers, smoked brisket, pepper jack cheese, pico de gallo drizzle, and fresh cilantro.
Northwest
HAPPY LITTLE PLANTS™ plant-based ground with Grilled Veggies: fresh marinara topped with grilled peppers, grilled onions, grilled mushrooms, HAPPY LITTLE PLANTS™ unseasoned ground, jack cheese, olives, romesco drizzle and fresh parsley.
End Zone
Desserts End Zones: brownies, blondies, JUSTIN'S® nut butter cups, SKIPPY® P.B. Bites, cheesecake lollipops, eclairs, macaroons, chocolate mousse cake, strawberry tartlets, meringue, whipped cream.
Pizza dough
Salt
Pepper
HORMEL® pepperoni
Oil
Bean Spread
Bean Salad
HORMEL® FIRE BRAISED™ pork shoulder
DI LUSSO® cheddar, shredded
Crisp onion rings
Marjoram
Chunky creamed corn puree
Red bell pepper, diced
Green bell pepper, diced
Hot slaw
Southern Fried Chicken with HORMEL® FIRE BRAISED™ chicken thighs
Pimento cheese
Scallions
HORMEL® homestyle mashed potatoes
HORMEL® bacon crumbles
Chives, sliced
HORMEL® ALWAYS TENDER® boneless ribs
DI LUSSO® mozzarella cheese
Thyme
BBQ Drizzle
HERDEZ® Salsa Verde
WHOLLY® avocado chunks
Corn sauté
Poblano, roasted
AUSTIN BLUES® beef brisket
DI LUSSO® pepper jack cheese
Pico drizzle
Cilantro
Tomato sauce
Grilled onions
Grilled peppers
Grilled mushrooms
HAPPY LITTLE PLANTS™ unseasoned plant-based ground
Jack cheese
Olives
Romesco drizzle
Parsley
Brownies
Blondies
Cheesecake brownies
JUSTIN'S® nut butter cups
SKIPPY® P.B. Bites
Cheesecake Lollipops
Eclairs
Macaroons
Chocolate mousse cake
Strawberry tartlets
Meringue
Whipped cream
More Recipes From

Our Kitchen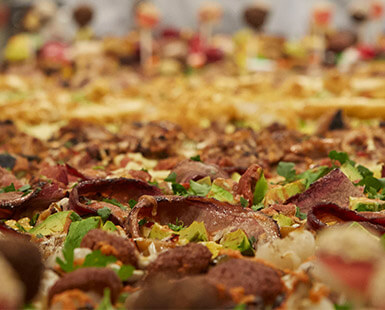 Be Big Game Ready with This 54-Topping Pizza
Let Big Game 54 be a football pizza feast!