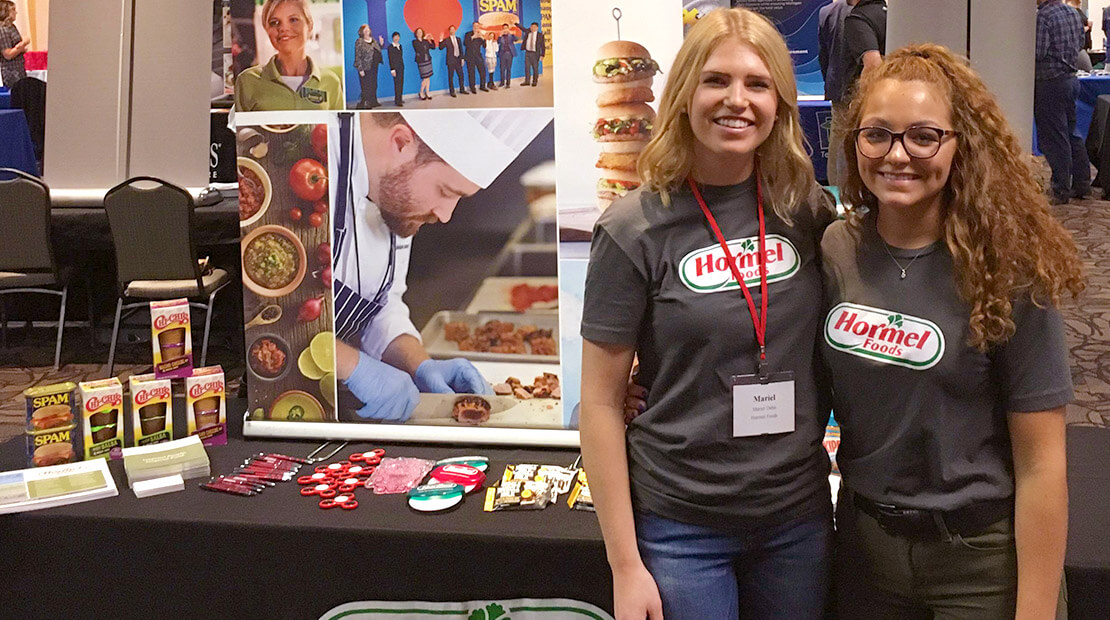 At Hormel Foods, we recruit from across the country to find the brightest and most ambitious candidates to join our global branded food company.
Fill out an application

Online here
Apply in person at an on-campus event i.e. career fair

Participate in the initial Hormel Foods interview process

Online applicants will be invited to participate in a phone interview with one of our recruiters.
At an on-campus event, candidates can interact with our Hormel team members. If they think your background matches the needs of the role, we'll arrange for you to interview with one of our corporate recruiters.

Final Round Interview

After successfully completing the phone interview stage, candidates will participate in a final found interview with a team from the applicable business division. This may be done virtually, or in person at our World Headquarters in Austin, Minn.

Next Steps

After your final round interview, we'll get back to you within a two-week time frame with the results and next step information.
Protecting Yourself

Recruiting Scams
In recent years, recruitment scams have increased in frequency, impacting both applicants and employers. To help protect yourself against potential scammers, please note the following recruitment practices employed by Hormel Foods:
We require that applicants apply directly through the career portal on our website. This website is a location where applicants can securely complete an online application, upload a resume, and submit other relevant application materials.
Formal written offers are extended and signed through the career portal. Formal offers are not extended by email, in paper, or telephonically.
Hormel Foods will never ask an applicant for payment of any kind as part of the recruiting and employment process. Likewise, Hormel Foods will never send checks to applicants to secure a job or cover expenses for a home office prior to hire, either as an employee or contractor.
Hormel Foods will not request an applicant to share sensitive personal information, such as a government identification number, over the phone or by email until a formal written offer letter is signed by the applicant.
Hormel Foods requests sensitive personal information from an applicant to complete the recruiting and employment process in compliance with applicable laws and regulations.