When your attention needs to be on the field, these snackable and easy to prepare recipes will have you watch-party ready. There's no shortage of delicious individual-sized snacks that everyone will love.
Sandwiches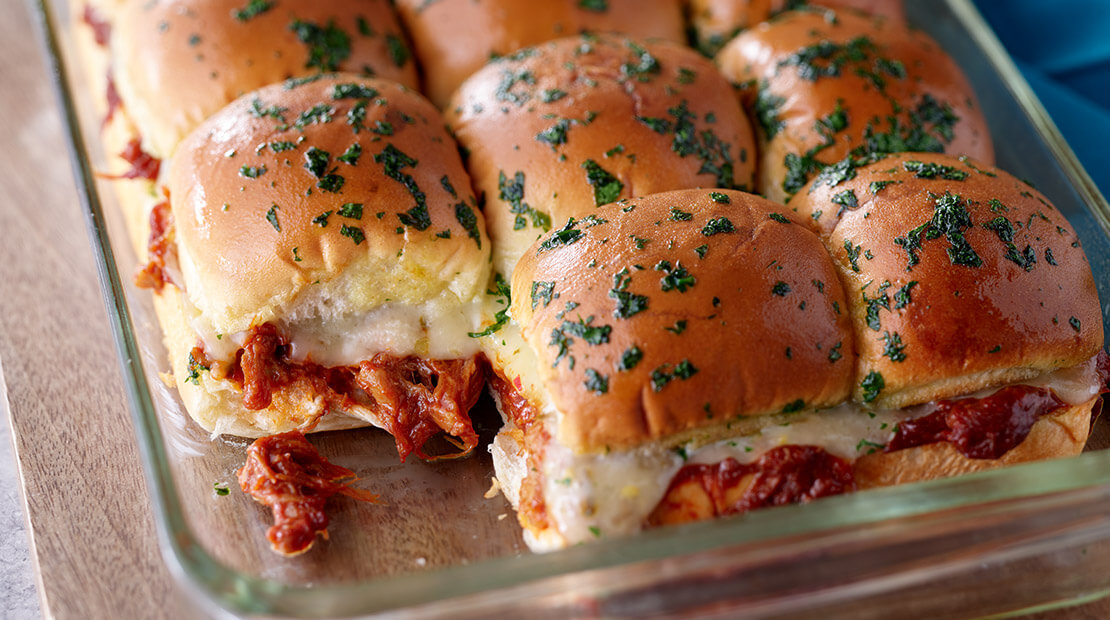 BBQ Chicken Baked Pull-Apart Sliders
1

12-count dinner rolls, not pulled apart

1

16-ounce container shredded chicken in BBQ sauce

8

slices pepper jack cheese

3

tablespoons melted butter

2

tablespoons chopped parsley
Instructions
Heat oven to 350 degrees. Lightly spray a 13×9 inch baking dish with non-stick cooking spray.
Slice sheet of dinner rolls in half horizontally. Place bottom half of rolls in prepared baking dish.
Spoon shredded chicken in BBQ sauce on top of roll bottoms, spreading to cover.
Top meat with cheese slices. Cover with bun tops.
In small bowl, combine melted butter and parsley. Brush tops of buns with butter mixture.
Bake 20 minutes, or until cheese is melted, sliders are warmed through and bun tops are toasted.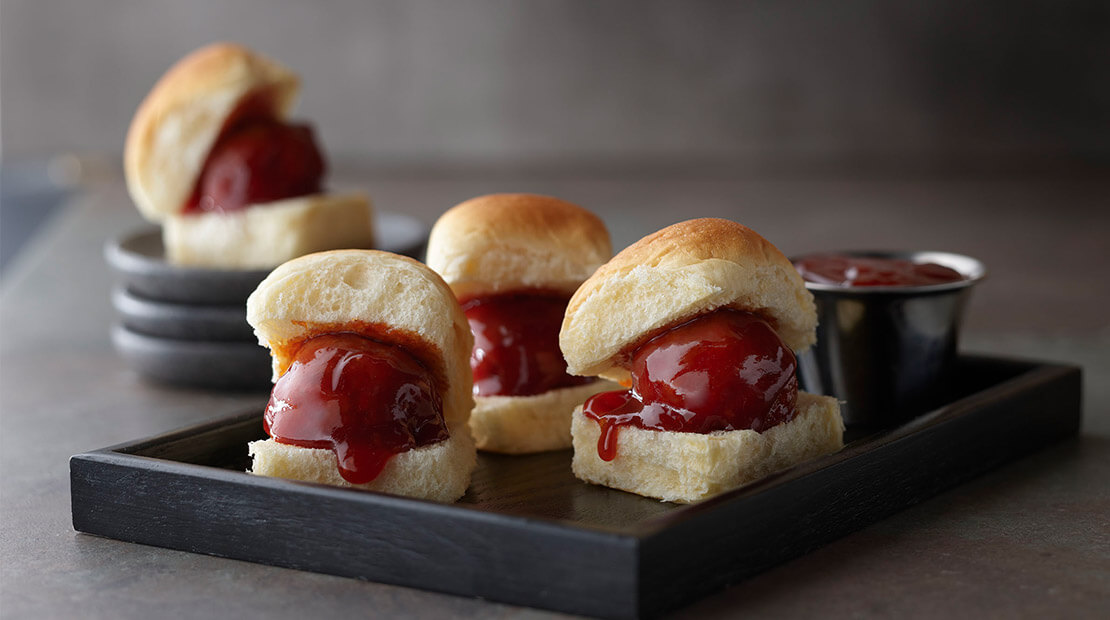 SPAM® Saucy Meatball Sliders
Hands-On Time

20 minutes

Total Time

1 hour

Serves

4-6
1

(12-ounce) can SPAM® Classic

6

slices uncooked bacon

1/2

pound ground pork

1

cup breadcrumbs

2

eggs

2

tablespoons brown sugar

2

teaspoons ground mustard

1

teaspoon salt

2

cups ketchup

1 1/2

cups brown sugar

1

teaspoon ground mustard

Hawaiian rolls
Instructions
Preheat the oven to 350°F.
Put the SPAM® Classic, bacon, and pork in a food processor and pulse briefly to finely chop. Do not puree.
Place the mixture in a large bowl with the remaining meatball ingredients and mix well to combine.
Using your hands, shape the mixture into balls 1 to 2 inches in diameter. Arrange in a casserole pan.
In a small pan, combine the sauce ingredients and bring to a boil.
Once boiling, reduce heat to simmer for 2 minutes, stirring frequently.
Pour the sauce over the meatballs.
Bake for 15 minutes. During baking, baste the meatballs and turn them in the pan. Continue baking another 15 minutes or until internal temperature is 165°F.
Baste occasionally with sauce.
Serve on rolls, adding pan sauces on top.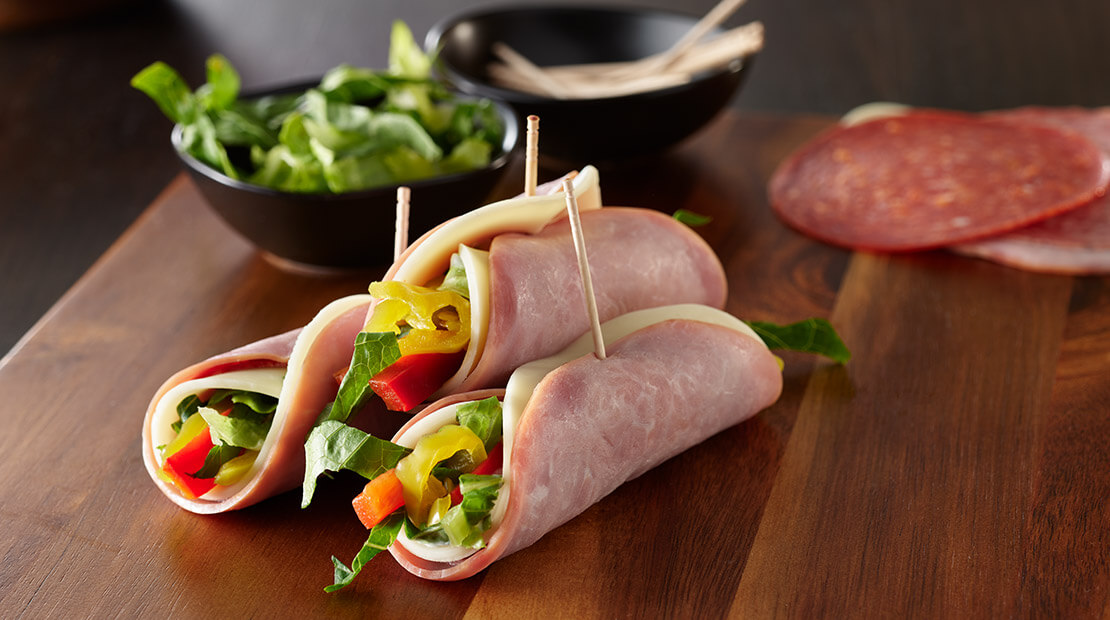 Italian Rolled Sandwiches
Hands-On Time

15 minutes

Total Time

15 minutes

Serves

6
1/3

cup mayonnaise

2

tablespoons red wine vinegar

1/4

teaspoon garlic powder

1/2

teaspoon Italian seasoning

12

slices NATURAL CHOICE® ham

12

slices NATURAL CHOICE® salami

12

slices NATURAL CHOICE® sandwich sized pepperoni

12

thin slices Provolone cheese

1

cup shredded Romaine lettuce

1/2

cup banana pepper slices

1/2

cup roasted red bell pepper slices
Instructions
In a small bowl, combine mayonnaise, vinegar, garlic powder and Italian seasoning.
Lay 12 ham slices on work surface. Stack salami, pepperoni and provolone on top of ham slices.
Spread mayo mixture over meat and cheese slices. Sprinkle with shredded lettuce, pepper slices and roasted pepper.
Roll up sandwich. Secure with toothpicks. Repeat to make 12 sandwiches.
Apps
Pepperoni Pizza Rollups
Total Time

1 hour

Serves

12
1

(13.8-ounce) refrigerated pizza dough

1

teaspoon olive oil

1/2

cup pizza sauce

Dried basil, to taste

Garlic powder, to taste

1/2

cup shredded mozzarella cheese

30

HORMEL® Pepperoni

1/4

1/4 cup yellow cornmeal

3

tablespoons grated Parmesan cheese

Additional pizza sauce, for dipping
Instructions
Heat oven to 350 degrees. Line large baking sheet with parchment paper. Roll out refrigerated pizza dough onto lightly floured surface. Roll into 9×12-inch rectangle. Brush top lightly with olive oil.
Using fork, poke multiple indents into the surface of dough to prevent bubbling. Spread pizza sauce on top of dough. Sprinkle lightly with basil and garlic powder, to taste. Sprinkle mozzarella cheese evenly over sauce. Top cheese with pepperoni slices. Carefully roll dough into long, tight log, starting at the long side. Place log on prepared baking sheet, seam-side down. Refrigerate 25 minutes.
Remove from refrigerator and cut log into 12 (1-inch) slices. Pour cornmeal into small bowl. Dip the bottom of each roll into cornmeal and place on baking sheet, cornmeal-side down. Sprinkle tops of rolls with Parmesan cheese. Bake 20 minutes or until sides are lightly browned. Cool 5 minutes. Serve with pizza sauce for dipping.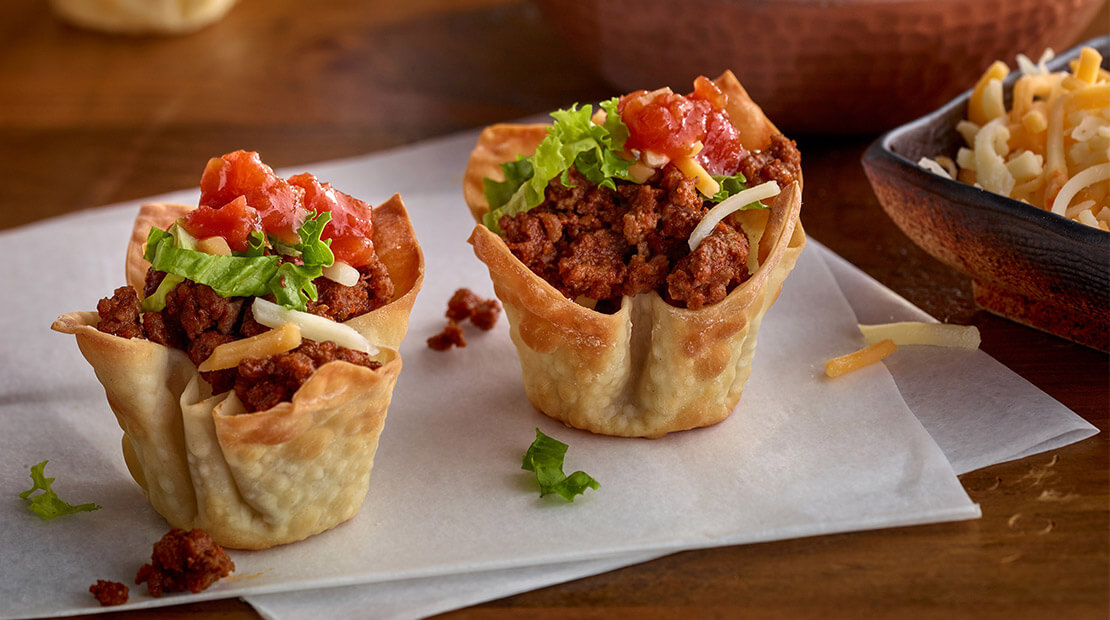 Mini Taco Bites
Hands-On Time

15 minutes

Total Time

25 minutes
1

package Wonton Wrappers

Nonstick cooking spray, butter flavored

18

ounces freshly prepared meat (beef, chicken or pork)

1

package taco seasoning

2

cups shredded lettuce, coarsely chopped

1 1/2

cups shredded Mexican cheese blend

1 1/2

cups LA VICTORIA® SUPREMA® Salsa
Instructions
Lightly spray miniature muffin tins with nonstick butter flavored cooking spray.
Gently press wonton wrappers into small muffin cups (this may need to be done in batches to accommodate all of the wrappers).
Spray wrappers with additional nonstick cooking spray.
Bake at 375°F for 8-10 minutes or until lightly toasted and golden brown.
Meanwhile, heat meat for tacos as package directs.
Spoon taco filling into each wonton.
Top with shredded lettuce, cheese, and LA VICTORIA® SUPREMA® Salsa Medium.
Tip: for a great salad topping, simply spray leftover wonton pieces with nonstick cooking spray. Sprinkle with garlic powder or favorite dry herb blend.
Bake at 375°F for 8-10 minutes or until lightly toasted, stirring once halfway through baking.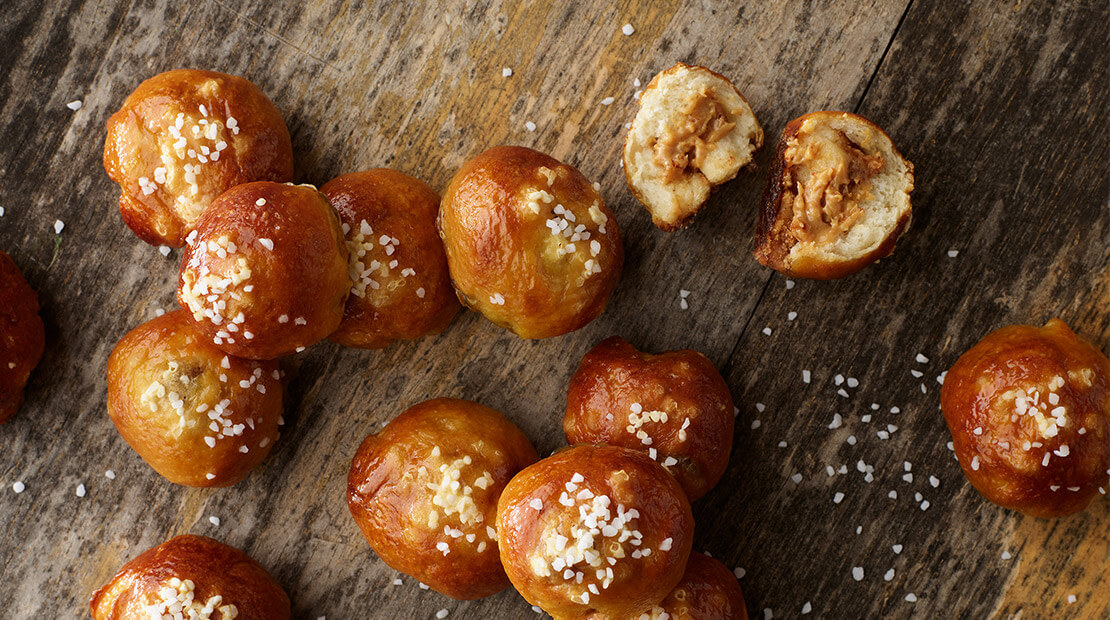 Nut Butter Stuffed Soft Pretzel Bites
Hands-On Time

20 mintues

Total Time

2 hours
1 1/2

cups warm water

6

tablespoons unsalted butter, melted

2

tablespoons light brown sugar

1

package active dry yeast (2 1/4 teaspoons)

2 1/2

teaspoons kosher salt

4 1/2 to 5

cups flour

Vegetable oil

1

cup JUSTIN'S® Nut Butter (any flavor)

3

quarts water

1/2

cup baking soda

1

egg, beaten with 1 tablespoon cold water

Coarse salt
Instructions
In bowl of stand mixer, combine warm water, butter, sugar and yeast. Mix with dough hook until combined. Let rest 5 minutes.
Add salt and 4½ cups flour. Mix on low speed until dough is smooth and begins to pull away from the side of the bowl, about 3 to 4 minutes. If dough appears too wet and sticky, add additional flour, 1 tablespoon at a time. Move dough to a flat surface and knead into a ball with hands.
Place dough in large bowl coated with vegetable oil and turn to coat. Cover with damp towel and place in warm spot for 1 hour or until it doubles in size.
Meanwhile, drop 1/2 teaspoon sized balls of nut butter on wax paper and place in the freezer 15 minutes.
Heat oven to 425°F. Bring 3 quarts water to a boil in a small roasting pan over high heat. Add baking soda.
Remove dough from bowl and divide into 8 equal pieces. Roll each piece into 2-foot long rope. Cut the dough into 2-inch pieces to make the pretzel bites. Place frozen nut butter balls in each dough piece and roll the dough around nut butter. Freeze 5 minutes.
Boil 10 to 15 pretzel bites at a time in the water solution about 30 seconds each. Remove with large slotted spoon and place pretzel bites on baking sheet coated with cooking spray 2 inches apart. Brush tops with egg wash. Season liberally with salt. Bake 15 to 18 minutes or until golden brown.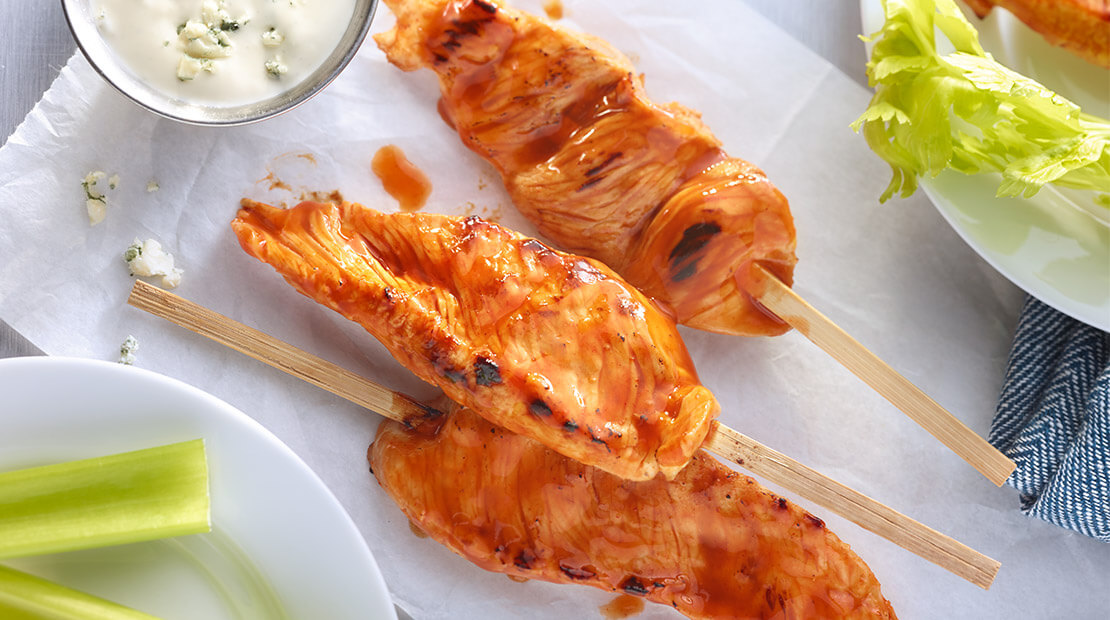 Buffalo Turkey Skewers
Total Time

3 hours 15 minutes

Serves

16
1

cup buffalo wing hot sauce

2

tablespoons barbeque sauce

1/4

cup onion, finely chopped

4

cloves garlic, minced

1

(20-ounce) package JENNIE-O® Extra Lean Boneless Turkey Breast Tenderloins, cut into 1-inch pieces

4

ounces blue cheese

1/4

cup low-fat mayonnaise

1/4

cup low-fat sour cream
Instructions
In large shallow dish, combine hot sauce, barbeque sauce, onion and garlic. Add turkey; stir to coat. Cover and chill 1 to 3 hours.
Heat broiler or grill pan to medium-high. Thread turkey onto metal skewers. Discard marinade.
Broil (or grill) turkey, turning occasionally, 10 to 12 minutes or until thoroughly cooked.
Always cook to well-done, 165°F. as measured by a meat thermometer.
To make blue cheese sauce, in saucepan over medium heat, combine blue cheese, mayonnaise and sour cream. Stir until cheese is melted. Spoon into serving dish. Cover and refrigerate until cold. Serve with turkey skewers.
Stories
More Delicious App Recipes For Small Crowds
Inspired ideas from Jarcuterie to simple dips with extraordinary flavor
Try It At Home