Waffles – they're not just for breakfast anymore. When he was looking ahead to 2021, Chef Tony Finnestad, executive chef at Hormel Foods, said the sky's the limit when it comes to waffling. Almost anything can be thrown on a waffle iron, yielding a crispy exterior and hot, tender inside.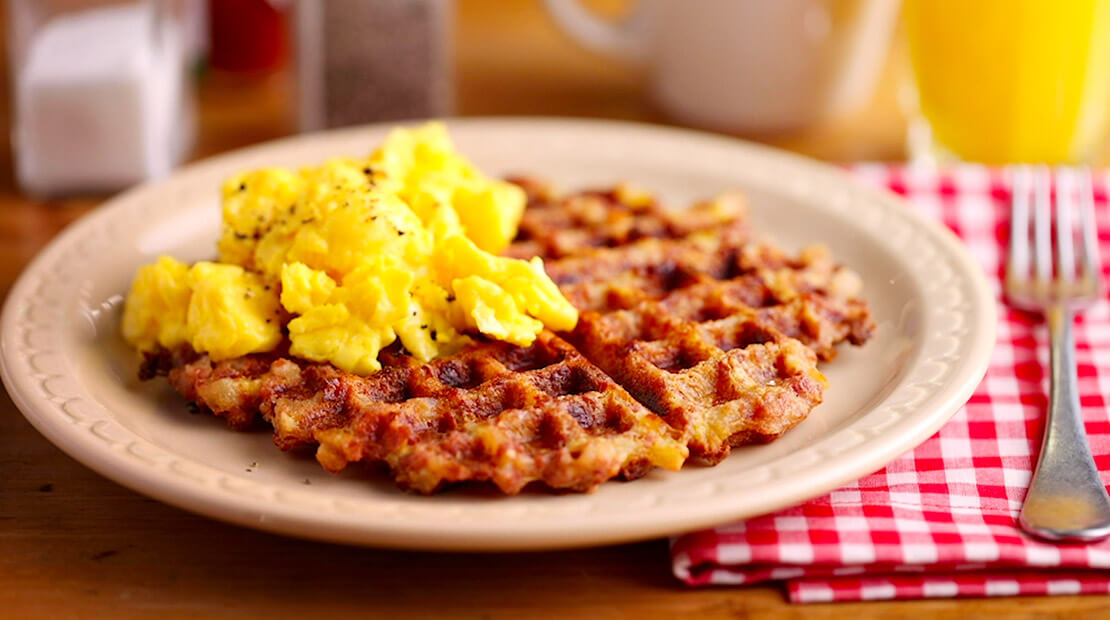 HORMEL® MARY KITCHEN® Corned Beef Hash Waffles
Hands-On Time

5 minutes

Total Time

20 minutes

Serves

2
1

(15-ounce) can HORMEL® MARY KITCHEN® Corned Beef Hash

1

egg

1/2

cup shredded cheddar cheese

Non-stick cooking spray, as needed
Instructions
In bowl, combine hash, egg and cheese. Prepare waffle iron for medium heat. Spray with non-stick cooking spray. Distribute hash mixture evenly into prepared waffle iron. Cook waffle 8 to 10 minutes or until crisped and browned or according to manufacturer's instructions.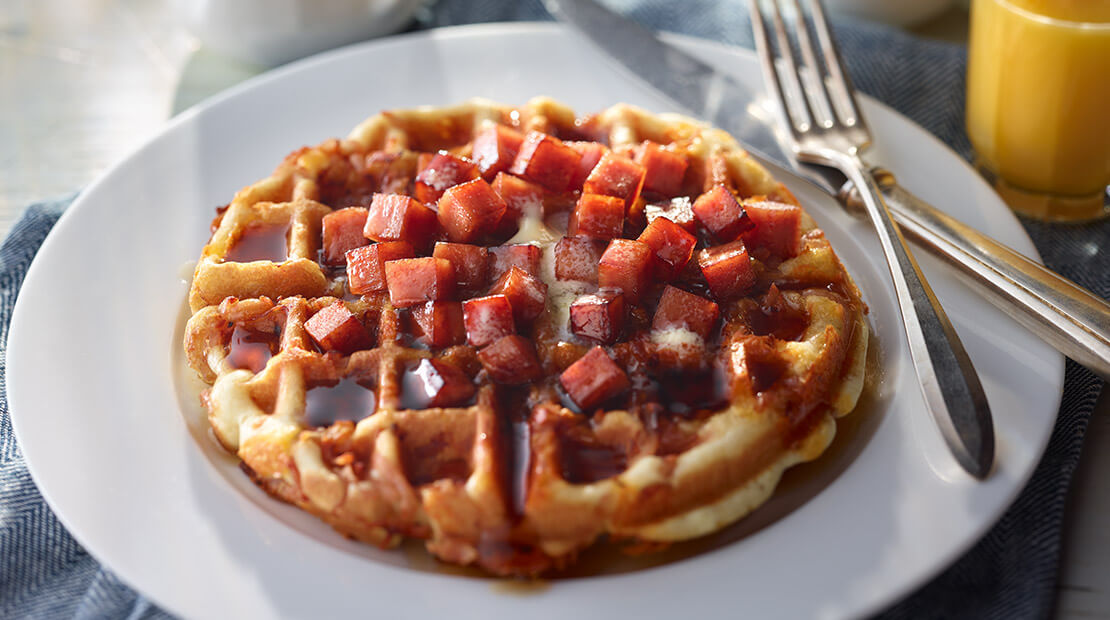 SPAM® Waffle with Cheese
Hands-On Time

30 minutes

Total Time

50 minutes

Serves

12
1

(12-ounce) can SPAM® Classic

12

ounce Mild Cheddar cheese

16

eggs

1/2

gallon buttermilk

4

pounds all-purpose flour

2

tablespoons baking soda

4

tablespoons baking powder

1

tablespoon salt

1

cup sugar

1

pound melted butter
Instructions
In a bowl, beat the eggs and then add the buttermilk.
In a separate bowl, mix together the dry waffle batter ingredients.
Pour in the wet egg and buttermilk mixture.
Gently mix together until lumpy, then fold in the melted butter.
Shred the SPAM® Classic and cheese on a box grater.
Heat a cast iron belgian waffle maker to 350°F and once hot, pour on 6 ounces of the waffle batter.
Sprinkle 2 ounces of cheese, and then 2 ounces of the shredded SPAM® Classic over the cheese.
Cook until the waffle is browned and crispy.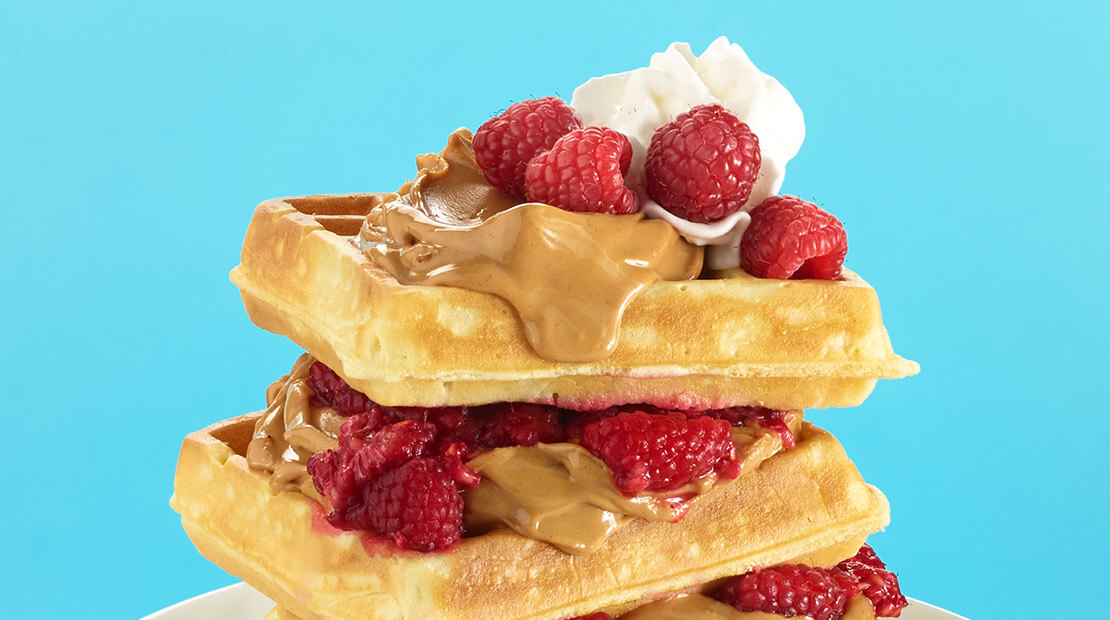 SKIPPY® Peanut Butter Waffles
Hands-On Time

10 minutes

Total Time

10 minutes

Serves

2
4

frozen waffles, toasted

1/4

cup SKIPPY® Creamy Peanut Butter

1 banana, raspberries, or fruit of your choosing
Instructions
Spread waffles with peanut butter; top with fruit and remaining waffles.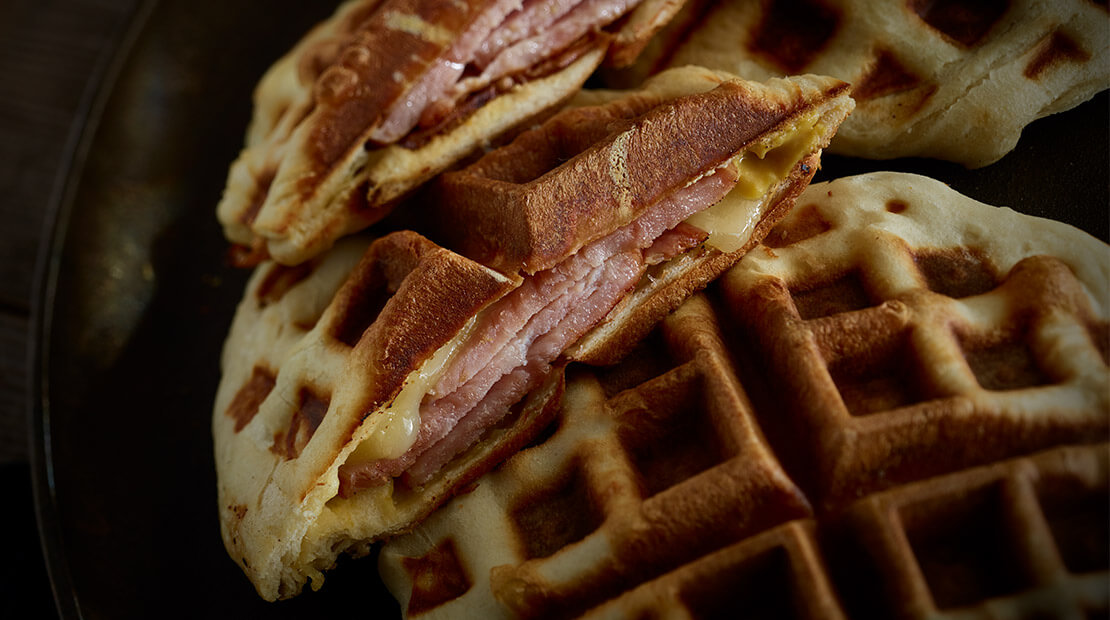 Canadian Bacon and Cheese Waffle Sandwiches
Hands-On Time

15 minutes

Total Time

30 minutes

Serves

4
1

(16.3-ounce) can refrigerated biscuits

1/4

cup honey mustard

2

(6-ounce) packages HORMEL® BLACK LABEL® Canadian bacon slices

4

ounces shredded Swiss cheese
Instructions
Heat waffle iron to medium heat. On lightly floured surface, roll biscuits to 4-inch circles. Top 4 biscuits with 1 tablespoon honey mustard, 3 Canadian bacon slices and 1 ounce cheese. Top with remaining biscuits. Pinch edges closed and place in heated waffle maker, one at a time. Cook 3 to 5 minutes or until browned.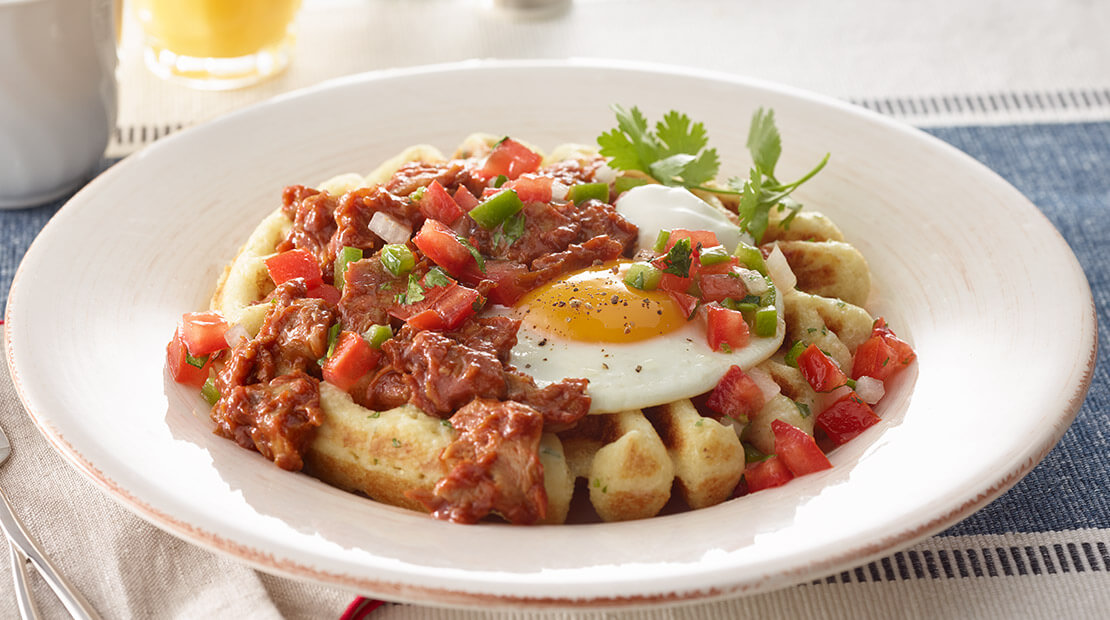 Barbeque Pork Rancheros Waffles
Total Time

30 minutes

Serves

2
1 1/4

cup cornmeal mix

3/4

cup buttermilk

1/4

cup chopped fresh cilantro leaves

3

large eggs

3

tablespoons melted butter, divided

2

cups LLOYD'S® Seasoned & Shredded Pork in Original BBQ Sauce

Garnish: cilantro leaves, pico de gallo, sour cream
Instructions
In medium bowl, combine cornmeal mix, buttermilk, cilantro and 1 egg until blended. Stir in 2 tablespoons melted butter.
Heat waffle iron. Cook ½ batter in waffle iron according to manufacturer's instructions. Repeat with remaining batter.
In small skillet melt remaining 1 tablespoon butter over medium heat. Cook remaining 2 eggs to desired degree of doneness.
Heat pork according to package directions.
Top waffles with barbecue pork and egg. Garnish with cilantro, pico de gallo and sour cream, if desired.