The best thing about winter holiday season is how it brings people together. It's the season to spend time with family, show friends and colleagues how much you appreciate them, and get a little closer to your community.
Wild Mushroom-Bacon Cheese Tarts
Hands-On Time

20 minutes

Total Time

35 minutes

Serves

12
2

(10-ounce) packages frozen puff pastry shells

1

tablespoon olive oil

1

leek, thinly sliced (about 2 cups)

4

strips Hormel® Black Label® bacon, chopped

8

ounces mushrooms, coarsely chopped

1

teaspoon chopped fresh rosemary leaves

½

teaspoon kosher salt

1 ¼

cups grated gruyere cheese
Instructions
Bake shells according to package directions. Remove tops and cool to room temperature.
In large skillet, heat oil and cook leeks and bacon 10 minutes or until bacon is cooked through.
Stir in mushrooms, rosemary and salt and cook additional 5 minutes. Let stand 15 minutes. Stir in cheese.
Spoon leek mixture into pastry shells. Bake 15 minutes or until heated through and cheese is melted.
Nutrition Info
Per serving:
Calories: 281, Protein: 9g, Carbohydrate: 19g, Fat: 18g, Cholesterol: 18mg, Sodium: 410mg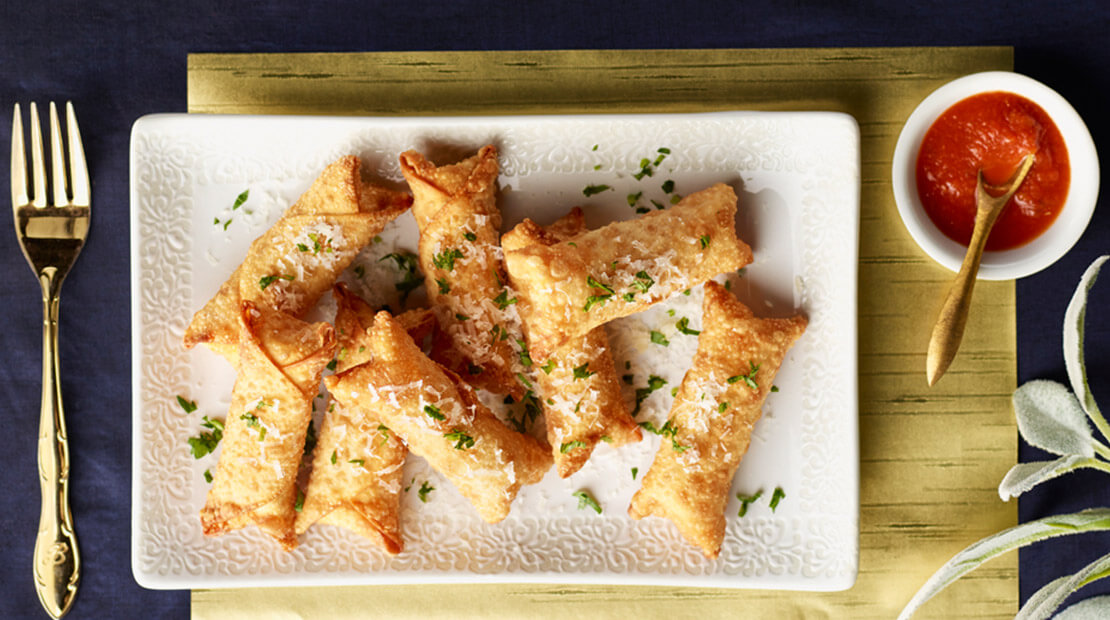 Pepperoni Pizza Sticks
Hands-On Time

15 minutes

Total Time

30 minutes

Serves

8
18

(3 ½-inch) wonton wrappers

1

(3.5-ounce) package Hormel® sandwich style pepperoni slices

9

(4 ½-inch) mozzarella cheese sticks, cut in half

as needed

oil for frying

as needed

marinara sauce for dipping

to garnish

freshly grated parmesan cheese

to garnish

chopped fresh parsley leaves
Instructions
Brush edges of wonton with water.
Place 1 pepperoni slice in center of wonton (point side down). Place cheese stick half in center. Fold bottom corner up and roll to seal.
Heat oil to 325°F. (using candy thermometer). Carefully place in hot oil and fry 2 to 3 minutes or until golden. Drain.
Serve with heated marinara sauce. Sprinkle with Parmesan cheese and chopped fresh parsley, if desired.
Nutrition Info
Per serving:
Calories: 331, Protein: 18g, Carbohydrate: 37g, Fat: 11g, Cholesterol: 32mg, Sodium: 777mg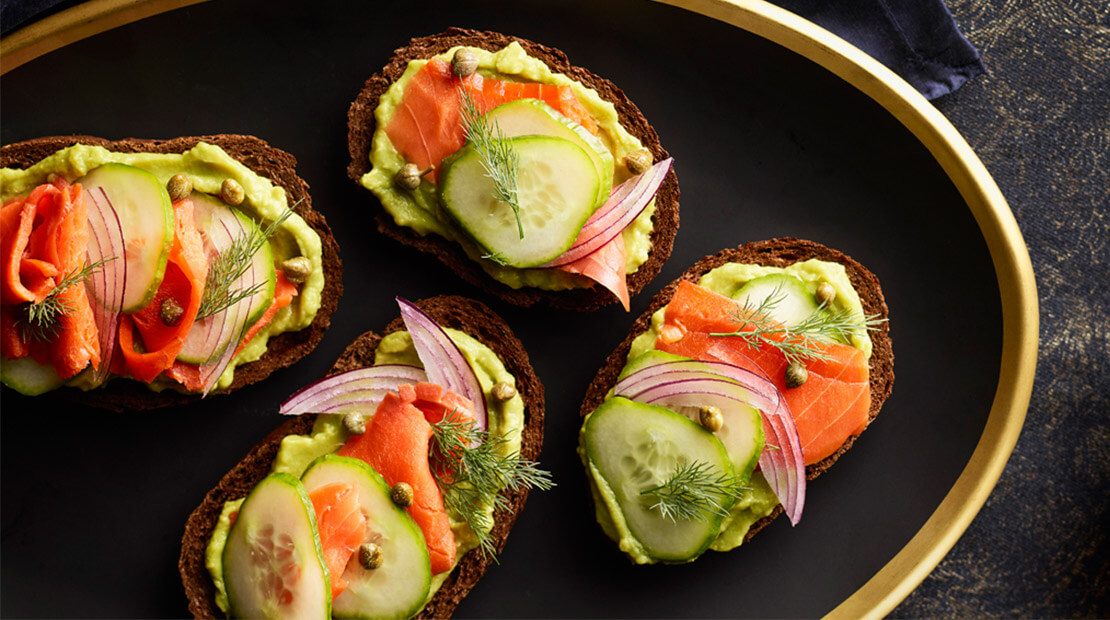 Smoked Salmon Avocado Toasts
Hands-On Time

10 minutes

Total Time

10 minutes

Serves

1
1

slice pumpernickel bread, toasted

1

(2-ounce) package Wholly® avocado mini

3

slices smoked salmon

2

slices cucumber

to garnish

thinly sliced red onion

to garnish

capers

to garnish

fresh dill sprigs
Instructions
Spread 1 side of bread with avocado. Top with smoked salmon slices and cucumber. Garnish with onion, capers and fresh dill sprigs, if desired. Cut if desired.
Nutrition Info
Per serving:
Calories: 291, Protein: 31g, Carbohydrate: 23g, Fat: 14g, Cholesterol: 56mg, Sodium: 871mg
Szechuan Pork Skewers
Hands-On Time

15 minutes

Total Time

1 hour, 30 minutes

Serves

6
1

pound Hormel® Always Tender® pork butt, cubed

¼

cup House of Tsang® szechuan spicy sauce

2

tablespoons rice wine vinegar

1

tablespoon olive oil

1

tablespoon light brown sugar

to garnish

sliced green onions, crushed

to garnish

red pepper flakes
Instructions
In large bowl, combine pork and next 4 ingredients, stirring to coat. Cover and refrigerate for at least 1 hour or up to 24 hours.
Remove from marinade and discard marinade.
Thread pork pieces onto soaked wooden or metal skewers.
Prepare grill for medium heat. Grill pork skewers 12 to 15 minutes, turning often, until pork is cooked through.
Garnish with green onions and crushed red pepper flakes, if desired.
Nutrition Info
Per serving:
Calories: 131, Protein: 13g, Carbohydrate: 5g, Fat: 6g, Cholesterol: 30mg, Sodium: 580mg