Skip the over-booked restaurants and overpriced prix fixe menu, and make Valentine's a night to remember with help from Columbus Craft Meats. Charcuterie is super-popular right now for many reasons, but for a date it fits because it's a perfect shareable snack-able experience that you can prepare according to your own tastes.
Evan Inada, our expert charcutier at Columbus Craft Meats, came up with two boards perfect for Valentine's Day — although they'd be equally good for any night you want to turn into a special occasion.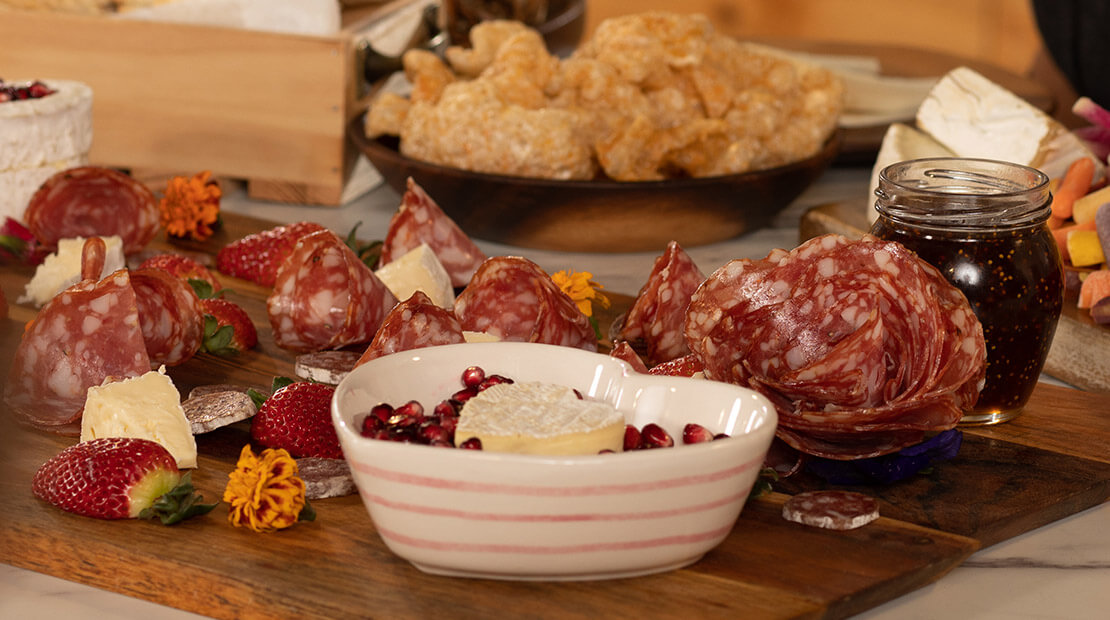 Rosette Adventure
COLUMBUS® Secchi
COLUMBUS® Rosette de Lyon

Fresh strawberries

Fig spread

Raincoast Crisp
Instructions
Assemble on decorative board and pair with a sparkling Rosé.
FOR WOW FACTOR: Pour jewel-like fresh pomegranate seeds either around or inside a round of brie for a gorgeous board centerpiece with tart-meets-creamy flavor experience.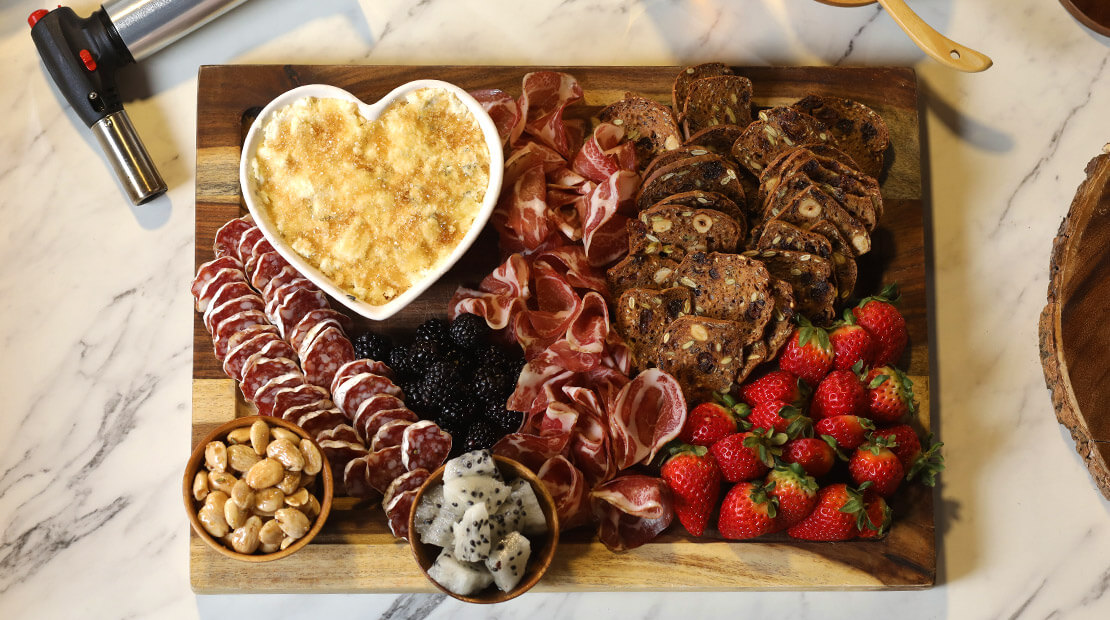 Hearts on Fire
COLUMBUS® Cacciatore
COLUMBUS® Coppa

Round of Chevre cheese

Blackberries

Dragonfruit

Raincoast Crisp and/or Marcona almonds
Instructions
Assemble on decorative board and pair with a Rosa Regale – the most widely available brand of Brachetto d'Acqui, a lower-alcohol Italian red sparkling wine known for its rich, semi-sweet berry taste.
FOR WOW FACTOR: An element showcased just for the home chefs is the flame-toasted Chevre in Hearts on Fire. We used a small handheld butane torch to lightly brown the top layer. This mellows the tang of the cheese, letting softer buttery notes come through, while giving the first few bites a perfect melty mouth-feel.
Remember: We create boards based on available ingredients, theme, and what our guests enjoy eating. If you want to follow step-by-step, bon appetit. Otherwise, let your taste buds be the guide.
Tips For Creating Your

Perfect Charcuterie Board
First, choose the meat and the cheese. Great flavor partners:

a mild salami with a creamy soft cheese.
a natural-casing aged salami with a bold and nutty semi-soft cheese

Next, choose items with acid and a couple with crunch to complement.

Go with your own palate — if cornichons and olives don't suit you, opt for fresh thin-sliced radish or a tart fruit.

If crackers aren't to your taste, opt for salted or candied nuts.
Berries are always in style, but if you can't find good fresh ones in the winter season, look for something dried: chocolate-covered cherries, dried apricots, strawberry preserves
For beer drinkers: a Belgian-style ale is a perfect pairing—its fruit and spice notes complement what's on the board.
For cider drinkers: slightly drier than other fruit ciders, a pear cider's crisp effervescence cuts through food flavors nicely.
If you're alcohol-free this holiday: a lightly fruit-infused sparkling water will refresh and restore.