Before you fill up on Halloween candy, get in the spirit with these frightfully fantastic recipes.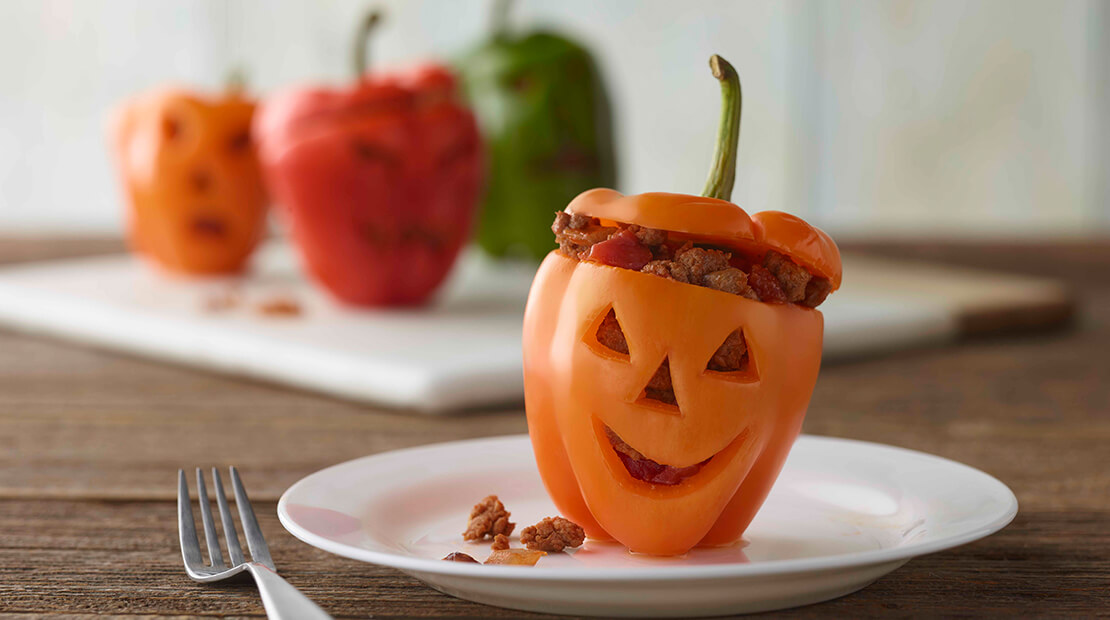 Halloween Taco Turkey Peppers
Hands-On Time

30 minutes

Total Time

1 hour

Serves

6
1

tablespoon olive oil

1

(16-ounce) package JENNIE-O® Lean Taco Seasoned Ground Turkey

1

small red onion

2

cloves garlic, minced

1

(14.5-ounce) can diced tomatoes

6

medium bell peppers
Instructions
Heat oven to 400°F.
In large skillet, heat oil over medium heat. Add ground turkey, onion and garlic and cook 14 to 16 minutes or until turkey is cooked through. Always cook to well-done, 165°F as measured by a meat thermometer. Stir in tomatoes and cook 3 minutes. Let stand 10 minutes.
Cut tops off peppers and carefully remove seeds and membranes. Using a sharp knife cut decorated faces into sides of peppers. Spoon turkey mixture into peppers and replace tops.
Place in lightly greased baking dish. Bake 20 minutes.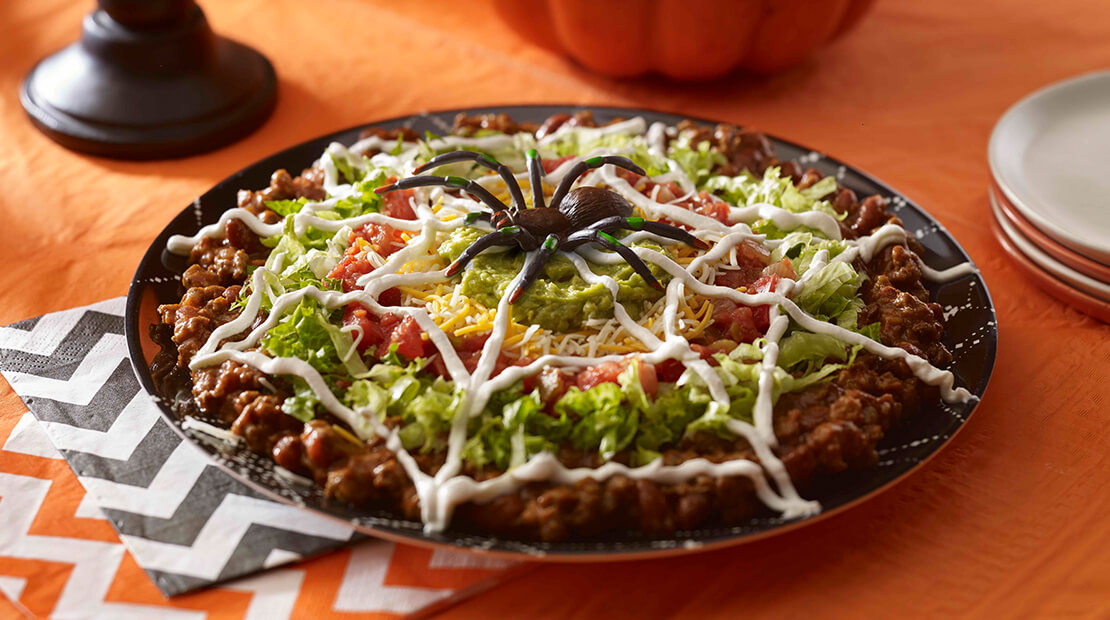 Spidery Nacho Dip
Hands-On Time

30 minutes

Total Time

30 minutes

Serves

6
2

(15-ounce) cans HORMEL® Vegetarian Chili

1

(12-ounce) package HORMEL® Taco Meats Beef Crumbles

1 1/2

cups thick and chunky salsa

1

cup shredded lettuce

1

cup shredded Mexican cheese blend

1

cup WHOLLY GUACAMOLE® guacamole dip

1/2

cup sour cream
Instructions
Heat chili and beef crumbles according to package instructions. Layer chili and then beef crumbles onto a 12- to 14-inch round serving plate.
Drain salsa in a strainer to get rid of excess juice. Spread salsa over warm chili and beef mixture, leaving some of the bottom layer showing.
Repeat layering with lettuce and then cheese with layers in between showing. Spoon guacamole on top.
Place sour cream in a sealable plastic sandwich bag; seal bag and snip a small tip off one corner. Pipe a spiderweb design over guacamole and onto the plate. Decorate with toy spider and serve with tortilla chips.
Stories
Spice It Up with a Spooky Spread
Halloween fun for your family's celebration
Get the Recipes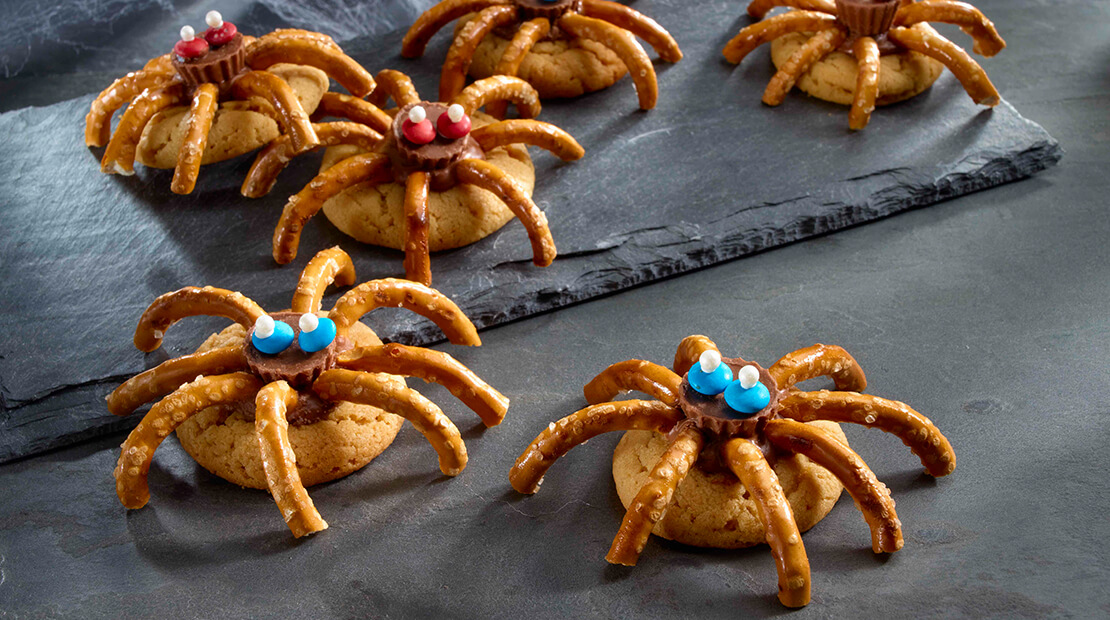 Spidery Peanut Butter Cookies
Hands-On Time

1 hour

Total Time

1 hour

Serves

66 cookies
2 1/2

cups all-purpose flour

1

teaspoon baking powder

1

teaspoon baking soda

1/4

teaspoon salt

1

cup SKIPPY® Creamy Natural Peanut Butter Spread

3/4

cup margarine or butter

3/4

cup granulated sugar

3/4

cup firmly packed brown sugar

2

large eggs

1

teaspoon vanilla extract
Instructions
Heat oven to 350°F.
In small bowl, combine flour, baking powder, baking soda and salt; mix well.
In large bowl, beat together peanut butter and margarine with electric mixer until smooth. Beat in granulated and brown sugars, then eggs and vanilla until blended. Beat in flour mixture just until blended.
Shape dough into 1-inch balls. On ungreased baking sheets, arrange cookies 2 inches apart. Bake 12 minutes or until lightly golden. If decorating like spiders, remove to cool on baking sheets 2 to 3 minutes. Decorate to look like spiders, if desired.
If decorating like spiders, gently press mini peanut butter cup into top of each cookie while still warm. When chocolate starts to melt, attach thin pretzel "legs" by placing end of pretzel into melted chocolate. Cool completely then attach mini coated candy pieces for "eyes" and mini sugar pearls for "pupils" with peanut butter.
Mummy Turkey Franks
Hands-On Time

10 minutes

Total Time

30 minutes

Serves

8
1

(8-ounce) can refrigerated crescent roll dough sheet

8

JENNIE-O® Jumbo Turkey Franks

as desired

mayonnaise

as desired

ketchup
Instructions
Heat oven to 425°
Unroll crescent roll dough sheet onto lightly floured surface. Cut lengthwise into 8 strips. Wrap each strip around each frank, leaving an opening towards the top for the eyes. Place on parchment paper-lined baking sheet.
Bake 15 minutes or until golden. Use mayonnaise and ketchup to create eyes. Serve with additional ketchup, if desired.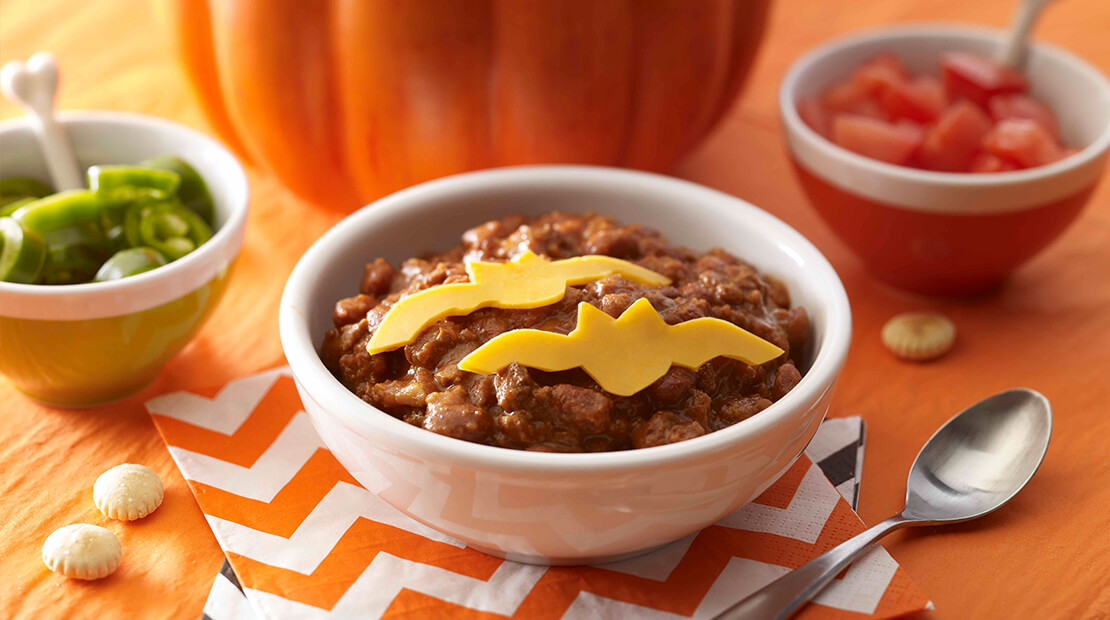 Spooky Chili Boo Bar
Hands-On Time

10 minutes

Total Time

10 minutes

Serves

3
1

(15-ounce) can HORMEL® Chili with beans

as desired

Shredded cheese

as desired

HORMEL® Real Bacon Pieces

as desired

Sour cream

as desired

Tomatoes, chopped

as desired

Green onion

as desired

Jalapeño, chopped

as desired

Oyster crackers

as desired

Pretzel rods
Instructions
Heat chili according to package directions
Top chili with ingredients, as desired