Rather than splurge on sweets this All Hallows' Eve, spend time with your family creating these savory and snackable Halloween treats.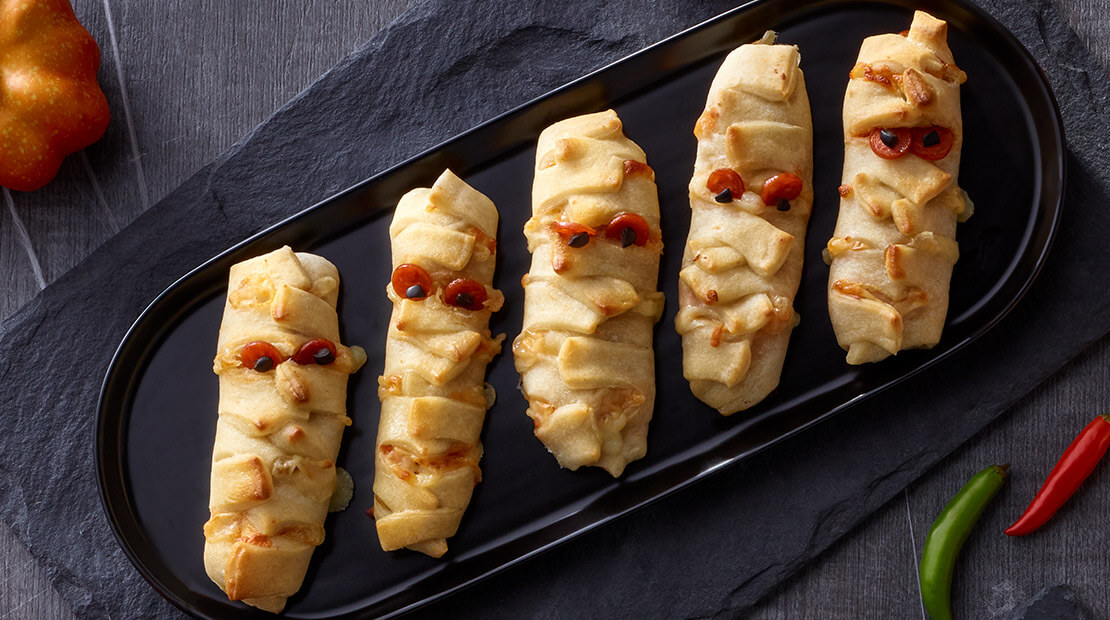 Pizza Mummy
Total Time

25 minutes

Serves

4-6
1

(13.8 oz.) package refrigerated pizza crust

1

cup HORMEL® Pepperoni Minis

1

cup shredded mozzarella cheese

1

cup pizza sauce

8

black olives slices
Instructions
Heat oven to 400°F. Spray a large baking sheet or pizza pan with cooking spray.
Spread pizza crust out on baking sheet. Roll into 18×10-inch rectangle. Cut in half lengthwise, then crosswise into 4 pieces.
Cut ½-inch strips ⅓ of the way toward center of each pizza dough square.
Cut off the third strips down from the top on each side. Discard. This will be where the mummy's eyes will go.
Spread pizza sauce, pepperoni and cheese down the middle uncut center of each square. Starting at the top of the square, fold each flap toward the square's center, making the flaps overlap or cross. Make sure to leave two uncovered spaces for eyes.
Place pepperoni topped with olive slice in eye spaces. Bake 12 to 15 minutes or until pizza dough is golden brown and cooked through. Slice strips to serve.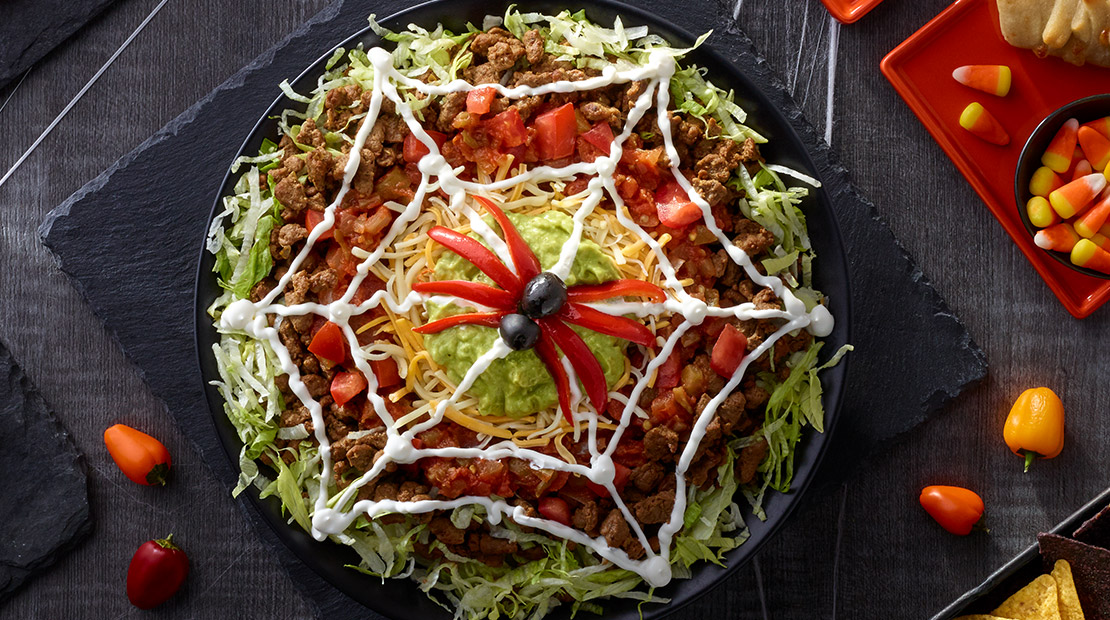 Spidery Nacho Dip
2

(15-ounce) cans HORMEL® Vegetarian Chili

1

(12-ounce) package HORMEL® Taco Meats Beef Crumbles

1 1/2

cups thick and chunky salsa

1

cup shredded lettuce

1

cup shredded Mexican cheese blend

1

cup guacamole

1/2

cup sour cream
Instructions
Heat chili and beef crumbles according to package instructions. Layer chili and then beef crumbles onto a 12- to 14-inch round serving plate.
Drain salsa in a strainer to get rid of excess juice. Spread salsa over warm chili and beef mixture, leaving some of the bottom layer showing.
Repeat layering with lettuce and then cheese with layers in between showing. Spoon guacamole on top.
Place sour cream in a sealable plastic sandwich bag; seal bag and snip a small tip off one corner. Pipe a spiderweb design over guacamole and onto the plate. Decorate with toy spider and serve with tortilla chips.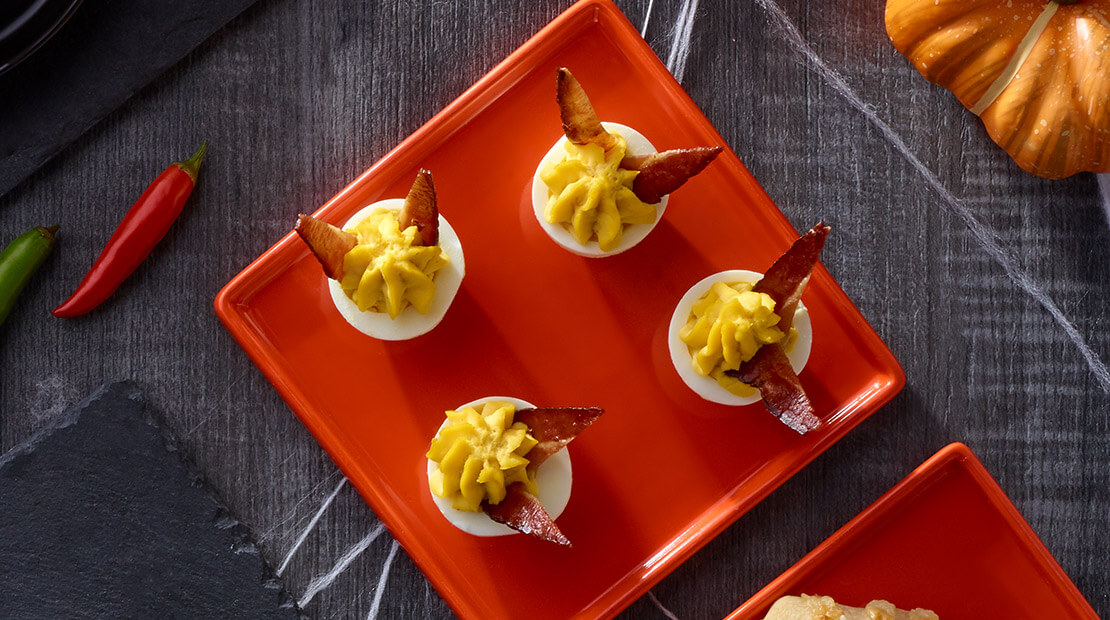 Bacon Topped Deviled Eggs
Total Time

1.5 hours

Serves

6
6

hard-boiled eggs

1/4

cup mayonnaise

3

slices of BLACK LABEL® bacon, cooked according to package directions

1

teaspoon yellow mustard

3

tablespoons sweet pickle relish

3

tablespoons minced yellow onion

to taste

salt and pepper
Instructions
Cut eggs in half lengthwise. Carefully remove yolks.
In medium bowl, mash yolks with fork. Stir in mayonnaise and next 3 ingredients. Season with salt and pepper to taste. Fill egg whites with egg yolk mixture. Top with bacon sliced to look like horns. Loosely cover and refrigerate 1 hour.
Stories
Halloween Treats That Do the Trick
5 spooky Halloween ideas to serve at your holiday party
Try Them At Home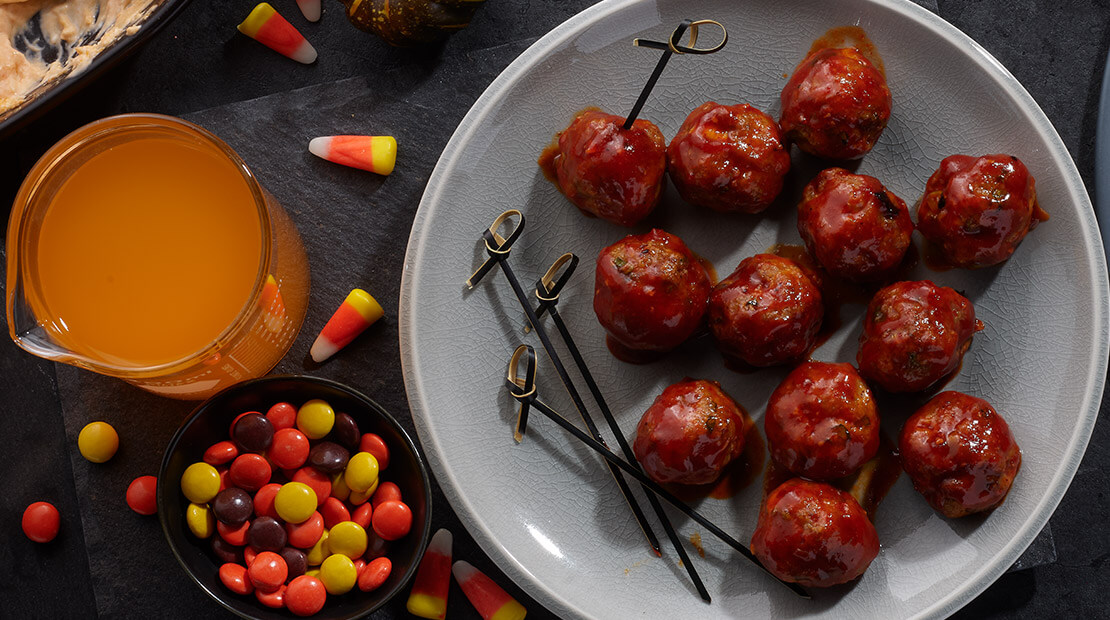 Spicy Spooky Meatballs
Hands-On Time

10 minutes

Total Time

45 minutes

Serves

12
1

(1-pound) package JENNIE-O® Lean Ground Turkey

1/4

cup HOUSE OF TSANG® Hoisin Stir-Fry Sauce

1

large egg, lightly beaten

1/3

cup dried breadcrumbs

1/3

cup chopped fresh cilantro leaves

1/4

cup chopped green onions

1/2

cup HOUSE OF TSANG® Ginger-Sriracha Stir-Fry Sauce
Instructions
Heat oven to 400°F.
In large bowl, gently combine turkey and next 5 ingredients. Shape into 1 ½-inch balls and place on lightly greased jelly roll pan.
Bake 30 minutes, turning once, or until turkey is cooked through. Always cook turkey to well-done, 165°F as measured by a meat thermometer. Remove from oven and brush with ginger-sriracha sauce.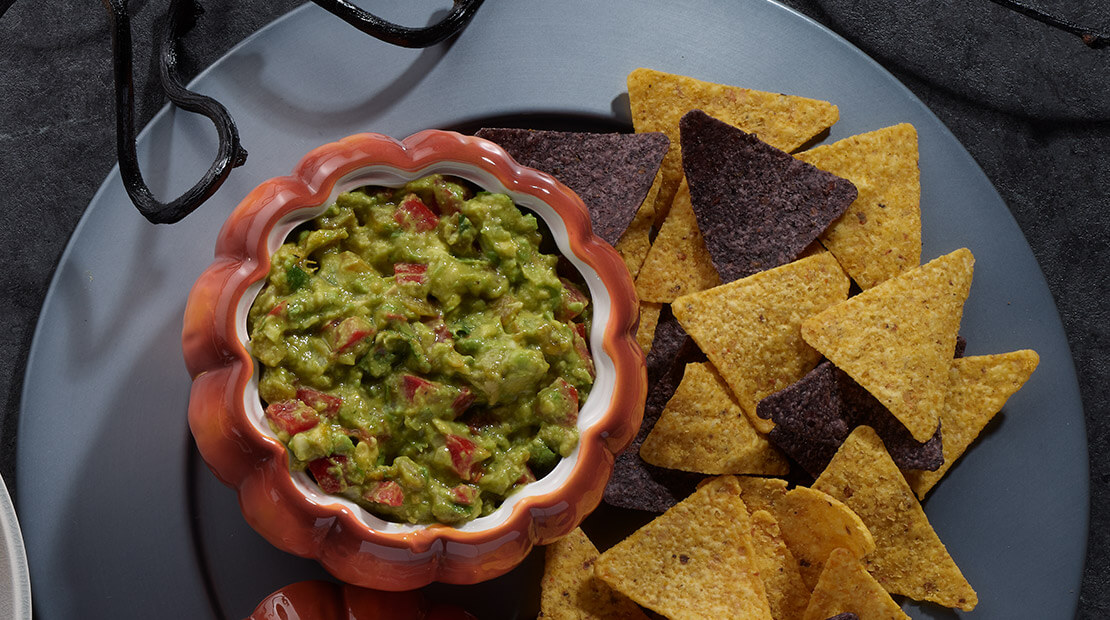 Witch's Garden Guacamole
Hands-On Time

20 minutes

Total Time

20 minutes

Serves

8
2

ripe avocados, pitted, peeled and chopped

2

tablespoons fresh lemon juice

1

cup diced fresh tomato

2

tablespoons chopped fresh cilantro

2

tablespoons CHI-CHI'S® Diced Green Chilies, drained

2

tablespoons finely chopped onion

1

teaspoon minced garlic

2

tablespoons HERB-OX® Chicken Granulated Bouillon

if desired

hot pepper sauce

to enjoy

tortilla chips and vegetables
Instructions
In medium bowl, mash together avocados and lemon juice. Stir in tomato, cilantro, chilies, onion, garlic, bouillon and hot sauce. Mix well. Serve with tortilla chips and assorted vegetables for dipping.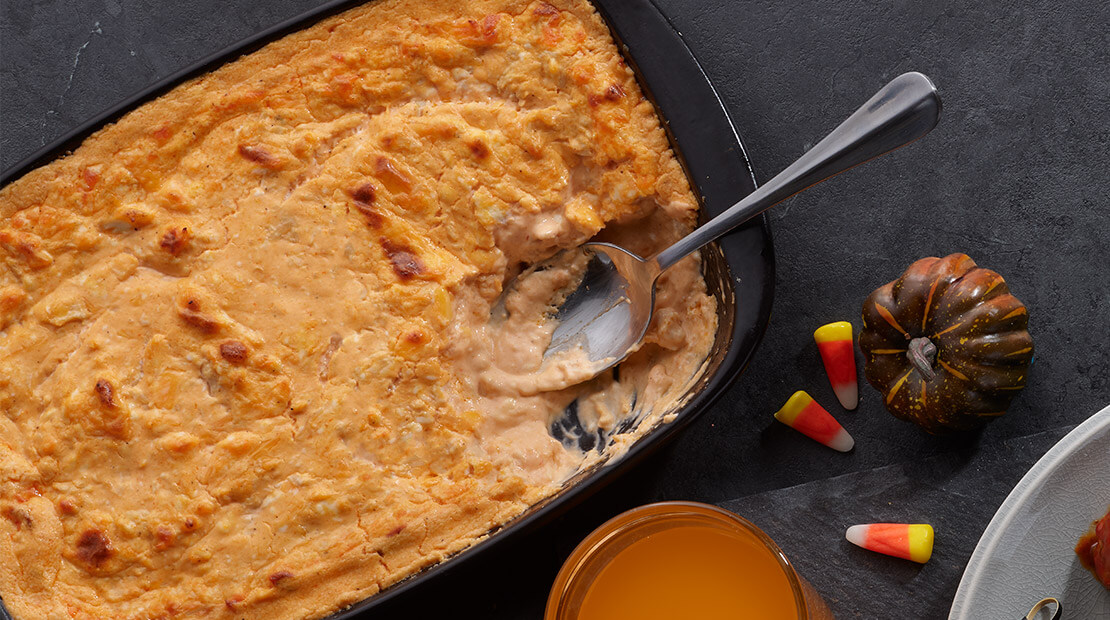 Hauntingly Delicious Buffalo Chicken Dip
Hands-On Time

10 minutes

Total Time

30 minutes

Serves

8
2

(8-ounce) packages cream cheese, softened

1

cup ranch salad dressing

3/4

cup hot buffalo sauce

1 1/2

cups shredded Cheddar cheese

2

(10-ounce) cans HORMEL® Premium Chicken Breast, drained

to enjoy

crackers, tortilla chips, bread and celery sticks
Instructions
Heat oven to 400°F. In large bowl, combine cream cheese, dressing, hot sauce and shredded cheese until well blended. Gently stir in chicken.
Spoon dip into 2-quart casserole. Bake 20 minutes or until hot and bubbly. Serve with crackers, tortilla chips, bread and celery sticks for dipping.