Leah Cohen is the chef and owner of Pig & Khao restaurant, located on New York City's Lower East Side. The Chef is well known for blending authentic Southeast Asian flavors with classical western technique. Try your hand at her pizza-inspired dishes made with new HORMEL® Pepperoni Cup N' Crisp.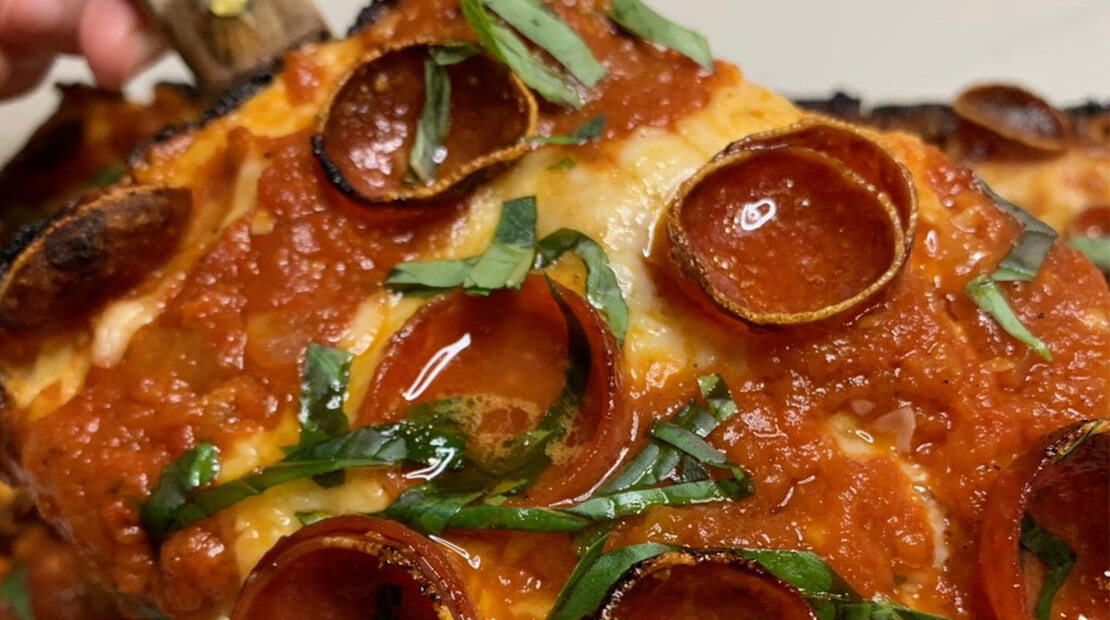 Detroit-Style Pizza with Red Curry Tomato Sauce, Pepperoni and Thai Basil
Total Time

30 minutes

Serves

6
3

tablespoons olive oil

Pizza dough (recipe follows)

1

(6-ounce) package HORMEL® Cup N' Crisp pepperoni

1

pound low moisture mozzarella cheese, cut into cubes

1 1/2

cups red curry pizza sauce (recipe follows)

Thai basil, as desired

Pizza Dough

2 1/4

cups flour

2

teaspoons salt

1

teaspoon sugar

1

teaspoon instant yeast

1

cup warm water

Olive oil

Curry Tomato Sauce

1

onion, minced

1/3

cup red curry paste

2

tablespoons minced garlic

1/4

cup extra virgin olive oil

1

(28-ounce) can peeled whole plum tomatoes

1

(15-ounce) can coconut milk

1

tablespoon palm sugar or brown sugar

1

tablespoon salt

1

tablespoon white vinegar
Instructions
Heat oven to 500°F. Position oven rack on the bottom of oven. Spread olive oil in Detroit-style pizza pan or 9×13-inch baking pan. Stretch pizza dough in pan, covering entire pan corner to corner. Top with half the pepperoni and cheese. Spoon sauce in three horizontal lines on top of pizza. Top with remaining pepperoni.
Bake 10 to 15 minutes or until dough is golden brown and cheese is crispy. Remove from oven and sprinkle with Thai basil. Cool slightly. Remove from pan using spatula. Cut into squares to serve. Serves 6.
Pizza Dough
In electric mixer with dough hook attachment or in food processor with dough blade, combine flour, salt, sugar and yeast; slowly add water while running machine. The dough might not use the full amount of water, so add ¾ cup water and evaluate if it needs the remaining ¼ cup water. Continue running the machine until the dough pulls away from sides of bowl. Form the dough into a smooth ball and place in greased bowl; cover and let rise 2 hours or until doubled in size.
Curry Tomato Sauce
In saucepan over medium heat, cook onion, curry paste and garlic in olive oil 5 to 7 minutes, stirring constantly. Add remaining ingredients; cook over medium-low heat 1 hour. Adjust salt, if needed.
Kimchi Pancake Pizza
Total Time

30 minutes

Serves

6
1/2

cup flour

1/4

cup cornstarch

1/4

cup rice flour

2

tablespoons thinly sliced green onion

1/2

teaspoon Korean chili flakes

1/2

teaspoon salt

1

cup water

1/2

cup chopped kimchi

4

tablespoons canola oil, divided

1

cup HORMEL® Cup N' Crisp pepperoni

1/2

cup low-moisture shredded mozzarella cheese

Bias sliced green onion, for garnish
Instructions
Heat oven to broil. Place baking rack in sheet pan.
In bowl, whisk together, flour, cornstarch, rice flour, green onion, chili flakes, salt, water and kimchi.
In large nonstick skillet over medium heat, add 1 tablespoon oil. Add half the batter to skillet; spread evenly. Cook 4 minutes or until the bottom is crispy. Turn the pancake over and add 1 tablespoon oil to skillet allowing the oil to get underneath the pancake. Cook 4 minutes longer. Turn and cook 2 minutes. Turn once again and cook 2 minutes longer making sure pancake is crispy, but not burned. Remove from skillet and place on oven rack. Repeat with remaining batter and oil.
Spread pepperoni and cheese over each pancake. Broil 1 to 2 minutes or until cheese is melted and golden brown. Garnish with green onion. Cut each pancake pizza into 6 pieces. Serves 6.
More Recipes From

Our Kitchen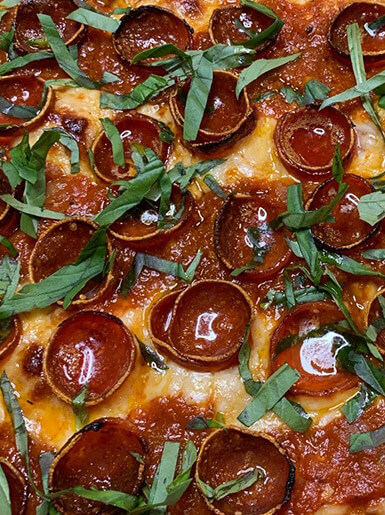 Pep Up Your Pizza Night
Delectable pizza creations from Top Chef alumni Leah Cohen